Gardabhandam & Abbey Emleydu
Play
1.5 hrs
May 04, 2019 7:30 pm Saturday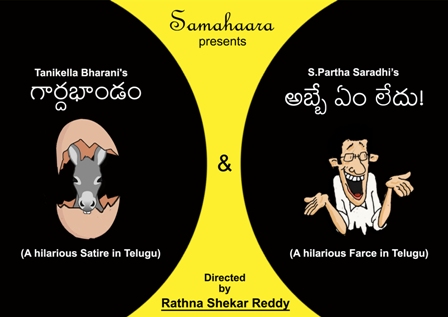 Samahaara Theatre Co-operative presents
A double bill of two Telugu Comedies
Tanikella Bharini's "GARDABHANDAM" & S. Partha Saradhi's "ABBEY EMLEYDU"
Directed by Rathna Shekar
Date: 04th May 2019 Time: 7:30pm Venue: Lamakaan, Hyderabad.
"GARDABHANDAM"
Written by eminent playwright, actor, director Shri.Tanikella Bharani, Gardabhandam ( Donkey's egg) is a rib tickling political satire that talks about inherited political power. The play is mix of fictional mythology and contemporary social issues. Come grab your seats and enjoy the fun.
"ABBEY EMLEYDU"
Abbe emleydu is a hilarious farce written by Shri. Shankaramanchi Partha Saradhi. A laid back husband, a forgetful wife and a deaf servant. To this mix add a colorful boss who has an exciting plan for the weekend with his subordinates, two strangers who walk into the house for a free meal and a missing ring. What happens when all these colourful characters meet in a situation like this ? Lets find out.