Upcoming Events
«Prev
From Dec 9, '18 to Jan 8, '19
Next»
5649
GARDABHANDAM & ABBEY EMLEYDU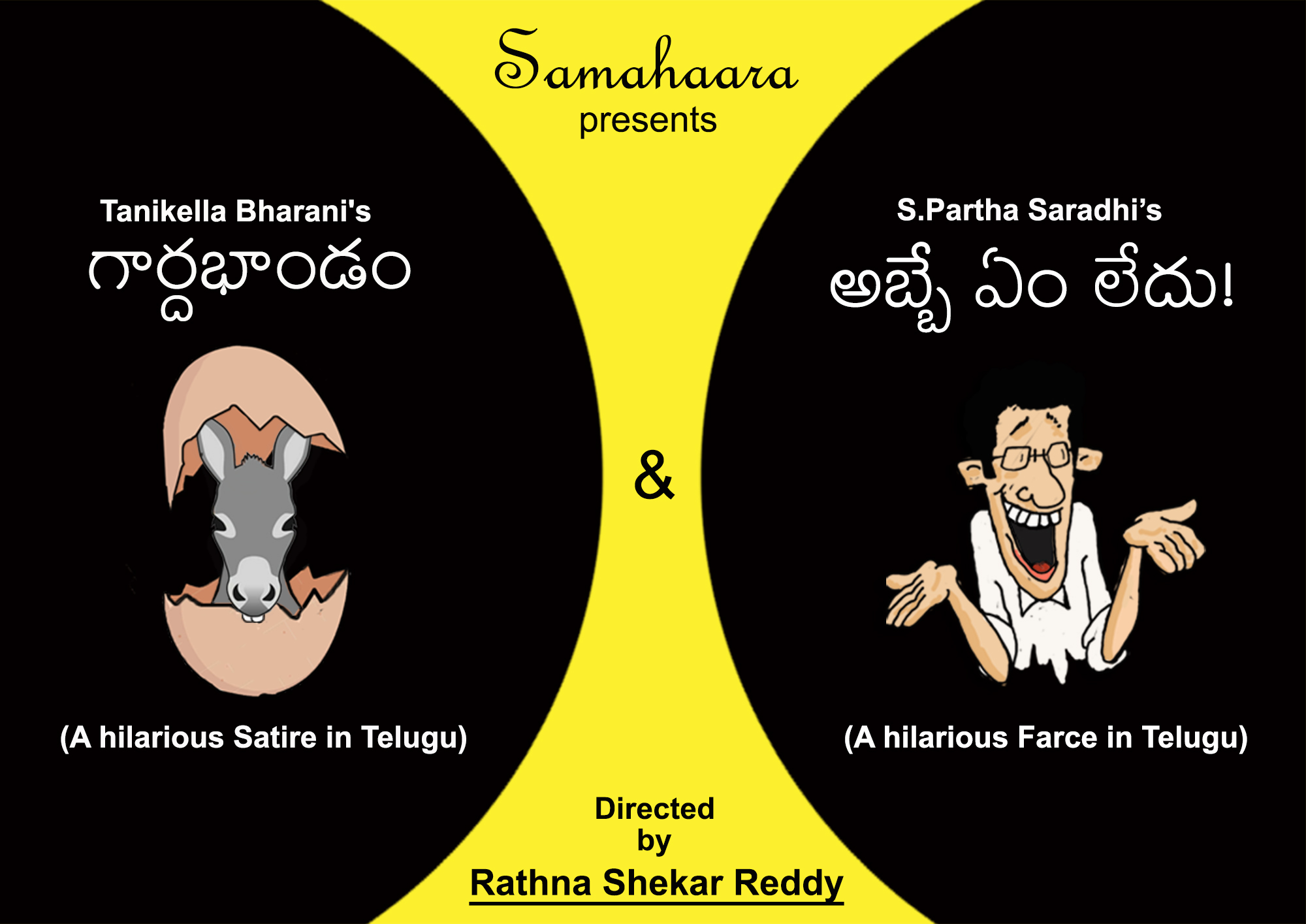 Sun Dec 9, 7:30 PM
Samahaara
Samahaara Theatre Co-operative
presents

A double bill of two Telugu Comedies

Tanikella Bharini's "GARDABHANDAM"
&
S. Partha Saradhi's "ABBEY EMLEYDU"

Directed by Rathna Shekar

Date: 09th Dec 2018
Time: 7.30pm
Venue: LAMAKAAN, Hyderabad.

"GARDABHANDAM"

Written by eminent playwright, actor, director Shri.Tanikella Bharani garu, Gardabhandam ( Donkey's egg) is a rib tickling political satire that talks about inherited political power. The play is mix of fictional mythology and contemporary social issues. Come grab your seats and enjoy the fun.

"ABBEY EMLEYDU"

Abbe emleydu is a hilarious farce written by Shankaramanchi Partha Saradhi. A laid back husband, a forgetful wife and a deaf servant. To this mix add a colorful boss who has an exciting plan for the weekend with his subordinates, two strangers who walk into the house for a free meal and a missing ring. What happens when all these colourful characters meet in a situation like this ? Lets find out.
5576
University as a SiteofResistance
Thu Dec 13, 6:00 PM
Mohan and Rajesh
The University as a Site of Resistance analyses massive protests that emerged in the aftermath of Rohith Vemula's death in Hyderabad Central University as well as the Azadi Campaign started by Jawaharlal Nehru University students in Delhi in 2016. Taking Osmania University in Hyderabad as a case study, the book provides an ethnographic account of the emergence of one of India's longest student movements - the movement for Telangana statehood. Since its inception in the 1960s to its culmination in the formation of Telangana state in 2014, students at Osmania University played a decisive role. The book discusses protest strategies, methods and networks among students. It also examines the role played by various caste and sub-caste groups and civil society in making the movement a success. The author argues that contemporary identity based student movements are primarily cultural movements as the traditional caste and class analysis becomes redundant to explain such contemporary collective action. The book establishes these unique resistances as New Social Movements and claim that these movements contribute to the democratization of institutional spaces. In this context, the volume provides a conceptual debate on contemporary cultural politics among university students.
5469
Live Music Event
Sat Jan 5, 7:00 PM
Vineet Bedi
We are called "Goonj - the Soul of Music" - a Live Music Band formed by all IT Professionals with different genre of Music, coming from different places with different cultures, but with one Language which is MUSIC.

We have performed over 10 Events within our Office and outside office for few charity Events with the same group over 3 years and looking forward to perform at Lamaakan.