Upcoming Events
«Prev
From Jul 13, '19 to Aug 12, '19
Next»
6126
Meet Author-Myth of Entrepreneur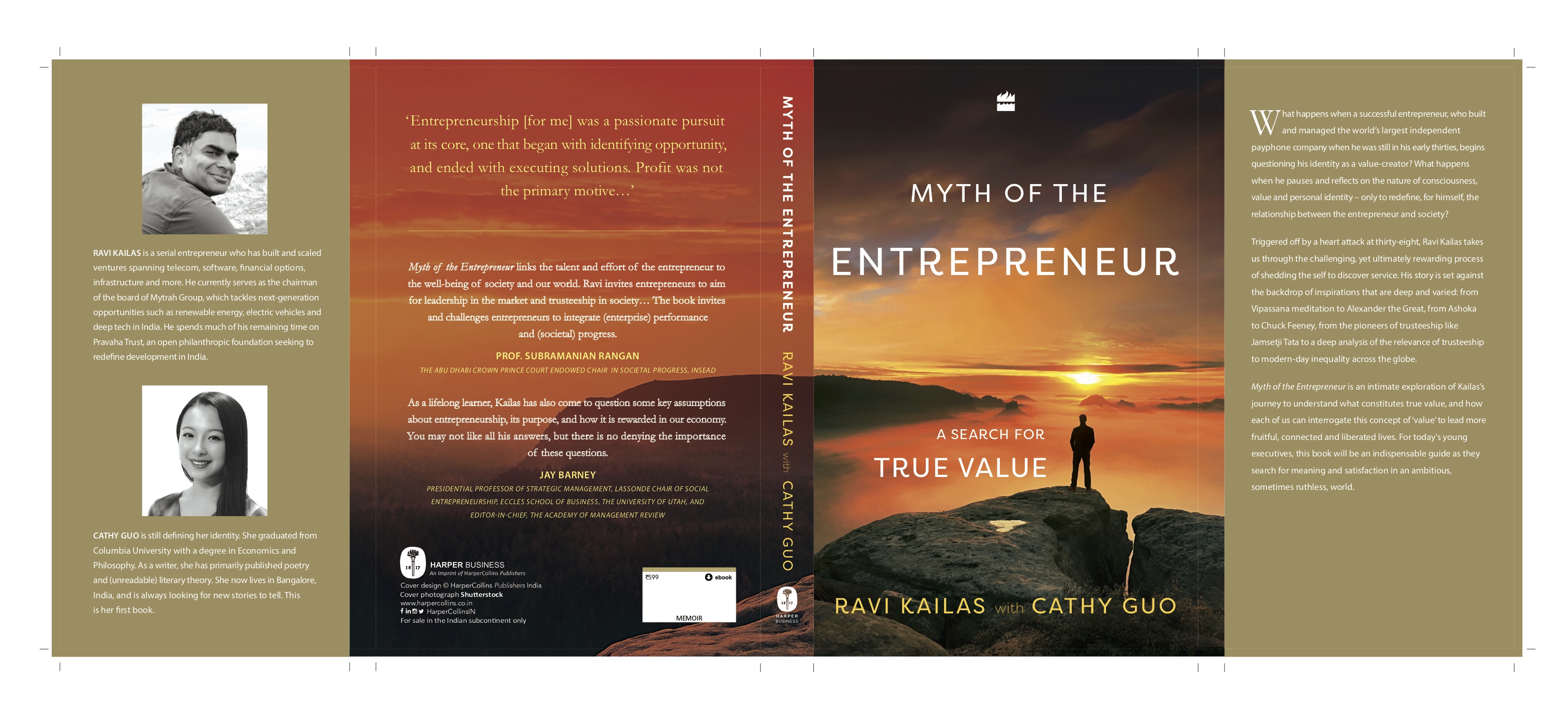 Sun Jul 14, 2:00 PM
Tale Tellers Troupe India
Book reading and discussion with Chinese-American author Cathy Guo (Columbia University) about her latest book, Myth of the Entrepreneur, which she has co-authored with Ravi Kailas (a Hyderabadi serial entrepreneur)

About the book "Myth of the Entrepreneur"

What happens when a successful entrepreneur, who built and managed the world's largest independent payphone company when he was still in his early thirties, begins questioning his identity as a value creator? What happens when he pauses and reflects on the nature of consciousness, value, and personal identity – only to redefine, for himself, the relationship between the entrepreneur and society?

Triggered off by a heart attack at thirty-eight, Ravi Kailas's search takes us through the challenging, yet ultimately rewarding, process of shedding the self to discover service. His story is set against the backdrop of inspirations that are deep and varied: from Vipassana meditation to Alexander the Great, from Ashoka to Chuck Feeney, from the pioneers of trusteeship like Jamsetji Tata to a deep analysis of its relevance to modern-day inequality across the globe.

Myth of the Entrepreneur is an intimate exploration of Kailas's journey to understand what constitutes tue value, and how each of us can interrogate this concept of 'value' to lead more fruitful, connected and liberated lives. For today's young executives, this book will be an indispensable guide as they search for meaning and satisfaction in an ambitious, sometimes ruthless, world.
6120
Sufism, Bhakti & Mind - A story
Sun Jul 21, 6:00 PM
Tranquil Minds
It is a brief narrative of understanding of the human mind from a psychiatrist perspective. It is an effort to understand the confluence of Sufi, Bhakti traditions in India with a special focus of psychological processes. Drawing predominantly from Khusrow and Nammalwar. This talk is delivered by a Psychiatrist.
6142
Book Launch- A Useful Death
Thu Jul 25, 7:00 PM
Westland Publications

About the Book
Aspiring actress Priya is dead. It's a suicide, and rumour has it that Anil, son of politician and former Telugu-movie superstar Mohan Krishna, drove her to it. Just another film-industry scandal? Or something bigger, much bigger?

Partha, hired by Mohan Krishna's family to handle the crisis, thinks so. Why won't such a powerful father defend his son, Partha wonders. Is there an intra-family war? Whose interests are playing out in the media and on social media? Is a political game afoot or is this all connected to Mohan Krishna's own dubious past? And why are student unions getting involved?

Even as Partha and his associates, Seema and Harish, confront the ethics of being involved in a war with no heroes, they are drawn into a dangerous hunt. They must negotiate a tangled and vicious world to answer one question: a young woman is dead—to whom is her death useful?
6052
Mitrangan Sahitya Katta Sneh
Sun Jul 28, 7:30 PM
Pravin Kawadkar
Mitrangan Sahitya kataa is group of like minded people interested in marathi literature reading and writing. Group meets every week to do reading of their writing. The event is consists of short plays written by people from Mitrangan Sahitya Katta. Program is free. for all people from Mitrangan group. Singing of poems. Prakash Phadnis is mentor for this program.
6117
Laasya
Fri Aug 2, 7:30 PM
Ayana Krishna D
'Laaysa'is a dance production by the Choreography Society of Tata Institute of Social Sciences, Hyderabad. The production will be a showcase of Indian classical dance forms, mainly Bharathanatyam, Kuchipudi and Mohiniyattam.
6095
MAIN ARUNDHATI HOON
Sun Aug 4, 7:30 PM
Suhas Bhatnagar
When I wrote this play, I had in my mind the stage artist who was at the downward trend of her career and then she has time to review her life. During that process she looks back at her soulmate, who had just appeared. In the play she tells her story. It is a monologue. The play has totally the inner voice of Arundhati, the character in the play.