Upcoming Events
«Prev
From Dec 16, '19 to Jan 15, '20
Next»
6547
The Final Cut
Tue Dec 17, 8:00 PM
Navarasa
The Final Cut, an original play written by Hyderabad based writer - Krishna Ahir, revolves around the theme of bullying as a student and its impact on the mental health of the student. The play is a unique blend of drama, poetry and live painting. This will be the Premiere show of the play.
Cast: Harshad Fad, Devika Das, Arun Kumar, Kastury, Akanksha, Prajwal
Playwright: Krishna Ahir
Backstage: Sindhuja, Chandra
6451
Tracks movie screening
Wed Dec 18, 7:30 PM
Cinephiles Film Club
Accompanied only by her faithful dog and four camels, an Australian (Mia Wasikowska) satisfies her craving for solitude by embarking on a solo trip across the desert from Alice Springs to the Indian Ocean.
6553
TM POTLE
Thu Dec 19, 8:00 PM
Amaan Ahmad (The Unknown Pen)
TM POTLE stands for The Missing Pieces of Your Tiny Little Egos. The play revolves around a theatre actor who is frustrated about her director being very strict. In this monologue, Simran Kaur, who is playing the lead, will have various shifts of emotions. She is struggling with the dialogues that her director has thrown at her, which are entirely absurd. She is constantly dealing with her inner turmoil. As the play progresses, we see that Simran is losing her mind. She sits and a sudden shift into the inner mind would reveal that she is not only the actor but also the director who has issues with her other-self. The play has explicit content (profanity).
6579
Phad painting workshop
Sat Dec 21, 11:00 AM
Heart for Art trust
Heart for art trust us coming up with a workshop of a traditional art form known as Phad Art Painting workshop by Master artisan Vivek Joshi and Vijay Joshi.
About PHAD ART
One of the most ancient arts of India, Phad
paintings of the Bhilwara/Shahpura region of
Rajasthan can be traced back to more than 700
years. Phad means 'to read' and these paintings
are based on songs of legendary Pabuji and
Devnarayan that are sung by Bhopa singers. The
art known not only for its vibrant colours, but also
the fact that it is accompanied by an oral tradition
of rendering gatha (folklore). Hand-woven cloth is
soaked overnight so that the threads get thicker. It
is then starched, burnished for a smooth and
shiny surface and then the Phad painter draws
the entire narrative on this canvas. The figures
are rounded, wear traditional attire and headgear
and bright colours are used to fill them in. The
colours are painstakingly extracted from natural
sources—stones, flowers, herbs.
About the artist
VIJAY JOSHI & VIVEK JOSHI
Vijay & Vivek Joshi, brother duo, are traditional
Phad artists from Shahpura (Bhilwara district) of
Rajasthan. Vijay Joshi is a National Merit Award–
winning artist and member of Virasat: Nonpareil
Shahpura's Phad Painting Training and Research
Institute. The Joshi brother took training in the
Shahpura's Nonpareil Phad art under the
guidance of their father Shri. Shanti Lal Joshi who
is also a National Award Winner. They
participated in exhibitions in different metro cities
across India as well as in aboard like France,
Singapore and Bogata (Columbia). They make
innovative paintings on Hanuman, Durga and
Ganesh.

6602
AAMIS - Axomiya Film with EST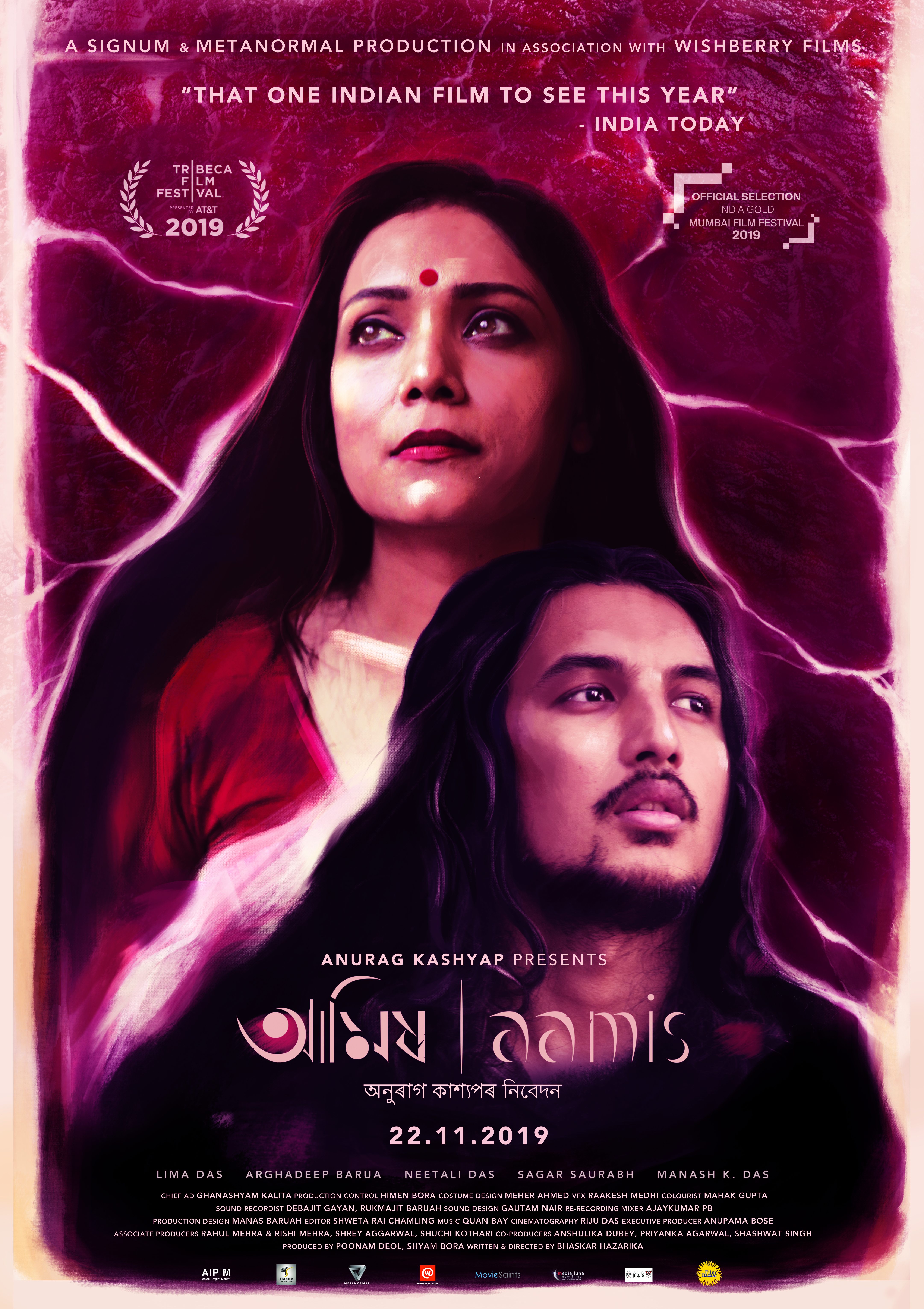 Sat Dec 21, 2:00 PM
MovieSaints
Aamis – The Ravening, is an Assamese film (with English subtitles) directed by National Award Winner Bhaskar Hazarika, has premiered in the renowned Tribeca Film Festival and opened to a packed house at all the subsequent international film festivals where it was screened. It has been loved and accepted and appreciated by audiences wherever it has played and many filmmakers from across the world have openly supported the indie film including Sriram Ragavan, Anurag Kashyap, Vikramaditya Motwani and many more. Anurag Kashyap is now the presenter of Aamis. The film premiered in India at the prestigious MAMI Film fest, Mumbai and released in Assam on November 22nd. The film is rated 8.5/10 by IMDb and almost all the critics have given it a rave review. The film has been doing well in non-Assamese market too and people have been writing to us to screen the film in their city and that is why we are looking forward to screen it in Hyderabad.
Synopsis of the film: Nirmali, a middle-aged doctor, living a joyless married life, finds solace in the company of Suman, a University Research Scholar, who takes her out on platonic dates of exotic non-vegetarian cuisines found in North Eastern India. But does their relationship limit itself to traditional food and confirmative bond or does it cross the social boundaries and go beyond?
Use the link below to book tickets for Aamis movie screening

http://bit.ly/2RxnSNR



6584
Python Coding Workshop for kids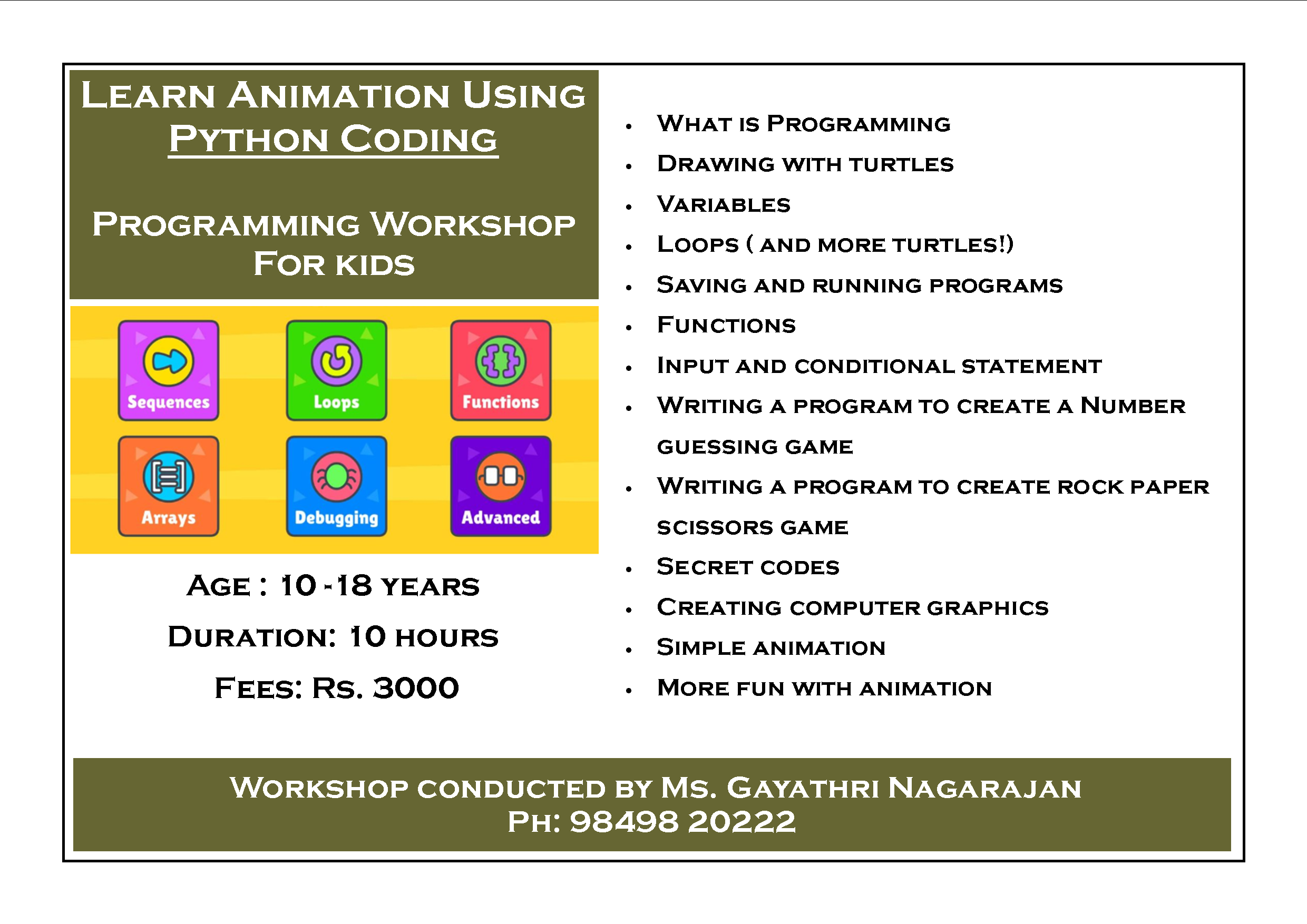 Sun Dec 22, 10:30 AM
Gayathri Nagarajan
This is Workshop aimed at introducing coding and animation to children using Python Programming. It'll also introduce kids to the concept of making their own video games or android games.

Title: Learn Animation Using Python Coding
Programming Workshop for kids

Age : 10 -18 years
Duration: 10 hours
Fees: Rs. 3000
For details & registration contact : 9849820222
Course conducted by Ms.Gayathri Nagarajan.
Children need to bring their own laptops

6591
"TRAILS OF DISSENT" BOOK RELEASE
Sun Dec 22, 4:00 PM
DIALOGUE - TOWARDS AN ALTERNATIVE
"TRAILS OF DISSENT " BOOK RELEASE on 22nd Dec at 4pm
Dialogue - Towards an alternative, as a platform was formed to provide space for discussions with a hope to increase the culture of scientific approach towards contemporary sociological and political issues. In the past year this platform has-been able to conduct insightful discussions on various issues. It tried to inculcate a scientific understanding to this generation about the current political atmosphere. In this process the platform learned and analysed multiple issues to pump alternate ideas into the society.
Now we are bringing out this book consolidating all that this platform has learned and talked concerning many crucial issues for the past one year. From honor killing to conflict of Kashmir, from Hindutva to mining, from me too to dissent, New education policy to NRC. In this book we have tried to discuss many subjects that have majorly impacted our country this year. We hope you accept this book from us young writers with the same volume of love that you have been showering on this platform.

6570
Cricket Country - Book Launch
Tue Dec 24, 7:30 PM
Lamakaan An Open Cultural Space

On the morning of 6 May 1911, a large crowd gathered at Bombay's Ballard Pier. They were
there to bid farewell to a motley group of sixteen Indian men who were about to undertake a
historic voyage to London. The persons whom the crowd cheered that sultry Saturday morning
were members of the first All-India cricket team.
Conceived by an unlikely coalition of imperial and Indian elites, it took twelve years and three
failed attempts before an 'Indian' cricket team made its debut on the playing fields of imperial
Britain in the blazing coronation summer of 1911.
This is a capacious tale with an improbable cast of characters set against the backdrop of
revolutionary protest and princely intrigue. The captain of the Indian team was nineteen-year old
Bhupinder Singh, the embattled Maharaja of Patiala. The other cricketers were selected on the
basis of their religious identity. Most remarkable, for the day, was the presence in the side of two
Dalits: the Palwankar brothers, Baloo and Shivram.
Drawing on an unparalleled range of original archival sources, Cricket Country is the untold story
of how the idea of India was fashioned on the cricket pitch in the high noon of empire.

BIO
Prashant Kidambi is associate professor of colonial urban history at the University of Leicester.
After completing postgraduate degrees in history at the Jawaharlal Nehru University in New
Delhi, he was awarded a Rhodes Scholarship to pursue a doctorate at the University of Oxford.
Kidambi's research explores the interface between British imperialism and the history of modern
South Asia. He is the author of The Making of an Indian Metropolis: Colonial Governance and Public
Culture in Bombay, 1890-1920 and the lead editor of Bombay Before Mumbai: Essays in Honour of Jim
Masselos.

In conversation with : Rammanohar Reddy
He is currently Editor of "The India Forum", a digital publication on contemporary issues that was launched in March 2019.
He holds a PhD in Economics and has been in economics journalism since 1989, the longest period in "The Hindu" and then the "Economic and Political Weekly".
He was a passionate follower of cricket for 3 decades but now, because there is too much of it and too many varieties that he can't make sense of he sticks to reading about its history.
6452
Potluck movie screening
Wed Dec 25, 7:30 PM
Cinephiles Film Club
The movie is about an economics graduate student studying for a year in Barcelona, Spain, as part of the Erasmus programme, where he learns from a group of students from all over Western Europe in a student share-house.
6552
Badlav
Thu Dec 26, 8:00 PM
Amaan Ahmad (The Unknown Pen)
Badlav is an original Hindi play written and directed by Amaan Ahmad. Badlav revolves around Gayatri, Kalpana, Radha, and Bindya. Gayatri wants change but her hypocrisy surfaces all the time. Meanwhile, Kalpana, a carefree girl always brings nihilistic values of life. Radha is air-headed and her naivety mixes with intuition and she is lost in her absurd thoughts most of the time. The play takes various twists and turns and touches the element of the Theatre of Absurdity. This psychological and absurd play has multiple rises and falls.
6590
Write Club Meetup 219
Sat Dec 28, 3:00 PM
Write Club Hyderabad
Please help schedule this for this Saturday: 28th December 2019. Write Club Hyderabad helps you pen your thoughts, spill your mind and finally make an appointment with the writer in your head. We conduct free, weekly events that foster writing. Our Meetups aim at helping writers reach their goals in a supportive, collaborative, social setting. Writing doesn't have to be all by oneself. We welcome anyone who writes, regardless of genre, language or age. We have members writing novels, short stories, poetry, screenplays, essays, school reports and more. What we do, basically: One of the members of Write Club (anyone with a participation count over 2 consecutive meetups) hosts a session. They bring forth a theme and writing exercises. We all then write to the host's prompts and guidelines for about an hour. Once we're done writing, we read out our write-ups (optional). We also exchange feedback and constructively critique each other's works. Entry is free, anyone with an interest in writing can walk in. Bring your writing devices and we're all set! We promise to provide you with good coffee and a super-creative conversation. We have Write Club sessions every alternate Saturday afternoon – 3 to 6 PM
6585
Python Programming part 2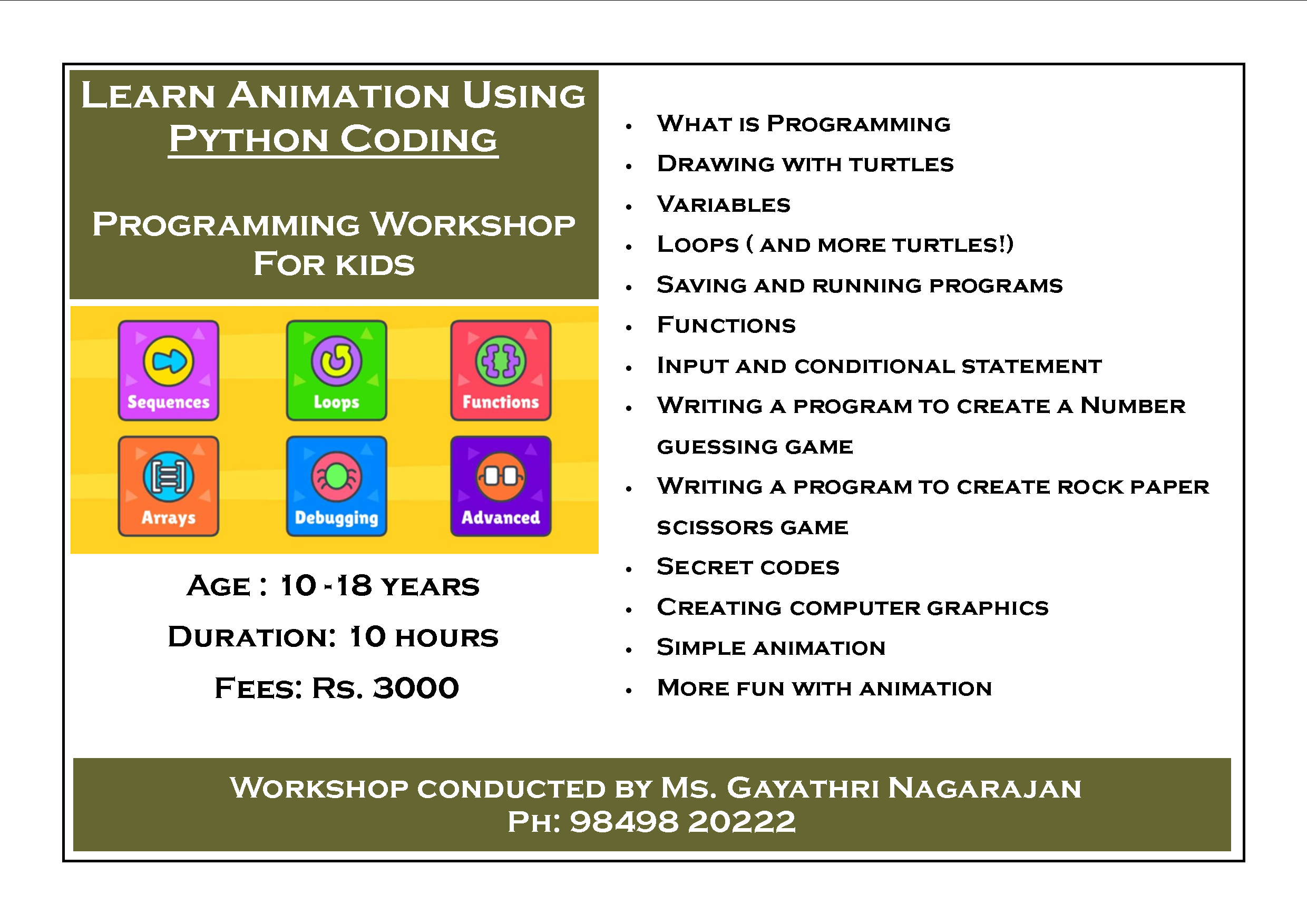 Sun Dec 29, 10:30 AM
Gayathri Nagarajan
This is Workshop aimed at introducing coding and animation to children using Python Programming. It'll also introduce kids to the concept of making their own video games or android games.

Title: Learn Animation Using Python Coding
Programming Workshop for kids

Age : 10 -18 years
Duration: 10 hours
Fees: Rs. 3000
Children need to bring their own laptops.
For details & registration contact : 9849820222
Course conducted by Ms.Gayathri Nagarajan.
6583
Madhubani Painting Workshop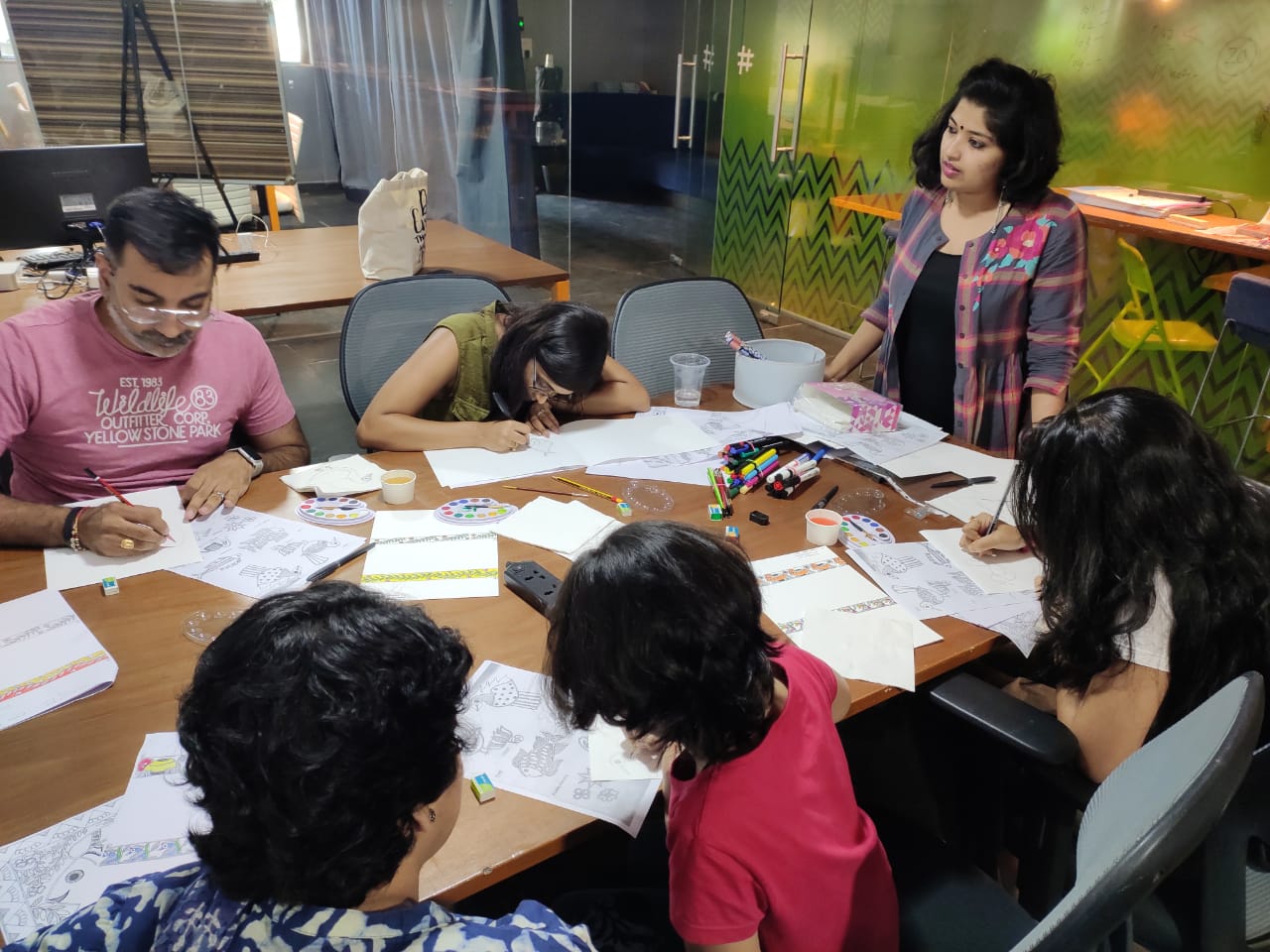 Sun Dec 29, 3:00 PM
Bhamini Shree
Learn the basics of Madhubani Painting, tips & tricks, along with hands-on experience!

Madhubani Painting is a folk art of India, where the idea traditionally revolves around mythology and nature and depicts the life events like birth, marriage, a celebration of life, the cycle of life, auspicious elements, Buddha and Mahavir.

Date - 29th Dec 2019 (Sunday)
Time - 3pm to 6pm
Ticket - 800/-

Agenda - Basics of Madhubani Painting, tips and tricks with Hands-on experience

Reference Material Provided - Yes

Takeaway - Reference Material, Your Creation, painting kit and the experience associated

Strength - Limited seats allotted on first come first basis

Note -
- You do not need any prior painting experience or Madhubani painting knowledge to attend this workshop
- Everything that you need for the workshop shall be provided by us.
- The amount paid shall be refunded ONLY in-case the event is called-off.
6598
Calligraphy
Sat Jan 4, 11:00 AM
Monika Lokhanday
I will be conducting a Calligraphy workshop wherein I will be teaching everything right from the basics of how to hold the pen and the basic strokes on day 1. Day 2 with practice, they can start writing letters and learn how to be able to write any other fonts.
6513
Book Launch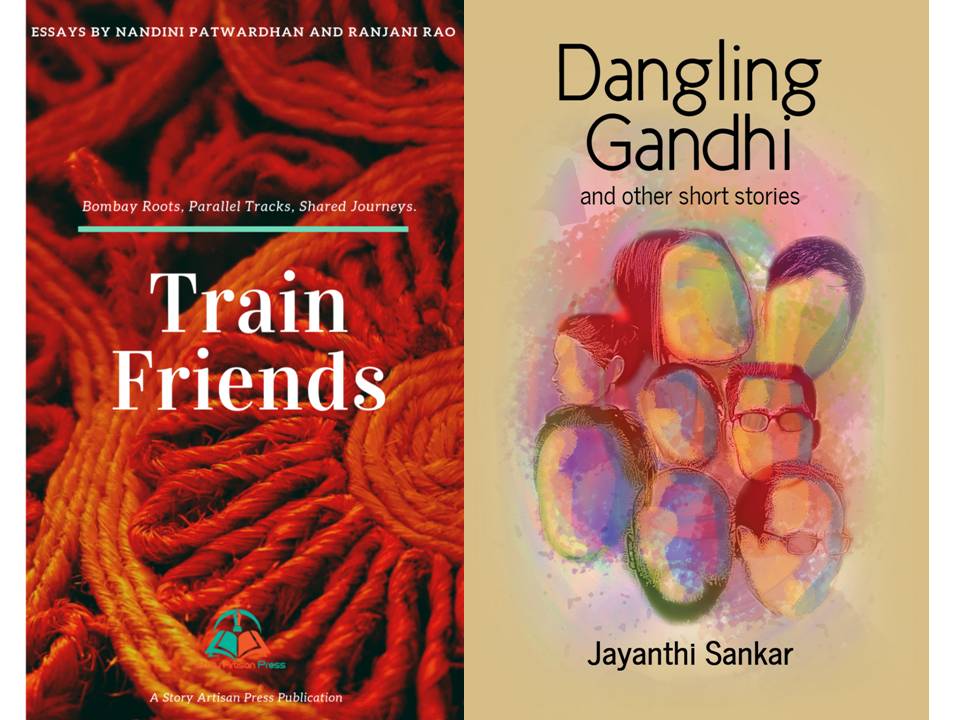 Sat Jan 4, 4:00 PM
Ranjani Rao
The event will include the Hyderabad launch of two books.
1. Train Friends - A collection of essays by Ranjani Rao and Nandini Patwardhan
2. Dangling Gandhi and other stories - a collection of short stories by Jayanthi Sankar
There will be readings from the books and discussion. Authors will their books.