Cafe

Looking for the menu? Click here »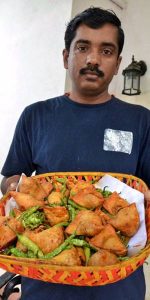 Lamakaan is known for tasty snacks. Our famous KK (actually Karunakaran) doles out some stupendous snacks and meals. While visiting Lamakaan, it is a must that you should try out some.
We try our best to serve food that is cooked with organic grains, locally sourced and ethically grown. The recipes are traditional Hyderabadi fare. No, there is no biryani, but there is the excellent Khatti Dal. Scroll down for the menu.
Here is what we do and don't at the Cafe:
Water – We believe water should be free to drink. We do not serve any bottled water. Instead, our water is safe to drink. It is filtered and sterilized. It is as safe as it gets.
Outside Food – We don't not allow outside food at Lamakaan. If you are carrying a snack box, don't open it here. If there is a person with special food needs, ask at the kitchen for help. They usually oblige with any special requests.
No alcohol, No smoking – It is illegal to smoke or consume alcohol within the premises.
Return the plates and cups back to the kitchen when done.
Chai Rs.10/-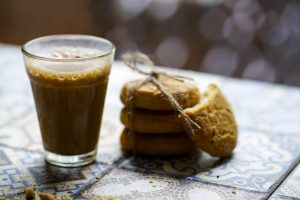 Lamakaan's signature drink is the chai.  It is not your connoissuer tea. This is how the Hyderabadis drink. It is boiled, milky and sweet. It is addictively good.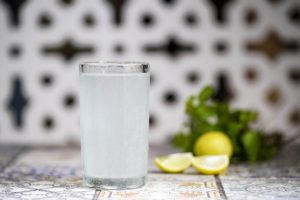 Neembu Pani Rs. 30/- The sweet and salt limewater has a hint of Pudina (Mint). Kids love it. It outsells everything else during the summers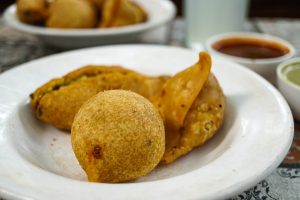 Teen Samose (3 pieces) Rs.20/-
Everybody, swears by these masterpieces of KK. You must try these when visiting Lamakaan. Many a starving artists have survived on a steady diet of these.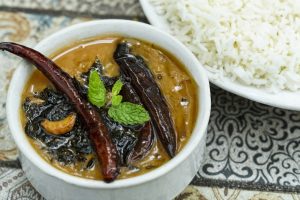 Khatti Dal Rs. 50/-
The Khatti Dal  is a tarty, delightful pulse cooked with fresh tadka that is the staple of Hyderabadi households. Lamakaan is unusually one of the few places where you can savour this outside the homes.
To Drink
Tea Rs.10
Coffee Rs.10
Nimbu Paani (Fresh Lime) Rs.10
Buttermilk Rs.10
Lassi Rs.20
Nibbles
Veg Sandwich Rs.40
Omlette Rs.30
Bread Omlette Rs.40
Samosa
Samosa(3) Rs.20
Mirchi/Aloo Bajji Rs.20
Combo (Samosa, Mirch, Allo Bajji) Rs.20
Egg Pakoda Rs.40
Dahiwada(2) Rs.30
Kaala Chana Rs.30
Khatte Chawal Rs.40
Sprouts/Chana Rs.30
Lunch
Roti(2) Rs.10
Plain Rice Rs.30
Khatti Daal Rs. 50
Veg Curry Rs.40
Chicken Curry Rs.80
Mutton Qeema Rs.100
Khichdi Rs.50
Dinner (Ask for the day's special)
Tahiri (Veg) Rs.100
Mutton Qeema Pulao Rs.120
Paratha(2) Rs.30
Egg Curry Rs.50