«Prev
From May 28, '22 to Jun 27, '22
Next»
7157
Dastaan Taqseem-e-Hind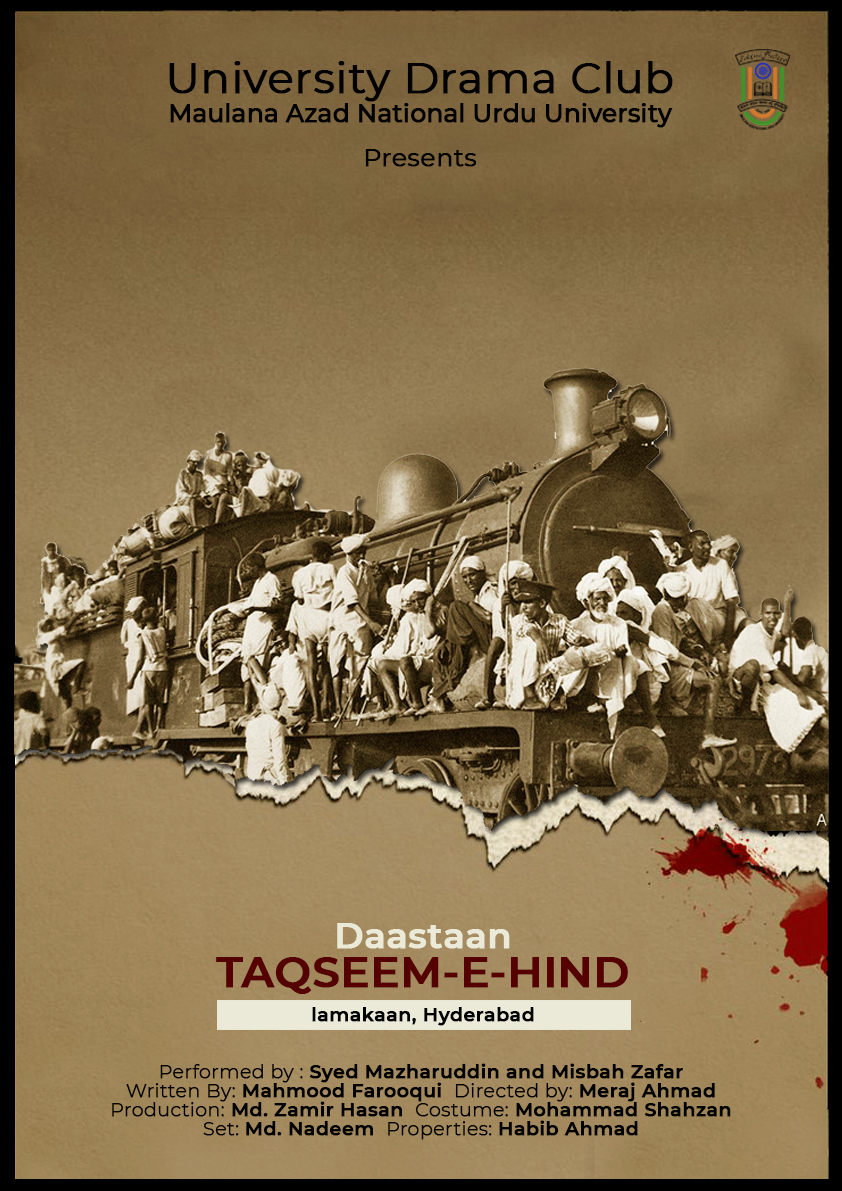 Sat May 28, 8:00 PM
University Drama Club, Maulana Azad National Urdu University
Written by the famous dastaan-goh Danish Farooqui, Dastaan Taqseem-e-Hind is a story of hope, love, nationalism, patriotism, inspiration, bitterness, and politics. It will be presented by the students of Maulana Azad National Urdu University through its University Drama Club. The University Drama Club of MANUU was formed in the year 2017 and since then it made a steady process and carved a niche in the field of thetrics. The Drama Club participated in the Central Zone Inter University Youth Festival held at Sambhalpur University Odisha and organised by Association of Indian Universities, New Delhi with thumping accolades. The Drama Club has also had numerous performances at MANUU and Urdu Hall, Hyderabad including, Jamun ka Ped, Rang Nagri, Gandhi and Champaran. Daastan Taqseem-e-Hind was also performed at Urdu Hall, Hyderabad on 18th December, 2021.
7270
Lamakaan Organic Bazaar
Sun May 29, 10:30 AM
Lamakaan
Come & explore a wide range of Organic Fruits, veggies & groceries Homemade Bread, and other baked goods; Organic Lunch, Handicrafts, Handlooms, Handmade Jewelry, Terrace Gardening Corner, Creative Design Spaces, and many more things...

Every Sunday 10:30am - 1.30pm

Entry Free. All are welcome.

For details: 9642731329
7265
Remembering Daagh Dehlvi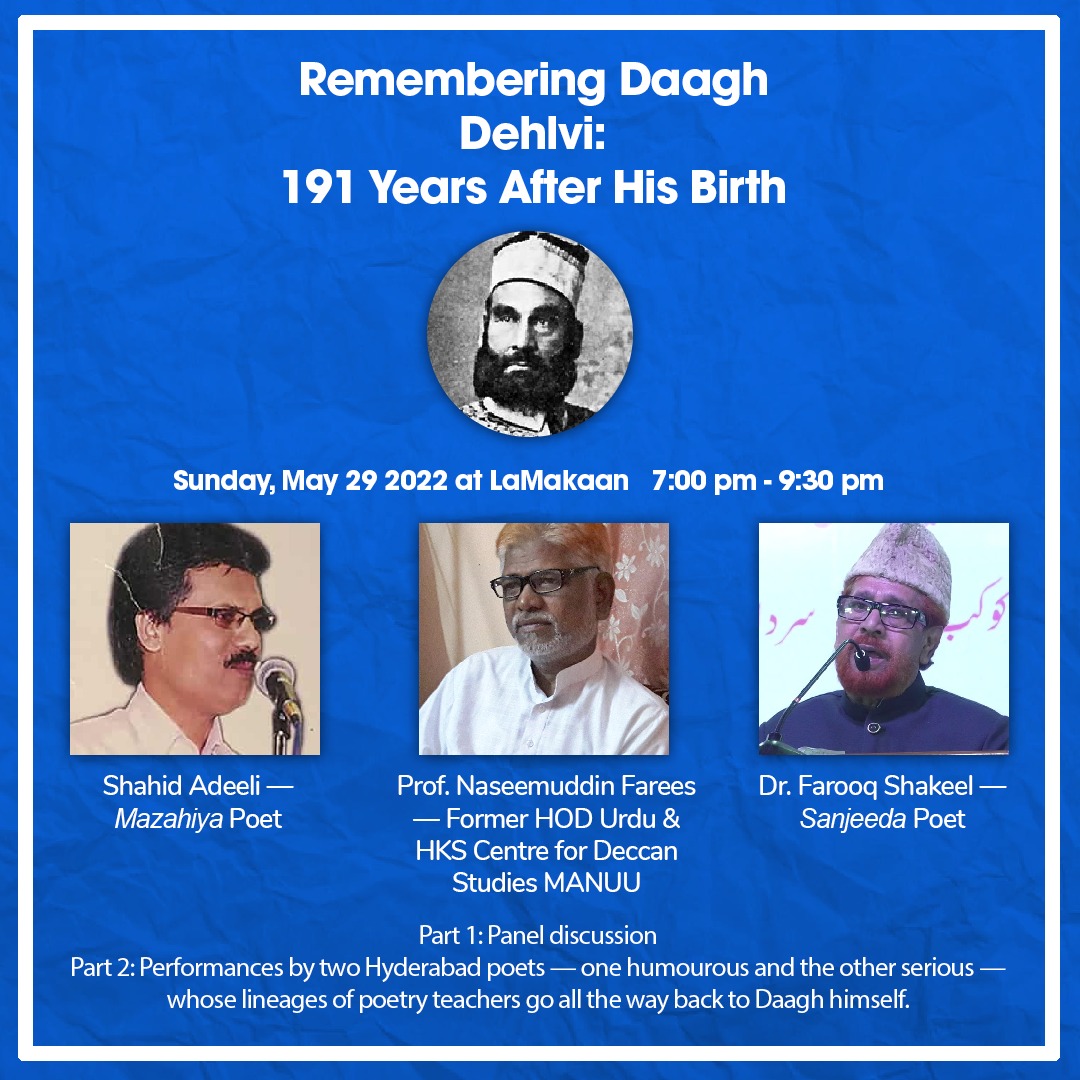 Sun May 29, 7:00 PM
Lamakaan & Danish Majid
اردو ہے جس کا نام ہمیں جانتے ہے داغ

ہندوستان میں دھوم ہماری زباں کی ہے



Urdu hai jis ka naam humeen jaante hai Daagh

Hindustan mein dhoom humari zabaan ki hai



Although born in Delhi, Nawab Mirza Khan — better known by his pen-name Daagh Dehlvi — flourished as a poet in Hyderabad. Patronized by the sixth Nizam, Mir Mehboob Ali Khan, he made a name for himself down south. His mother Wazir Khanum, who was quite the rebel for the times she lived in, finally had her story told in Shamsur Rahman Faruqi's Kai Chaand The Sar-e-Aasmaan. While not as feted as Mirza Ghalib or Mir Taqi Mir, the simplicity and wit of Daagh's poetry endears him to many Urdu novices as well as seasoned enthusiasts/scholars/litterateurs till this day.



That too, through musical renditions of Mohammed Rafi, Noor Jahan, and Farida Khanum. In more contemporary times, Kavita Seth's versions of Daagh's ghazals in "A Suitable Boy" have also become popular.



Just a few days after his 191st birthday, join us at LaMakaan for a talk on Daagh Dehlvi on Sunday, May 29. Maulana Azad National Urdu University's former Urdu Department Head and authority on poetry from the Deccan, Naseemuddin Farees, will speak about Daagh's early life, repertoire, and his very eventful time in Hyderabad.



After the discussion, mazahiya poet Shahid Adeeli and sanjeeda poet Dr. Farooq Shakeel — two Hyderabad-based Urdu poets will be performing. Their lineage of poetry teaches goes back all the way to greats like Daagh, Mir, and Zauq.





Naseemuddin Farees — Naseemuddin Farees is a former Professor of Urdu at the Maulana Azad National Urdu University. He served as the Head of the Haroon Khan Shervani Centre for Deccan Studies and he also was the head of the Urdu department at MANUU. Farees is an authority on poetry and literature from the Deccan.



Shahid Adeeli — Shahid Adeeli is a humour poet and also the son of Nazeer Ali Adeel. Adeel was taught by Safi Aurangabadi whose lineage of teachers has links to Dabistans of Delhi, Lucknow, and Hyderabad. A recipient of the Telangana State Government's Lifetime Achievement Award, he has performed in many mushairas in India and abroad.



He has had two his poetry collections, "Aaain Baain Shaayin" and "Wah Wah," published.



Dr. Farooq Shakeel — Farooq Shakeel is also the son of Nazeer Ali Adeel. A mainstay at many mushairas, he has published many works such as Safar Sanson Ka, Tanqeedat, Mhaavarat-e-Adeel, Mhavaraat-e-Adeel, Mhavaraat-e-Safi Ka Taqbali Mutala and Shaake-e-Sambar. Shakeel has received two Lifetime Achievement Awards from the TS/AP Urdu Academies.




More on Daagh https://www.thehindubusinessline.com/blink/cover/leaving-a-mark/article26542836.ece


ALL ARE WELCOME!!!

--
Daneesh Majid

MA - South Asian Area Studies

SOAS - University of London

Website: bydaneeshmajid.wordpress.com

Skype: dan.majid24
7301
Restore GO111
Sun Jun 5, 11:30 AM
STATE WATER RESOURCES COUNCIL-WICCI & CITIZENS FOR HYDERABAD
'Restore GO111~Restore Century old Drinking water reservoirs Osman Sagar & Himayath Sagar~Moosi nadi from Ananthgiri hills to Wadepally, the Lifeline of Hyderabad-Telangana' - Chief Guest Prof Sandeep Pandey Magsaysay Awardee

CHIEF GUEST AND MAIN SPEAKER PROF SANDEEP PANDEY, RAMON MAGSAYSAY AWARD WINNER, WHO WORKED VERY CLOSELY AND FASTED WITH SWAMI SANAND (PROF GD AGARWAL , THE FIRST MEMBER SECRETARY OF CENTRAL POLLUTION CONTROL BOARD, INDIA) TO SAVE GANGA NADI,
7254
Park
Sun Jun 5, 8:00 PM
Chitralekha Arts Theatre Group
A comedy play about three men in a park fighting for their place; there are three benches but not enough. The play touches upon that thing which is at a premium these days – space – literally and metaphorically. What starts off as light-hearted banter evolves into a serious conflict about space, territory and ownership. These become the main issues.


Park can be many things; it can be a metaphor for home, or a metaphor for love, or even your workplace. It deals with a problem of space, which is universal.



Cast :



Aditya Dubey

Theatre artist with Chitralekha arts for over 7 years.

Have directed and acted in many plays, namely Taj Mahal ka tender, Munshi Premchand's Bade Bhaisahab, Park, Sakharam Binder, Baby etc.



Nitish Singh

Theatre artist with Chitralekha arts for over 3 years.

Have acted in many plays, namely Taj Mahal ka tender, Munshi Premchand's Bade Bhaisahab, Park, Fandi, Godan, Vitthala etc.



Naresh Chauhan

Theatre artist with Chitralekha arts for over 3 years. Have acted in multiple plays, namely Vitthala,Park, Taj Mahal Ka Tender,Badey Bhai Saab,.


Written By - Manav Kaul
Directed by - Aditya Dubey
7199
Ek Durachari Raja
Sat Jun 11, 8:00 PM
SHUDRKA HYDERABAD
The play, directed by Swapan Mondal, is about a king who, stricken by the sudden death of his beloved sister, Apurupa, ponders over the futility of existence. His meditations on the eternal mystery lead him to consider his position of limitless powers. He is the monarch of the world, but, deranged by sorrow, he strives to control the universe, to make impossibilities come true. He yearns to possess the moon, to blend the sky and the sea and discover the secrets of the dead. His experiments are those of an insane sadist. He orders executions and torture without reason, to defy logic and sense.

The play remains universally relevant. It represents the face of contemporary despotism, not only in terms of the whimsical madness of rulers, but also in terms of how people react to such rule with a glimmer of hope for the future.

7280
Padmavyuham
Sat Jun 18, 8:00 PM
Dr. Sreeja Sadineni
This play shows how a common man struggles with daily life and with various departments in the society. Written by Sri.L.B Sriram and directed by Dr. Sreeja Sadineni.
7281
Padmavyuham
Sun Jun 19, 8:00 PM
Dr. Sreeja Sadineni
This play shows how a common man struggles with daily life and with various departments in the society. Written by Sri.L.B Sriram and directed by Dr. Sreeja Sadineni.
7284
Kahaniyon ka rangmanch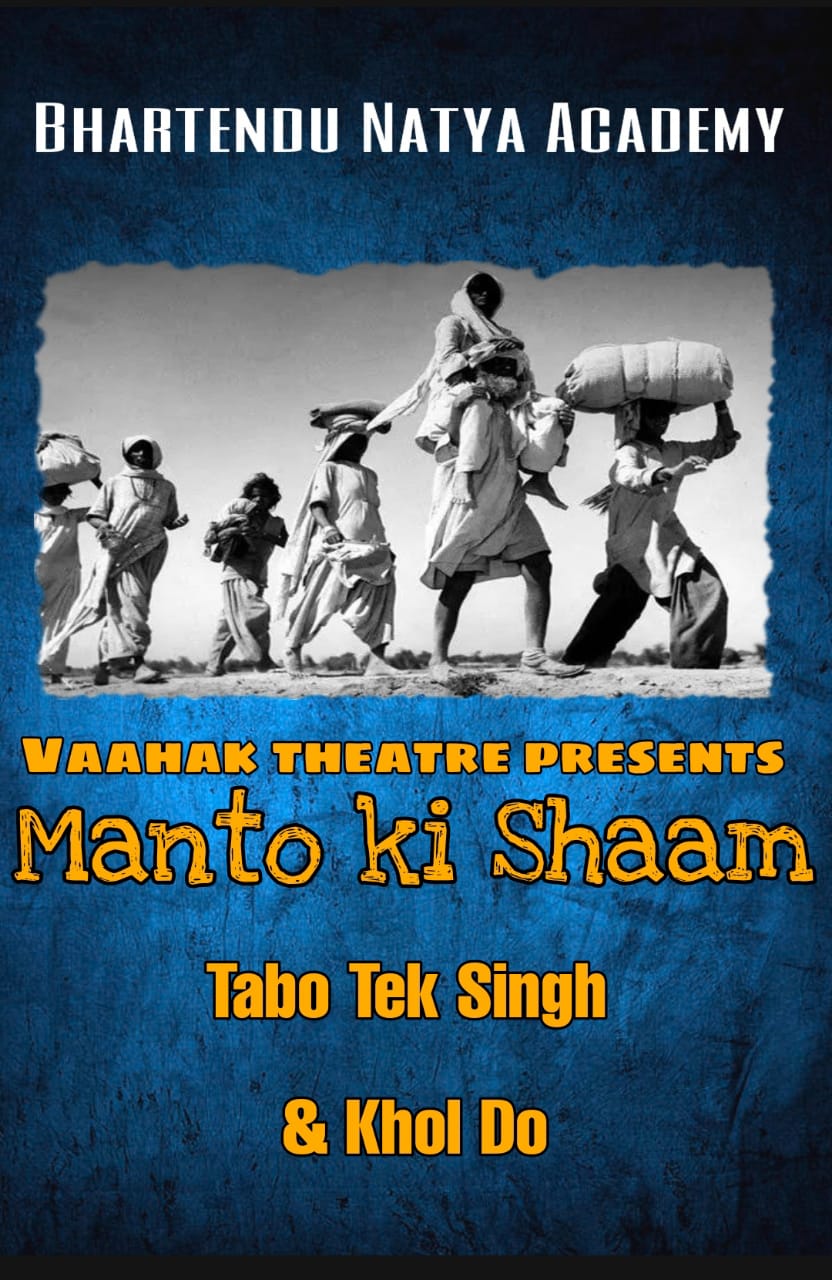 Sat Jun 25, 8:00 PM
Utkarsh singh
There would be three stort stories by manto,amrita pritam and munshi premchand namely toba tek Singh, mard and thakur ka kuan respectively.
These stories would be presented in the form of a play in the duration of 45 minutes.
7290
Neeli Raag (True Blue) Film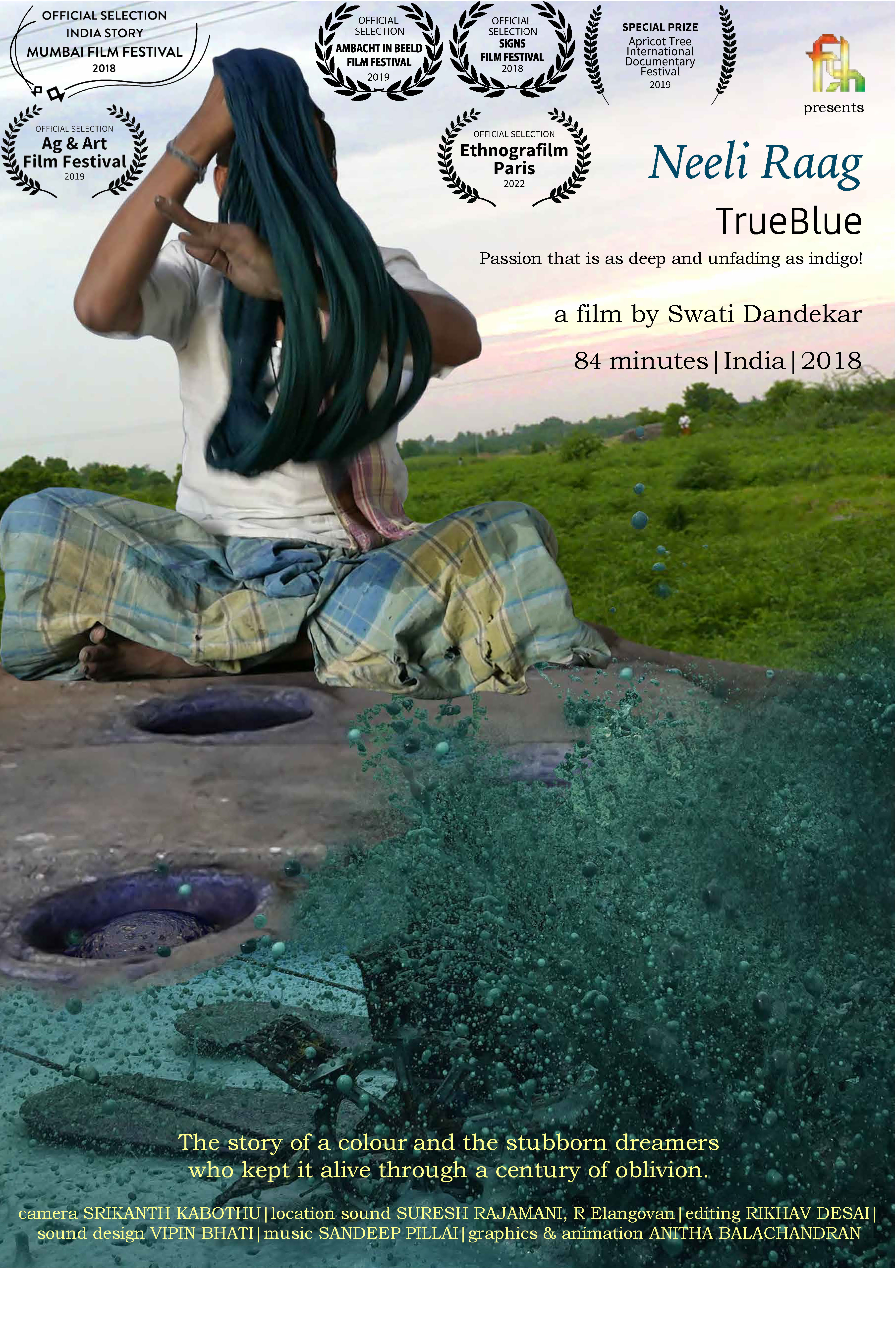 Sun Jun 26, 7:00 PM
Lamakaan
Film Title: Neeli Raag (True Blue)
84 minutes | India | 2018
Telugu, Tamil, Kannada, Hindi, Gujarati, English; Subtitled in English


Synopsis:
Indigo is not just a colour, it never was... it was wealth, it was mystique, it was colonialism, tyranny and protest. It made history, but itself fell prey to the events and processes of time, until one day it seemed to disappear.
As the world begins to demand natural dyes once again, it is back in the spotlight. The stubborn dreamers who refused to forget their craft feel vindicated, but the world that once nurtured this difficult and capricious colour is no more.
Traversing the verdant monsoon of Tamil Nadu, the earthy expanses of springtime Telangana, and the wintry desert of Kachchh, Neeli Raag is an attempt to tell the story of indigo as it is practised in India today.

Interwoven with the narratives of the indigo craftsmen is the colour itself in its many moods, textures and forms. How does a green leaf yield blue colour? How do the different shades emerge? What is the chemistry that makes this possible? The processes of indigo are almost magical to behold, as murky solutions transform into a vibrant blue, bit by bit. This is a blue that deepens, mesmerises, stains, and seeps into the skin and nails, indeed the lives of those who craft it.


Awards:
Special Prize
Apricot Tree International Film Festival, Armenia, September 2019

Festivals:
Premiered at MAMI Film Festival, Mumbai, October 2018
Signs Film Festival, Kerala, November 2018
Craft-in Focus Film Festival, Amsterdam, April 2019
Ag & Art Film festival, California, September 2019
CMS Vatavaran, Delhi, November 2019
Madurai Film Festival, Madurai December 2020
Ethnografilm, Paris, April 2022


Director's Bio:
Swati Dandekar is a documentary filmmaker and a film educator based in Bangalore, India, with a special interest in creating visual narratives of the living history around her; of people, places, ideas, traditions, practices, and the continuous process of change. Her past work is a series of essay films that explore the relationship between place, people, resources and the institutions that govern these. Her film "Water and a City" was widely screened in India and abroad, and is part of the curriculum for courses in water management and development studies. In addition, she has been closely involved with designing media for education. As a founder trustee of Vikalp Bengaluru, she has been actively screening documentary films and curating festivals in Bangalore city for over fifteen years.
Swati heads the Film program at the Srishti Manipal Institute of Art, Design, and Technology, Bangalore.

Trailer:
Neeli Raag trailer - https://vimeo.com/257841442/8f3b637760

Press:
Review in the Hindu - https://www.thehindu.com/todays-paper/tp-features/tp-sundaymagazine/blue-is-the-warmest-colour/article25416117.ece

Review Firstpost - https://www.firstpost.com/living/neeli-raag-swati-dandekar-chronicles-indias-4500-year-old-tradition-of-indigo-dyeing-6485001.html


SCREENING FOLLOWED BY DISCUSSION WITH THE FILMMAKER

ALL ARE WELCOME!!!