«Prev
From Jun 6, '23 to Jul 6, '23
Next»
7964
Remembering Billy Wilder
Wed Jun 7, 7:30 PM
Lamakaan
As we all wait for the monsoon to arrive, let's quench our thirst for the finest cinema and remember to celebrate Billy Wilder's legacy on his 118th birthday and his immense contribution to the world of cinema. June is dedicated to the films of Billy Wilder at Lamakaan.

Billy Wilder born Samuel Wilder; June 22, 1906 – March 27, 2002) was an Austrian-born filmmaker. His career in Hollywood spanned five decades, and he is regarded as one of the most brilliant and versatile filmmakers of Classic Hollywood cinema. He received seven Academy Awards (among 21 nominations), a BAFTA Award, the Cannes Film Festival's Palme d'Or, and two Golden Globe Awards.

Billy Wilder was a renowned filmmaker whose works have left an indelible mark on the history of cinema. Born in Austria in 1906, Wilder later migrated to the United States and became one of Hollywood's most celebrated directors and screenwriters. His films, characterized by their sharp wit, biting satire, and masterful storytelling, spanned various genres, including romantic comedies, film noirs, and dramas. Wilder's notable works include classics such as "Double Indemnity," "Sunset Boulevard," and "Some Like It Hot." Known for his exceptional ability to blend comedy and drama, Wilder created a unique cinematic style that captivated audiences and garnered critical acclaim. His insightful observations on human nature and his keen eye for detail continue to inspire and influence filmmakers to this day. Billy Wilder's contributions to cinema remain timeless and have firmly secured his place as one of the greatest filmmakers ever.

Film Title: SUNSET BOULEVARD | 1950 | 110 minutes | English Language |

About the film: Sunset Boulevard is a 1950 American black comedy film noir directed and co-written by Billy Wilder and produced and co-written by Charles Brackett. It was named after a major street that runs through Hollywood, the center of the American film industry.

SCREENING FOLLOWED BY DISCUSSION! ALL ARE WELCOME!!! ENTRY IS FREE & OPEN TO ALL!!!
7921
Bachna oo Haseeno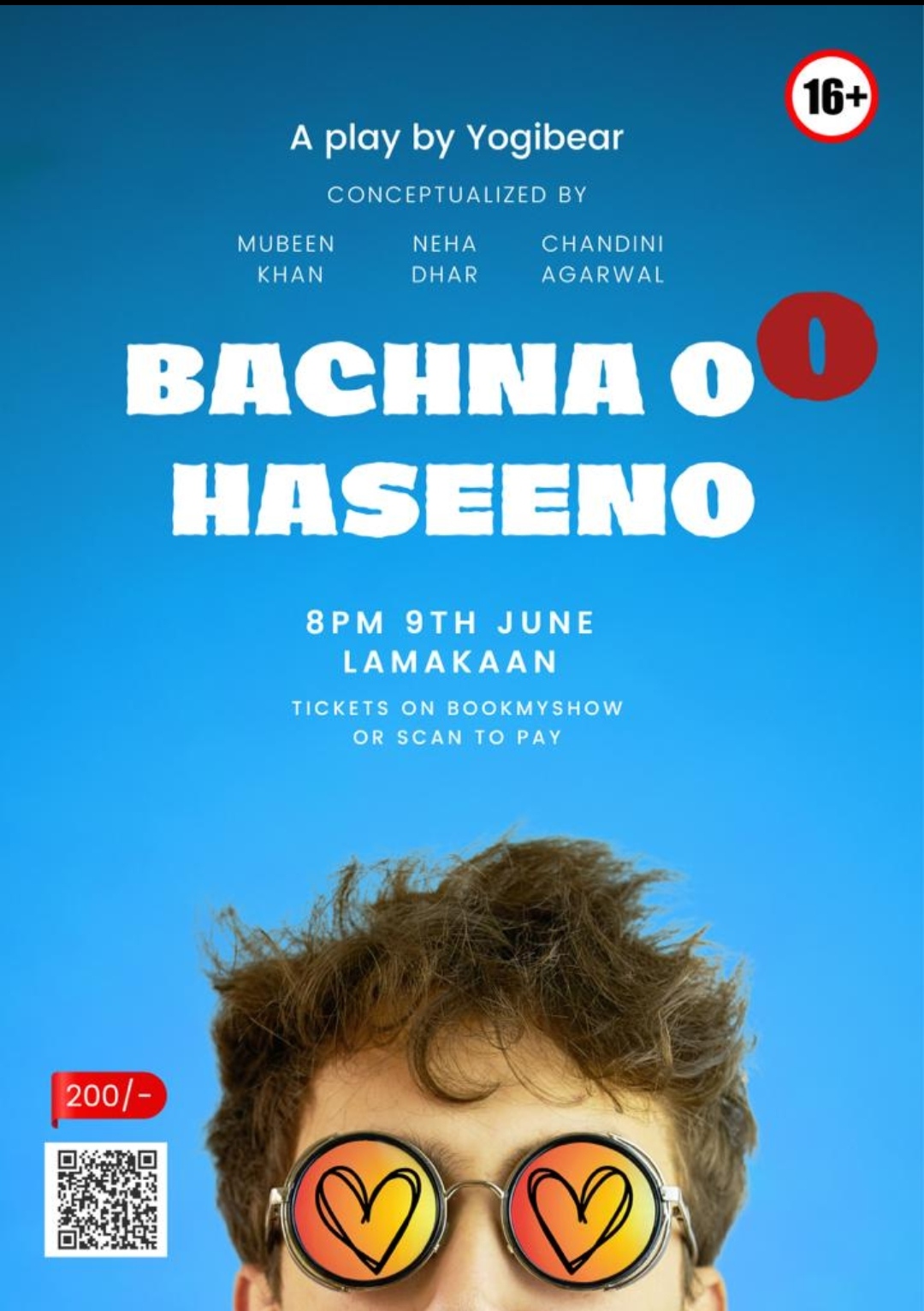 Fri Jun 9, 8:00 PM
Chandani Agarwal
Bachna Oo Haseeno is a story about two young girls and a dead body.

What would you do if you woke up to find a body in your living room?
How would you go about dealing with a situation like this?

In the 1:20 min play Julie and Arya come up with ridiculous ideas and sinister plans to deal with a situation no-one could ever have imagined.

A laughter riot, come watch as mayhem turns to opportunity ending in an ironic twist of events.
7943
Stocking Flower Making Workshop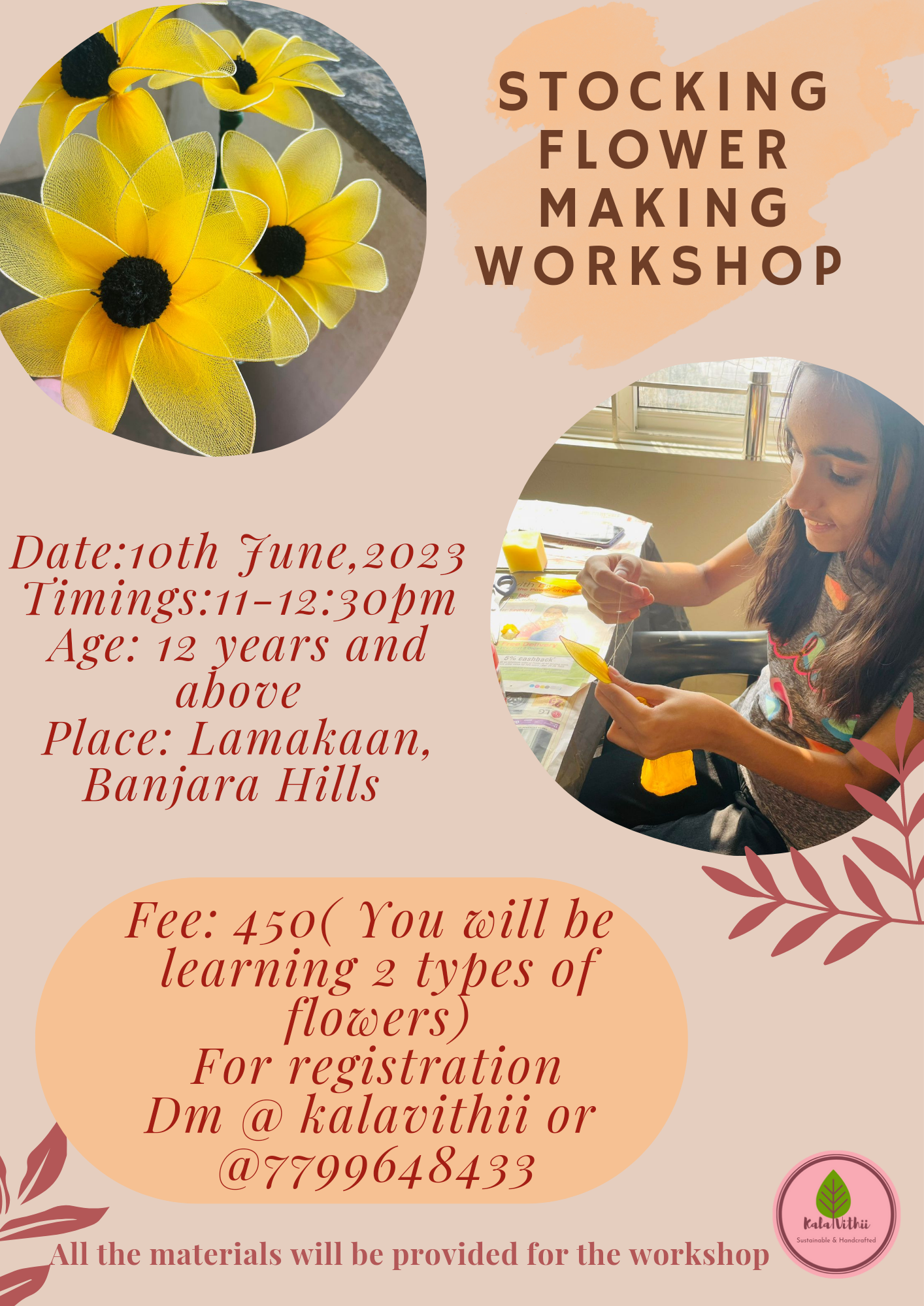 Sat Jun 10, 11:00 AM
Khushboo Surana
Join us for an exciting summer afternoon Workshop this Saturday where you will learn to make stocking flowers with step by step process and detailing. Register yourself for a fun filled and mindful experience as you sit and enjoy the scenic beauty at Lamakaan while crafting your flowers which can be used as home decor products or can be gifted to your near and dear ones. You will be provided with all the materials for the workshop and will be learning to make 2 types of flowers. DM to register or call @ 7799648433. See you all for this amazing session. Fee: 450
7861
EBAR DHORMORAJYO
Sat Jun 10, 8:00 PM
SHUDRKA HYDERABAD
Our Bengali play, "EBAR DHORMORAJYO" (Comes Now Kingdom of Justice!) is written and directed by Swapan Mondal. In the play Gandhari and Kunti of Mahabharata meet on the last day of Kurukshetra war. If there is one issue that occurs again and again in this play, it is "Dharma". It is perhaps the most debated and yet perhaps the most compromised. The play unhinges classical interpretation of the epic, while at the same time using the incidents in the epic to enunciate moral and ethical concerns and elaborate on the meanings of "Dharma" in the current context.
7869
Repair Cafe Hyderabad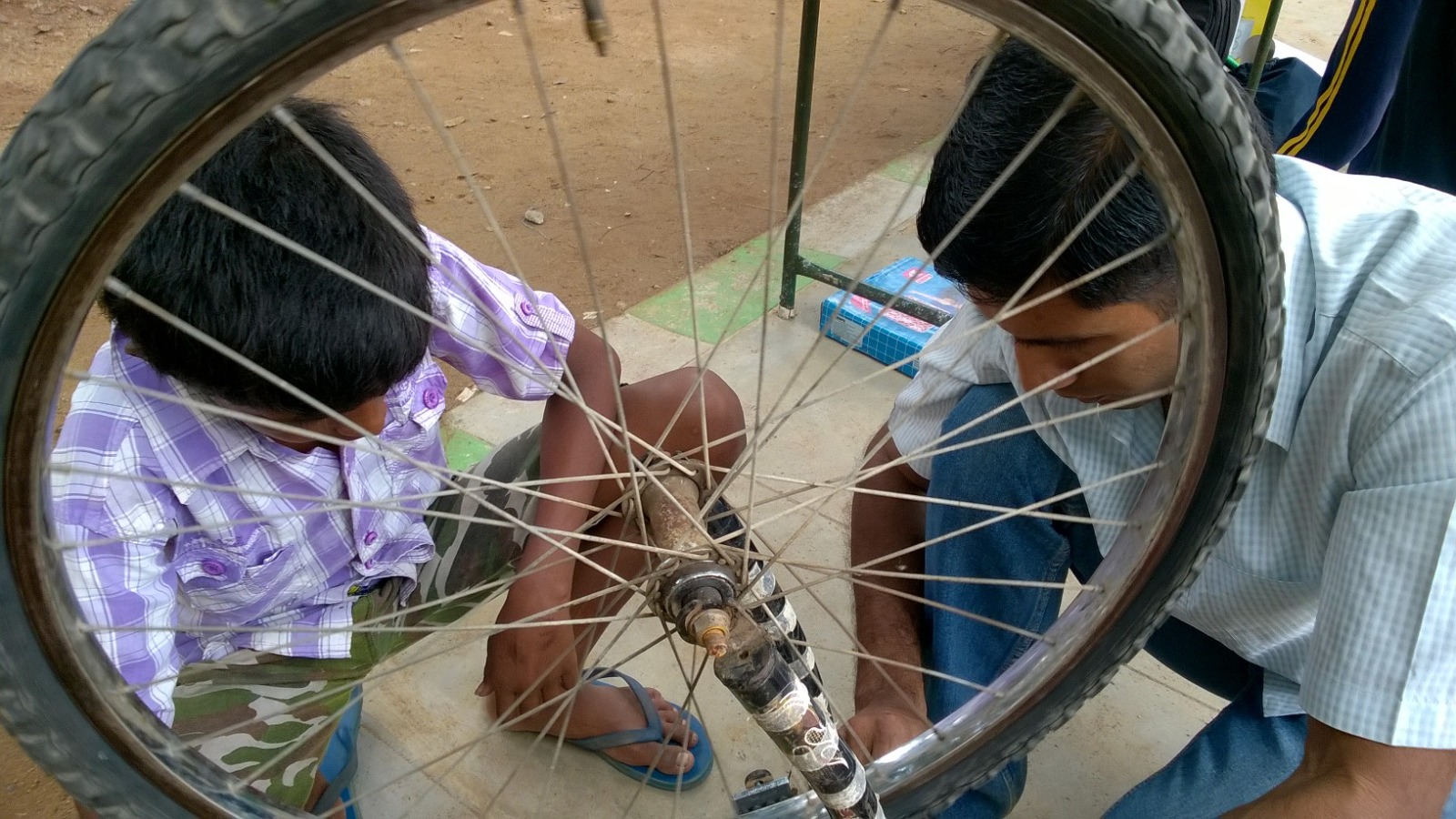 Sun Jun 11, 1:30 PM
Mehdi Ishrati
Repair cafe Hyderabad organises repair based workshop for children. Here we will be repairing /maintaining bicycles, toys and clothes. This workshop is for all age groups.

Don't throw fix!
7866
Sifar's ROUND & ROUND & ROUND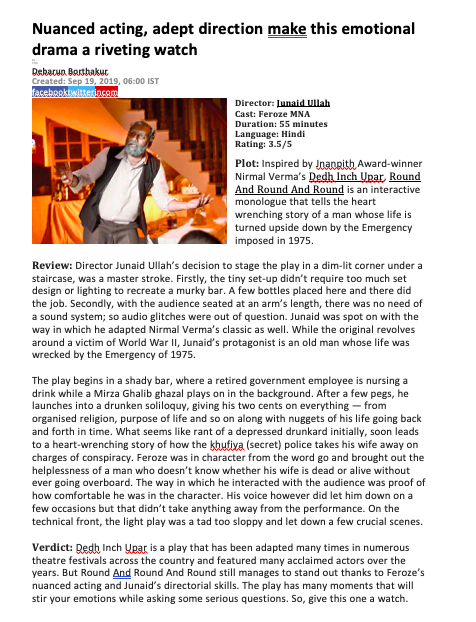 Sun Jun 11, 8:00 PM
Sifar Theatre

Round and Round and Round, a play based on Nirmal Verma's Dedh Inch Upar, is
an old man's experience of being oppressed by the State and the Society. How he
underwent oppression and what is his confession on a session of drinks in the bar
forms the plot of the play.

Undoubtedly, he is the last customer in that bar. But to know when he actually leaves
the bar, you have to watch Round & Round & Round.
So, join him over the drinks to catch the old man in round and round action.

7957
Tamseeli - Mizahia Mushaera
Wed Jun 14, 6:00 PM
lamakaan
1-*Suleman Khateeb*(Chora Chori)
*Shabeena Farshori* and
*Rafia Nausheen*
2-*Nazeer Dahqani* (Hind mera ghup padiya tha)*Dr.Waheed Uddin*
3-*Suleman Khateeb*(Yeh Kis ka Palang hai Basha)*Armaan Farshori*
4-*Sarwar Danda*(Ide na ma desham)*Dr.Azmat Ullah*
5-*Dilawar* *Figaar*(Ehtemam E Shaerana)*Mohd Shahid Raza*
6-*Ali Saeb Miyan*(Leo Khutba)*Mohd Asrar Azam*
7-*Himayat Ullah* (Nani Maan)*Mumtaz Ishrat*
8-*Gilli Nalgondavi*(Nakko na)*zaid Khan*
9-*Sibghat* *UllahBambat*(Shadi)
*Omer Baig*
10-*Mustafa Ali Baig*(Chavve)*Saema Mateen*
11-*Pagal Adilabadi*(yeh maloom na Woh maloom)*Rehan*
12-*Fareed Anjum*(Faelatun)*Inaet Ullah*
13-*Himayat Ullah*(Aankhon Ka Atiya) *Javed Mohiuddin , Aakif Mirza,Wajid Mohiuddin*
14-*Raja Mahdi Ali Khan*
(Adeeb ki Mahbooba)*Mohd Lateef Uddin Lateef*(Sadr E Mushaera)
7944
Fabric Jewellery Workshop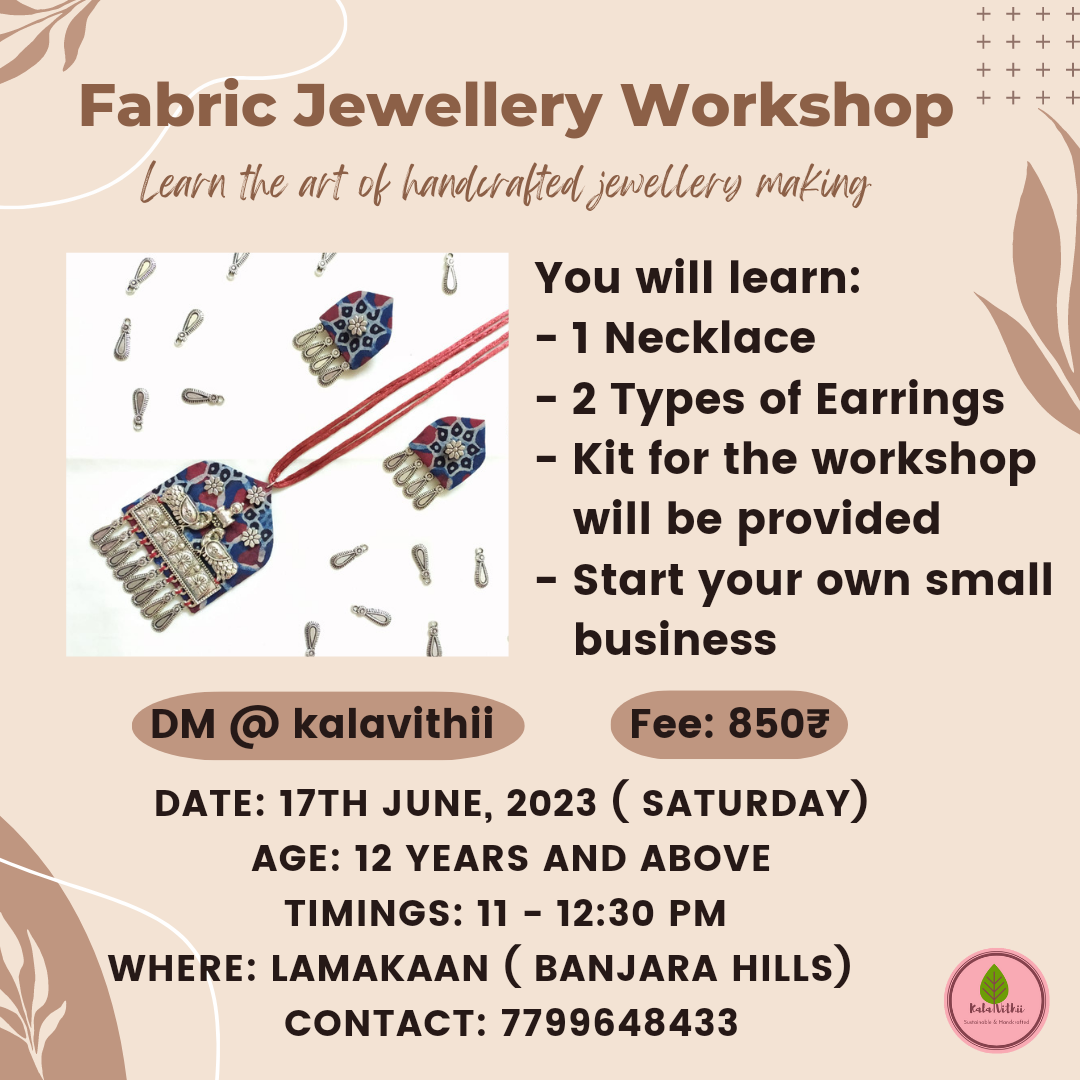 Sat Jun 17, 11:00 AM
Khushboo Surana
Looking for some interesting sustainable craft workshop this weekend!! Join in for this amazing upcycling workshop where you will learn to upcycle leftover fabric scraps and turn them into beautiful jewellery pieces using different techniques.. You will make a neckpiece,a pair of earrings and a bangle in this workshop.All materials will be provided. Fee: 850(including material) Age: 12 years and above For further queries and registration DM @ kalavithii
7876
Abstract/Fluid Art
Sat Jun 17, 4:30 PM
Dr. R. Mary Prasanna
Art Exhibition of a New Fluid Artist in the Market.
Fluid/Abstract Art – Original Paintings, no photocopy nor imitation.
Good quality brands, such as Golden, Liquitex, Camel, Mont Marte and Fevicryl acrylics used.
7939
Cereus Group:Group Meetup
Sun Jun 18, 3:30 PM
Kiran Kumar M
Ours is a Meetup Group: Cereus Group focused on the Support for Mental Health. The meeting is to discuss and describe the functions of the group in the coming days.
7924
Queer Painting Art Exhibition
Sat Jun 24, 6:00 PM
Vishnu Teja
In the pride month of June, Astitvam Foundation would like to organize an art exhibition by queer and ally artists for creating visibility in art circles for queer artists and a short panel discussion followed by few cultural programmes.
7645
Akhlaaq with Haziqah Book Launch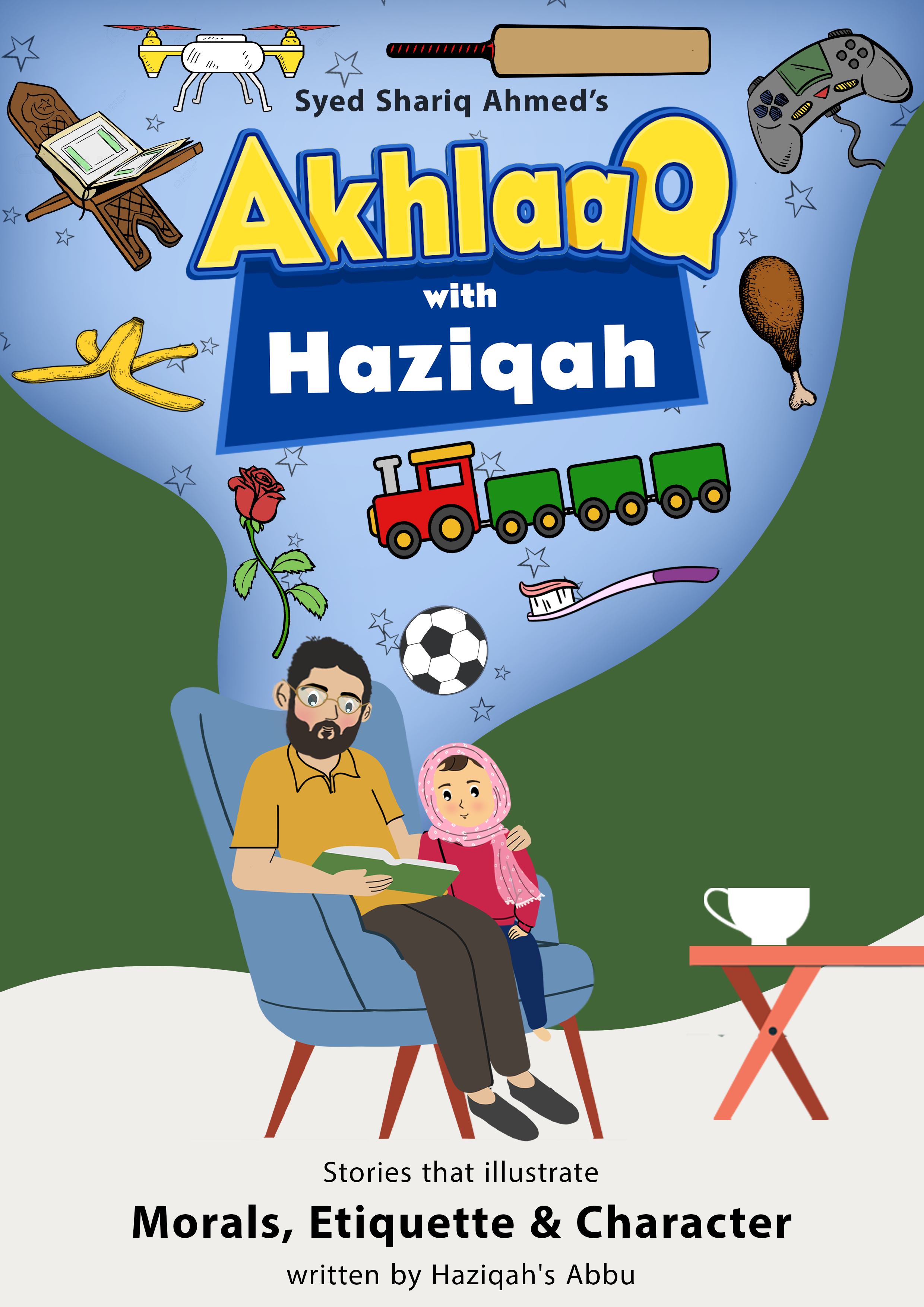 Sun Jun 25, 7:30 PM
Syed Shariq Ahmed
The book is written by Haziqah's Abbu (Father), Syed Shariq Ahmed. Initially it was narrated in the close network for the children the age group of five to ten years. All the stories published in the form of audio & text digitally. Now we are working converting all the stories in the form of book (physical & digital) & 2D 'Animation Cartoon' form.

The website link is here: https://akhlaaqwithhaziqah.podia.com
7954
OMGODDESS!
Sat Jul 1, 8:00 PM
Home Productions - Varun Gyanchandani
A delighfully quirkly dialogue between the Mortal and Goddess

Mortal....A species on earth who has been gifted with that one ability to choose, to make decisions and ask questions! But unfortunately, all answers he gets are dissatisfactory...Yet he seeks an answer to one of his major support systems...his creator...What`s his take on the world?