«Prev
From Dec 11, '23 to Jan 10, '24
Next»
7915
Remembering Fritz Lang
Wed Dec 13, 7:00 PM
Lamakaan
Lamakaan invites you to a whole month of Fritz Lang's movies.

Friedrich Christian Anton Lang December 5, 1890 – August 2, 1976), better known as Fritz Lang, was an Austrian film director, screenwriter, and producer who worked in Germany and later the United States. One of the best-known émigrés from Germany's school of Expressionism, he was dubbed the "Master of Darkness" by the British Film Institute. He has been cited as one of the most influential filmmakers of all time.

Lang's most celebrated films include the groundbreaking futuristic science-fiction film Metropolis (1927) and the influential M (1931), a film noir precursor. His 1929 film Woman in the Moon showcased the use of a multi-stage rocket, and also pioneered the concept of a rocket launch pad (a rocket standing upright against a tall building before launch having been slowly rolled into place) and the rocket-launch countdown clock.[5][6] His other major films include Dr. Mabuse the Gambler (1922), Die Nibelungen (1924), and after moving to Hollywood in 1934, Fury (1936), You Only Live Once (1937), Hangmen Also Die! (1943), The Woman in the Window (1944), Scarlet Street (1945) and The Big Heat (1953). He became a naturalized citizen of the United States in 1939.

Film Title: MAN HUNT | 1941 | 105 Mins | US | English & German Languages with English Subtitles

About the film: Man Hunt is a 1941 American thriller film directed by Fritz Lang and starring Walter Pidgeon and Joan Bennett.[1][2] It is based on the 1939 novel Rogue Male by Geoffrey Household and is set in Europe just prior to the Second World War. Lang had fled Germany into exile in 1933 and this was the first of his four anti-Nazi films, which include Ministry of Fear, Hangmen Also Die!, and Cloak and Dagger. It was Roddy McDowall's first Hollywood film after escaping London following the Blitz. Man Hunt was one of many films released in 1941 that were considered so pro-British that they influenced neutral members of the U.S. public to sympathize with the British side in World War II.[.

SCREENING FOLLOWED BY DISCUSSION! ALL ARE WELCOME!!! ENTRY IS FREE & OPEN TO ALL!!!
8340
Book Launch
Fri Dec 15, 4:00 PM
Dheeraj Vemuganti
This is for book launch
క్షణికాలు- ఆఫ్ లైట్స్ అండ్ లైవ్స్
This book is about compilation of stories and poetry and Hyderabad has a city has a heartful place in this book.
8319
How to defeat Fascism decisively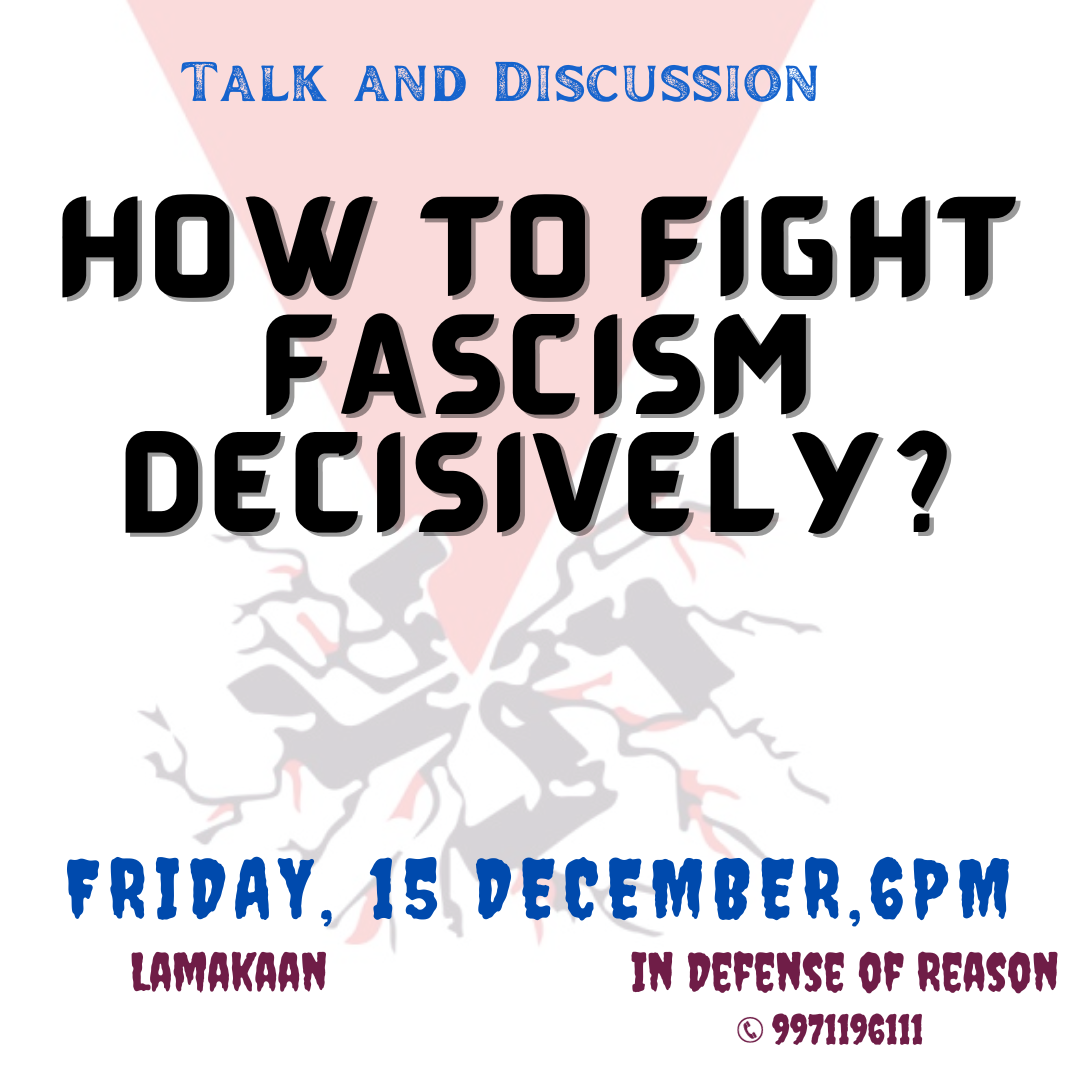 Fri Dec 15, 6:00 PM
In Defense of Reason
By now, it is clear without doubt that what we are witnessing in India is the onslaught of Hindutva fascism. It is a kind of fascism which has developed in the specific context of India. It has many similarities with the fascism that rose in Europe in 1930s and at the same time it has several pecularities as well. In order to fight it out in the current era, we need to grasp both the elements of continuity and of change thouroughly. Only then we will be in a position to make effective strategy and tactics to defeat Hindutva fascism decisively and to uproot it from our society. With this aim in mind, 'In Defense of Reason' is organising this important talk and discussion. The main speaker will be Anand Singh who is a political activist based out of Hyderabad. We invite all the progressive and justice-loving people who wish to erase all traces of fascism from our society to be part of this important discussion.
8351
Time's Ticking - 3 Comedy Shorts
Fri Dec 15, 8:30 PM
Suzanne Patel
Time's Ticking - Three Comedy Short Plays

That's Her - Written by Suzanne Patel
Quick Stop - Anonymous writer - Edited by Suzanne & Ayaz
Sure Thing - Written by David Ives - Adapted by Suzanne & Ayaz

All three short plays are set in a coffee shop, so minimal set-up of one table and two chairs needed. Lights: Generic stage lighting, and one Spot light. Sound: Console to play sound cues, mics, speakers.
NOTE: Show timing details... Entry starts at 8:30, show begins by 8:45PM (I have selected 1.5hrs as the duration, to cover the time from set-up to wrap-up i.e 8:15 to 9:45)
P.S: I will share our event picture by Sunday.
8332
Ayena (Mirror) Film Screening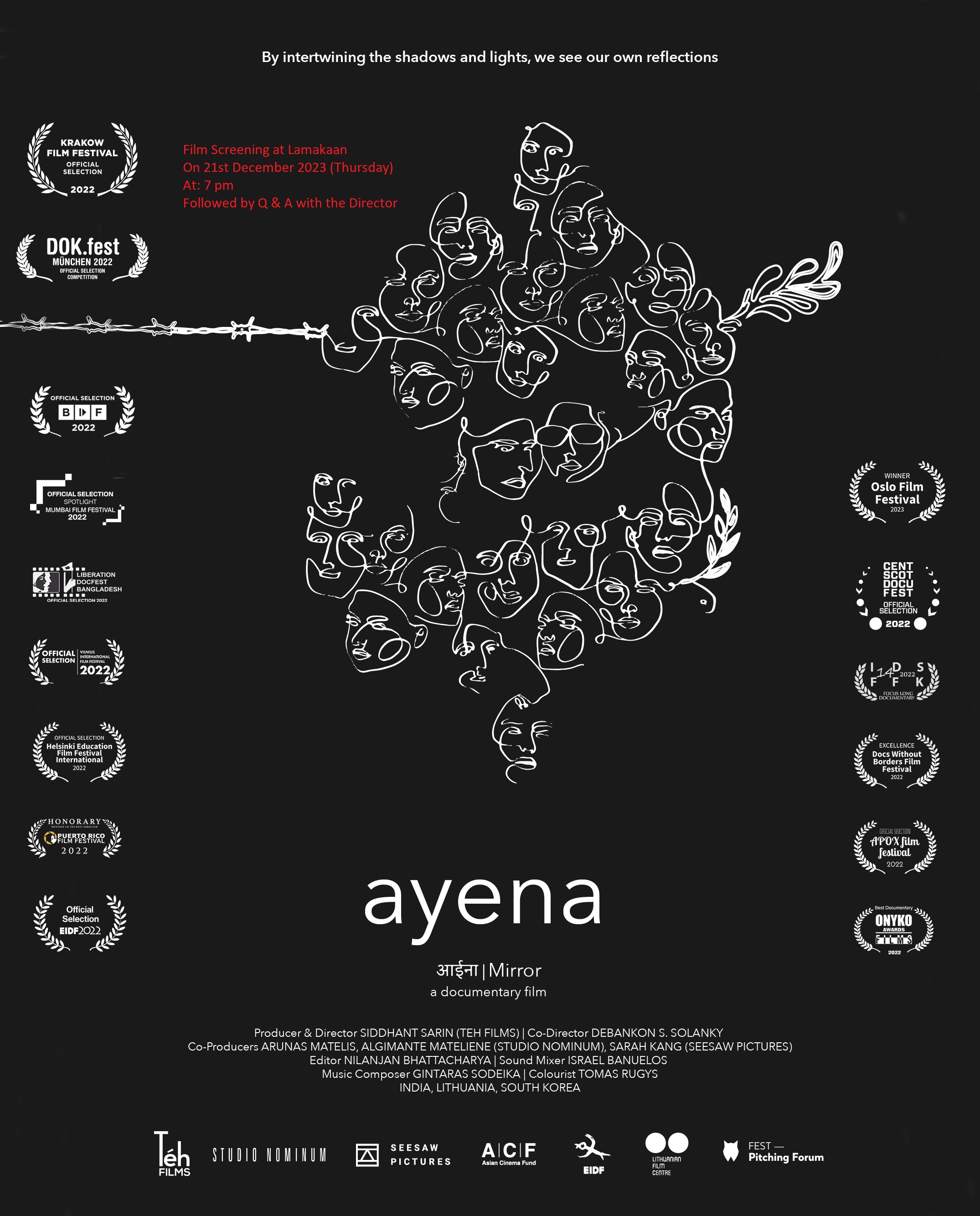 Thu Dec 21, 7:00 PM
Lamakaan& Siddhant Sarin
Lamakaan invites you to an award-winning documentary film screening of Ayena (Mirror).

Producer & Director: Siddhant Sarin
Co-Director: Debankon Solanky
Co-Producers:
Arunas Matelis, Studio Nominum
Sarah Kang, Seesaw Pictures

Hindi/Urdu | 70 min | color | Documentary | 2021

SYNOPSIS:
A momentary act of revenge transformed the lives of two young Indian women forever. After surviving an acid attack while carrying the scars of human brutality on their face, both Ritu and Faraha now have to navigate a sea of odd currents daily.
Strangely enough, Ritu's scars also brought her fame. She occasionally finds herself talking on television, modelling at fashion events, or even featuring in a Bollywood film. Still, she often feels lonely. She wants to be loved and embraces
an ambiguous relationship with a fellow female acid attack survivor.
Faraha, on the other hand, has come to terms with her post-attack singlehood and her new lease of
life. As she begins to enjoy freedom and independence, a desire to become a mother slowly brews inside her.

By intertwining the shadows and lights, hope and hopelessness in Ritu and Faraha's life, Ayena becomes a mirror where we can also see our own reflections.

ALL ARE INVITED! ENTRY FREE!
8311
Rumi Hai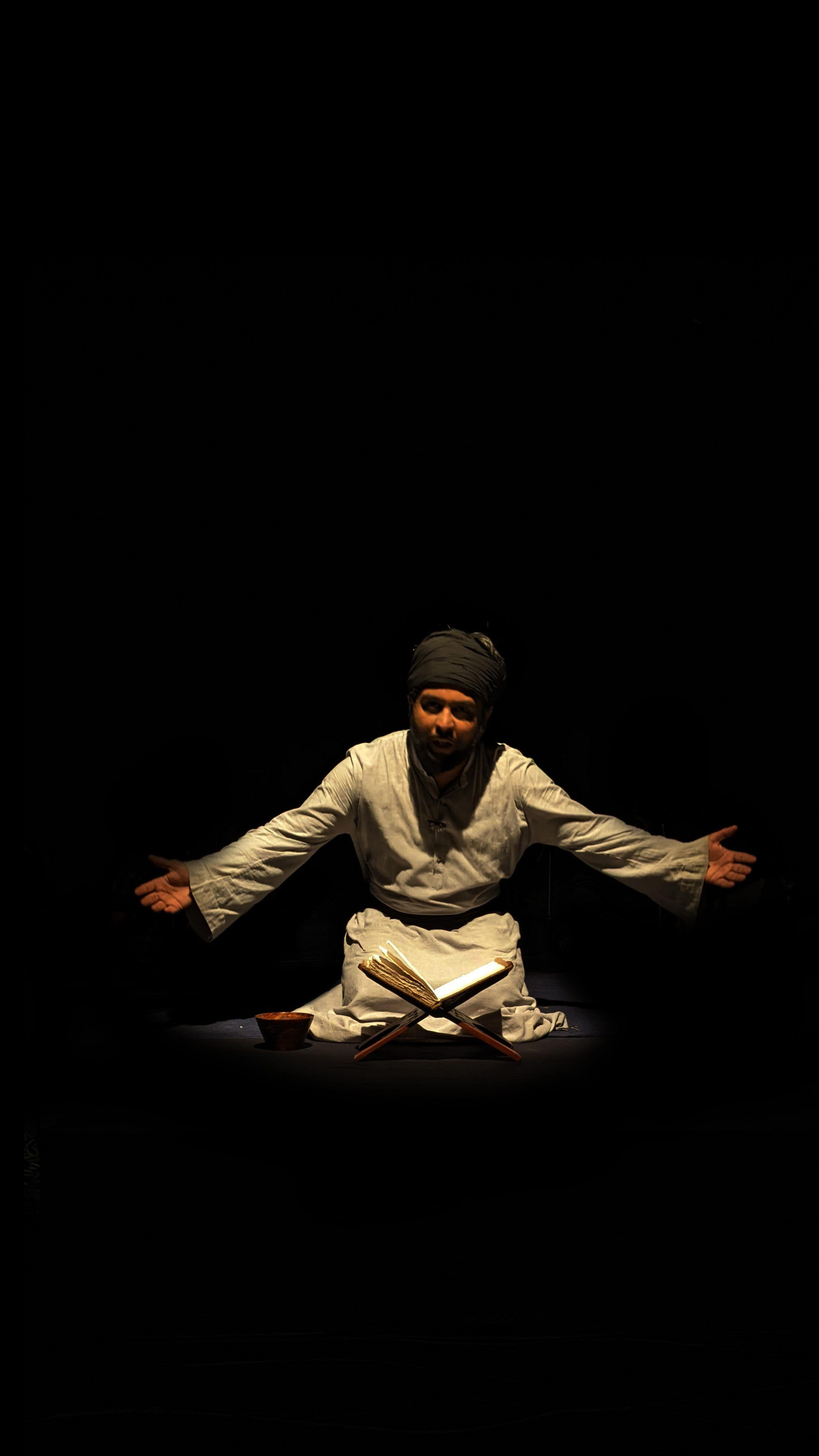 Fri Dec 22, 8:00 PM
Ashwin Chitale
Rumi Hai', an hour-long mehfil dedicated to the life and works of Persian poet Rumi.
Through this mehfil, We wish to bring to light these underappreciated gems of Rumi which have gotten lost in the fame of his more famous works. The program is an hour-long biographical glimpse through "Naqqali" into the life of Rumi, his inspiration for writing, and his signature philosophy on life's many conundrums. The program will be helmed by a 'Naqqal' telling his life story through his own original ghazals, recited in both, the Persian language that it was originally written in, followed by a Hindi-Urdu translation as well.

The show is created and performed by Ashwin Chitale, who discovered the beauty of Farsi through its incomparable literature. Ashwin has been learning the Persian language for over four years now. To develop his language skills beyond the scope of his language course, he started studying Persian literature and discovered a deep love for Farsi poetry and storytelling. He also holds a Master's degree in philosophy, which helped him gain a deeper understanding of Persian philosophy and the way of life as depicted through its literature.
Ashwin won the National Award for Best Child Artist for his debut Marathi film "Shwas" in 2004. Having a background in Performing arts and the Persian language inspired him to create a performance that showcases the beauty of this language through the poetry and philosophy of Maulana Rumi, who is regarded as one of the most iconic Farsi writers of all time.


8339
Healthy Eating Choices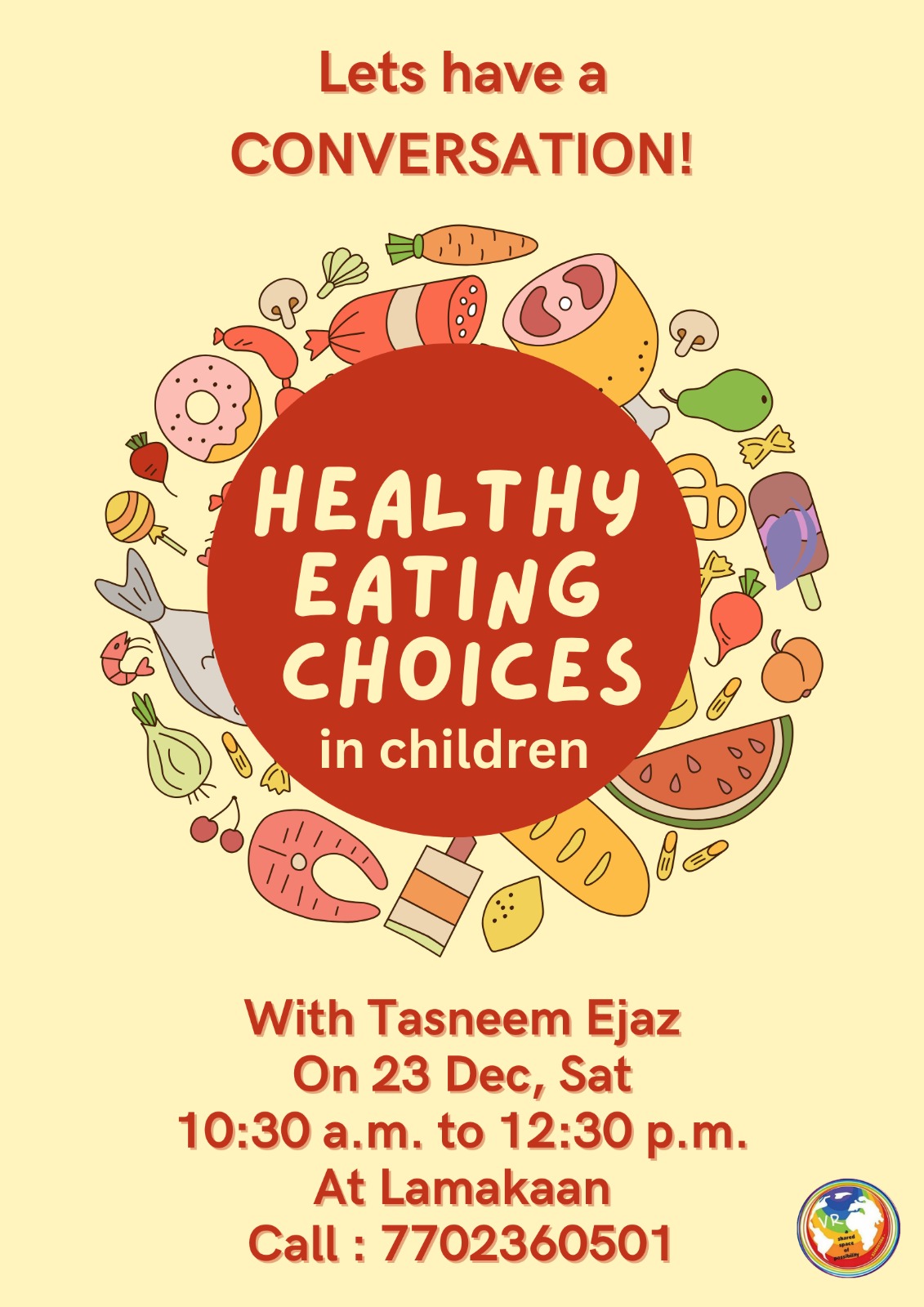 Sat Dec 23, 10:30 AM
VISION RAINBOW - an open school
Healthy eating habits play a crucial role in the overall well-being and development of children. Nurturing positive dietary practices from a young age not only fosters physical health but also lays the foundation for a lifetime of good nutrition. In this session, we will discuss effective and positive ways to encourage healthy eating in children.
8328
Workshop on suicidal tendencies
Sat Dec 23, 2:00 PM
Anil
This is meeting or gathering where we talk about homophobia, Biphobia, Transphobia,femphobia and how social media platforms are turning in to unsafe places which is encouraging suicidal tendencies
8244
Soldier's Silence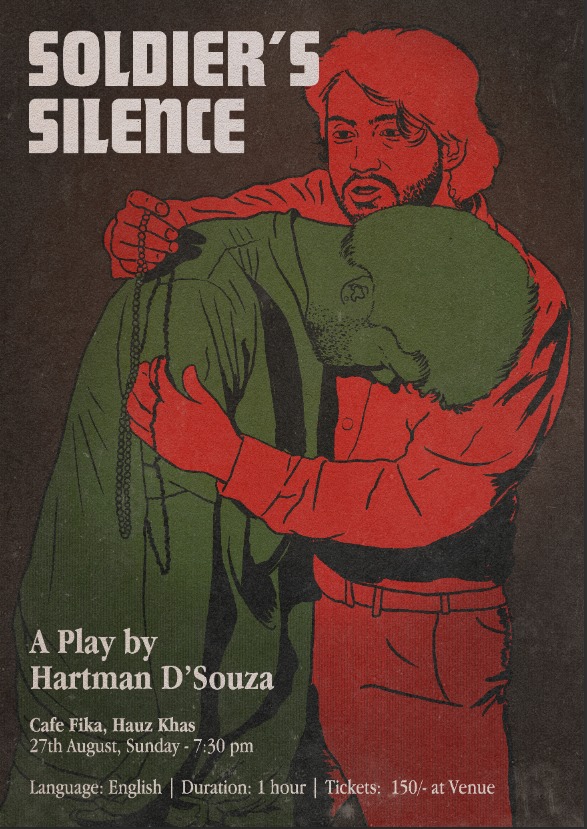 Sat Dec 23, 8:00 PM
Shivam Sardana
A forsaken Indian airport with a faulty electric supply. The peak of Indian summers. This setting becomes the battleground between an American war veteran and an Iraqi militant both disabled now, a few years after the Gulf war.

Come witness this unique chance encounter between two war torn soldier's who were destined to be at loggerheads by the design of the world, but who end up talking freely about the vices and slices of their worlds and almost become friends. Until...

The play is open to all audiences above the age of 16.
Duration: 55 minutes
8349
A Presentation - JMI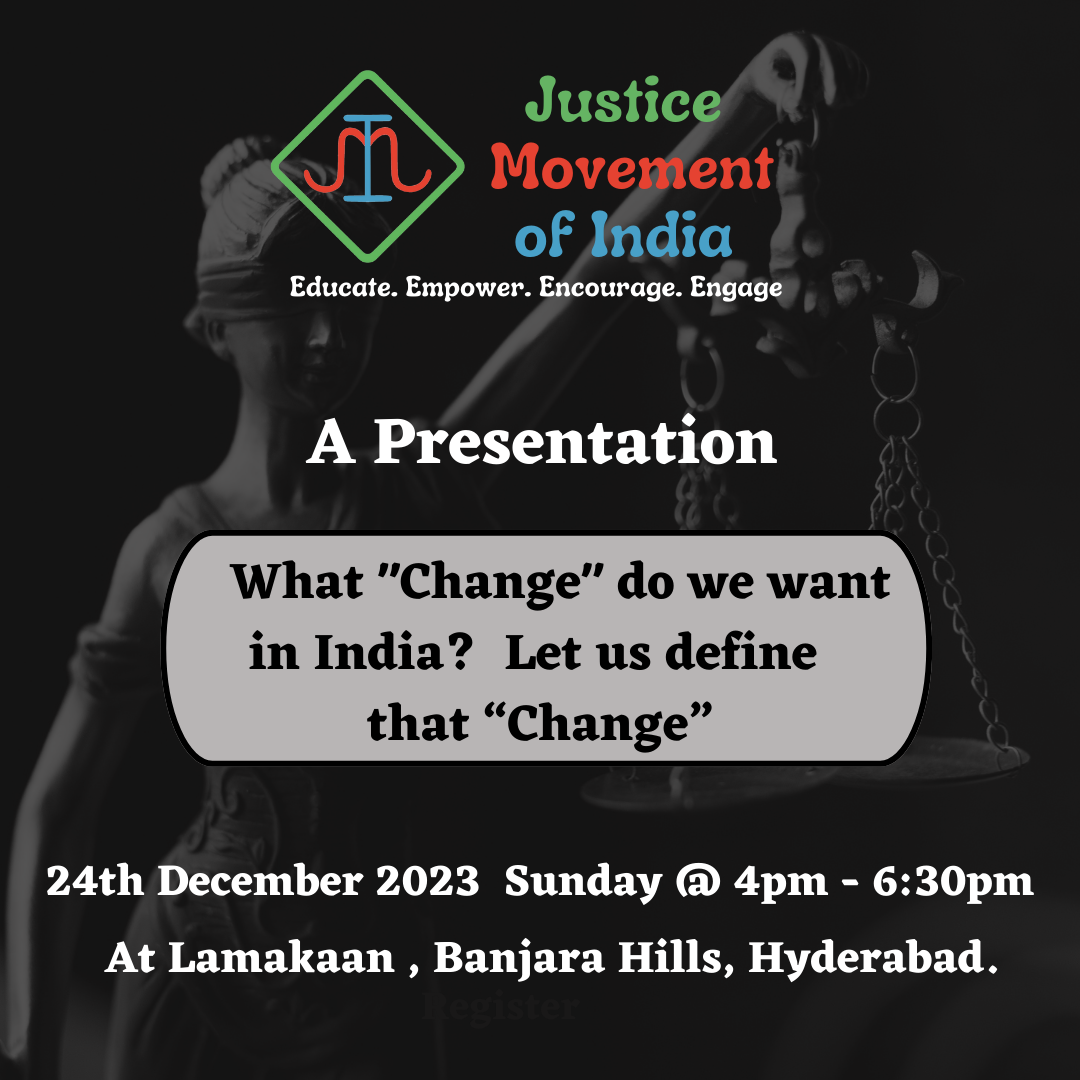 Sun Dec 24, 4:00 PM
Akarsh Sriramoju
Hello everyone, as we know, it's been 76 years since independence, but our Vision for our country, inscribed in our constitution, is still a distant dream. Our preamble emphasizes social justice, economic justice, and political justice, and due to the changing circumstances, it became a mandate to practice environmental justice to protect our earth. Therefore, we believe that upholding these four justice principles is crucial for becoming a progressive nation. Understanding this Vision, we - a group of responsible citizens, have started the "Justice Movement of India." It is a long-term movement aimed at bringing citizens, activists, experts, NGOs, Civil society organizations, and intellectuals together for the sake of our Nation's progress. We are organizing " A Presentation" on 24th December from 4 pm to 6:30 pm, and we request you to attend to discuss and define the "Change" we want in India.

The presentation will take place in ( English and Telugu ) .

Website: https://justicemovementofindia.org/

Thanks Akarsh Sriramoju
(Educational Psychologist)
JMI- Organizer
8274
Khatarnak Khala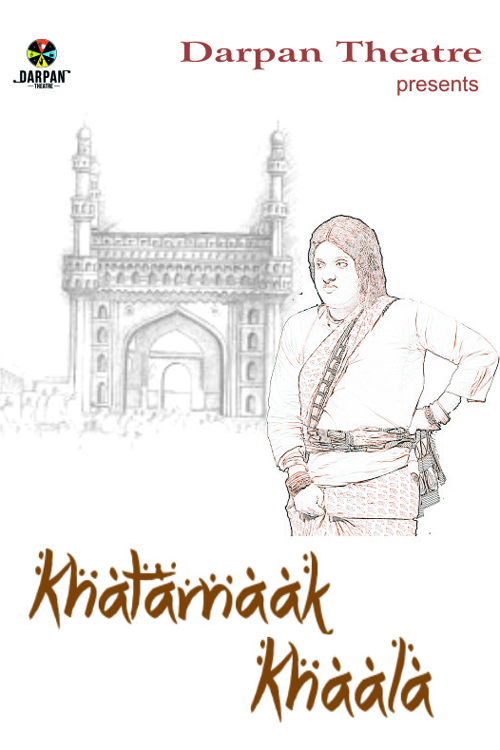 Sun Dec 24, 8:00 PM
Darpan Theatre
This play revolves around the funny family members with Hyderabadi dialect and how they keep themselves busy with crazy and mad things. The protagonist Khala (elderly aunt in Urdu) is an ill-tempered but sensitive woman who is feared by everyone. It will take you on the laughter ride through the funny Nok-Jhok between the husband, wife and a servant. Beauty of the play is revealed at the last. The play maintains a fine balance between a character comedy and slapstick. Without leaning too much on either of them, the play manages to tickle the funny bones of the audience and in the process, slips in a social message as well.
8352
Students music concert & carols
Tue Dec 26, 6:00 PM
Neeta Jasper
Students of Jasper music school , will be presenting western classical pieces on piano , guitar and violin as part of the students concert held once In a quarter .
90% of presenters are children and rest adults.
Parents will be present to encourage their kids.

Christmas carols will be sung by students & participants, to ring in the festive spirit & bringing in peace and joy to all mankind.
Instruments : guitars, keyboard and violin
8295
The Conflict of DESPAIR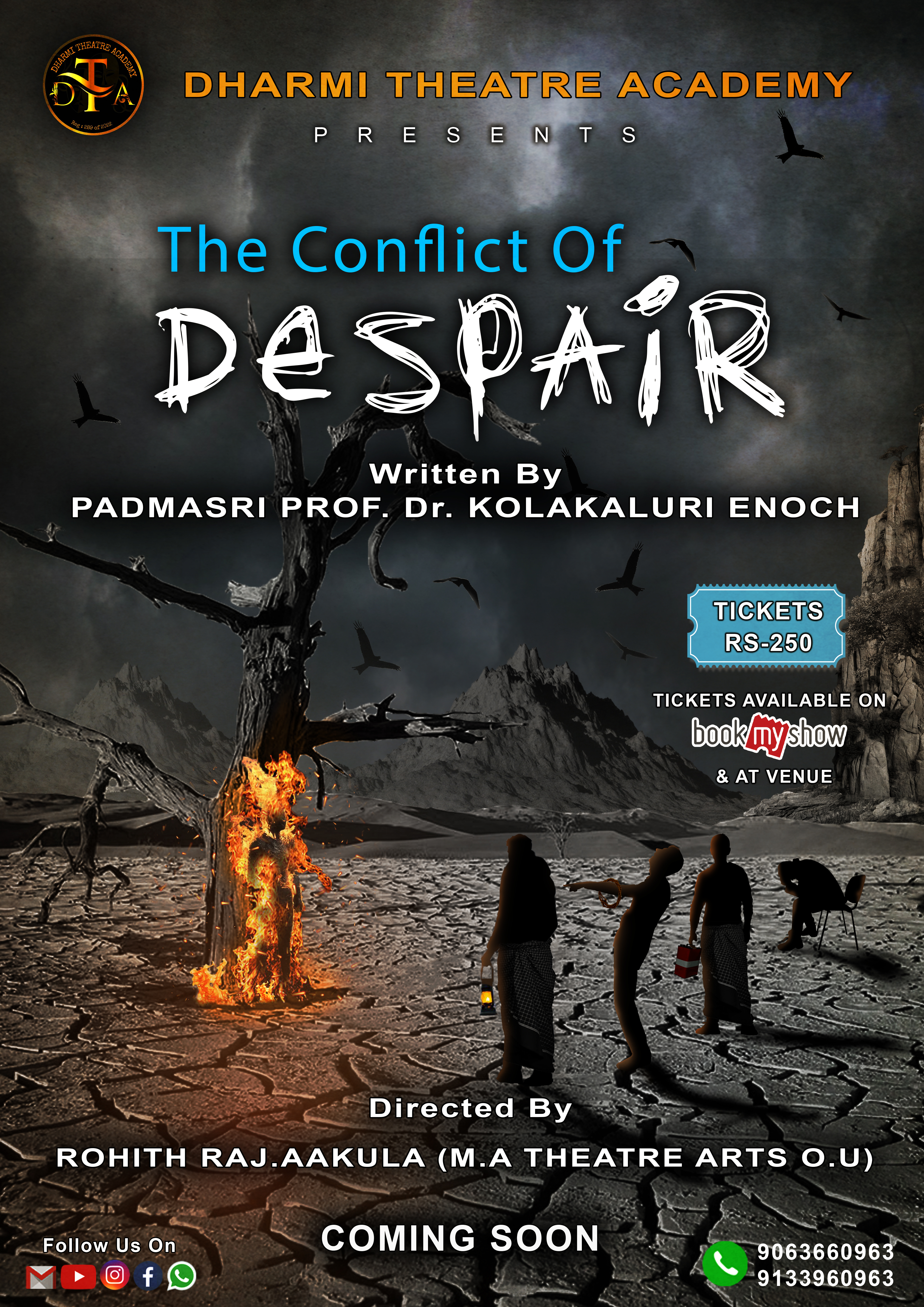 Fri Dec 29, 8:00 PM
Rohith Raj Aakula
The Conflict of Despair is Envirnomental Theatre play Presenting by Dharmi Theatre Academy,its an english Paly Which is a tragical action drama written by Padmasree awardee,Dr.prof.Kolakanoori Enouch and play Directed by RohithRaj Aakula (M.A)Theatre Arts Osmania University and FOunder of Dharmi Theatre Academy
8253
Nrutyanjali
Sat Dec 30, 5:30 PM
Sai Niharika Panchagnula
Shiva Sankalpa School of dance, based in Sanathnagar celebrates its 1st Anniversary with "Nrutyanjali", A Kuchipudi Dance Recital.
8344
Aahatha Sangeetalayam - vocals
Sun Dec 31, 10:30 AM
D JAYASURYA
Aahatha Sangeetalayam - workshop on vocal (singing)
The mentor will be sharing the knowledge of Carnatic music and how to sing.
Registration will be 200per head
Teacher will be teaching few basics of music and also few songs.
8294
The Conflict of DESPAIR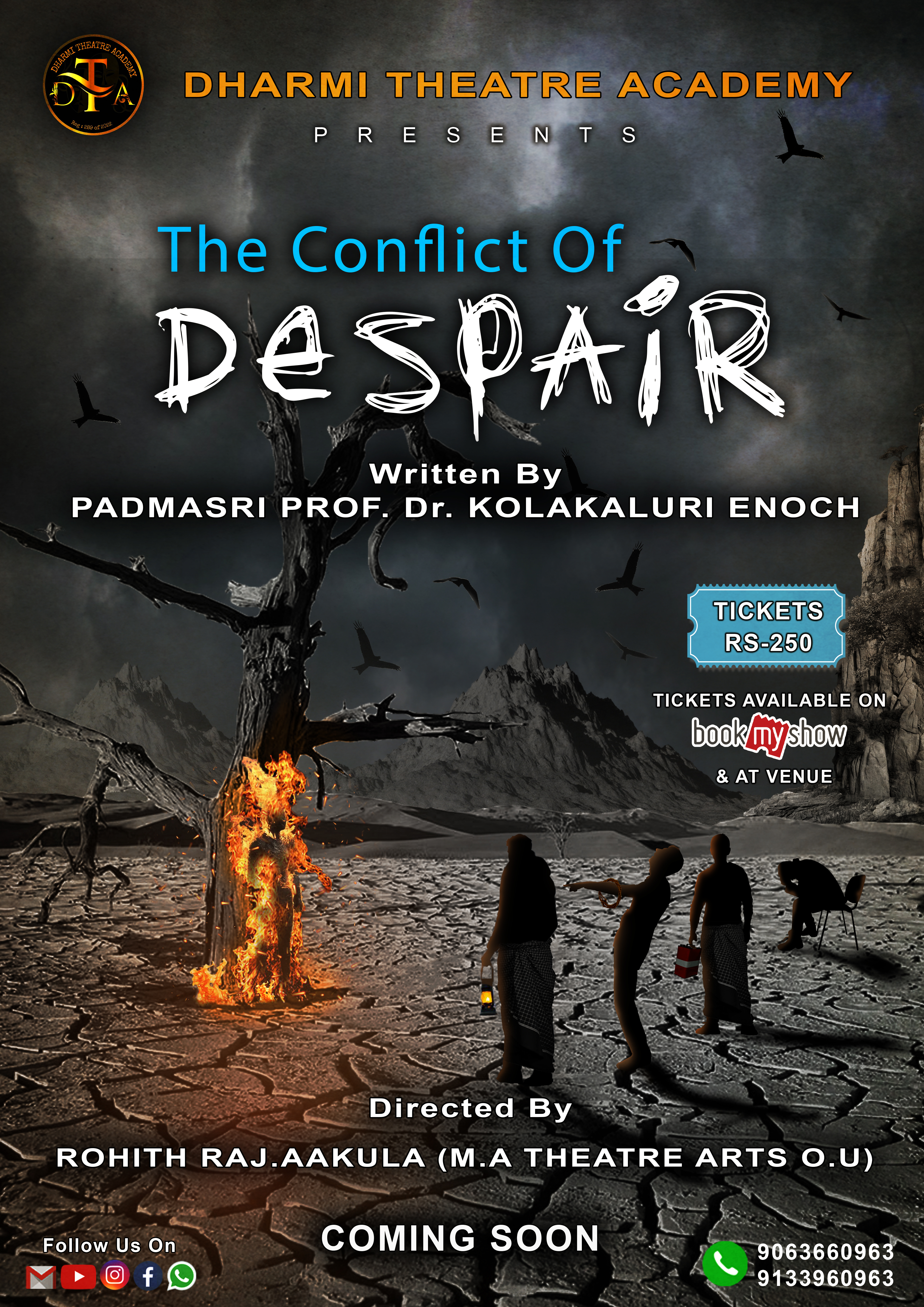 Sun Dec 31, 8:00 PM
Rohith Raj Aakula
The Conflict of Despair is Envirnomental Theatre play Presenting by Dharmi Theatre Academy,its an english Paly Which is a tragical action drama written by Padmasree awardee,Dr.prof.Kolakanoori Enouch and play Directed by RohithRaj Aakula (M.A)Theatre Arts Osmania University and FOunder of Dharmi Theatre Academy
8192
JAAM-E-SHAHADAT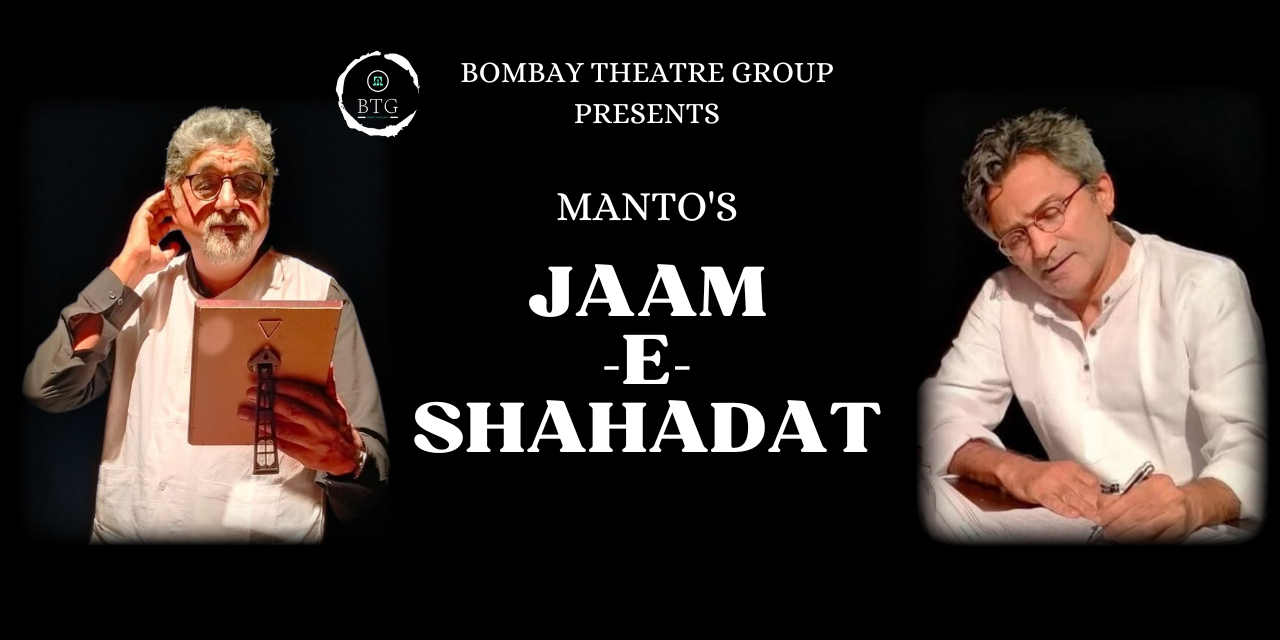 Sat Jan 6, 8:00 PM
Narendra Sachar
JAAM-E-SHAHADAT
"the glass of martyrdom"

Multiple shows performed successfully in Mumbai, Bangalore, Mysore and Dharwad.

A theatrical adaptation of Saadat Hasan Manto's story Shaheed – Saaz is a sharp satirical look at the post partition era when people were swayed with the idea of sacrifice and martyrdom even as they struggled to adapt to a new national identity. The immense loss of life and property resulted in poor migrants living at the mercy of charity. And yet few shrewd businessmen profited from this, painting their profiteering with the colors of supreme sacrifice and martyrdom. Set in 1948 the story is about the journey of one such Punjabi migrant from Kathiawad, Gujarat in India to Lahore in Pakistan. Belonging to the class of 'Baniyas' the man, who had a successful business of cocaine in Kathiawad, Gujarat, travels to Pakistan in search of setting up a new big business in his newly formed homeland. Working hard to build his empire and multiply his wealth, he is suddenly struck by a misplaced angst that he had neglected doing any charitable work since his arrival here. He starts searching for that one charitable act which will earn him his place in heaven. But nothing seems worthy of his benevolence as he travels through the length and breadth of the city and shares his experiences after interacting with people of all types and classes.

PERFORMERS – NARENDRA SACHAR
SANJEEV MEHTA

VOICE OVER - NAVED ASLAM

STORY BY – SAADAT HASAN MANTO

ADAPTATION – SANJEEV MEHTA & MAYA RAO

LIGHTS & SOUND - MAYA RAO

COSTUMES & PROPERTIES - SONIA MEHTA

PRODUCER – MAYA RAO

DIRECTOR NARENDRA SACHAR

8193
JAAM-E-SHAHADAT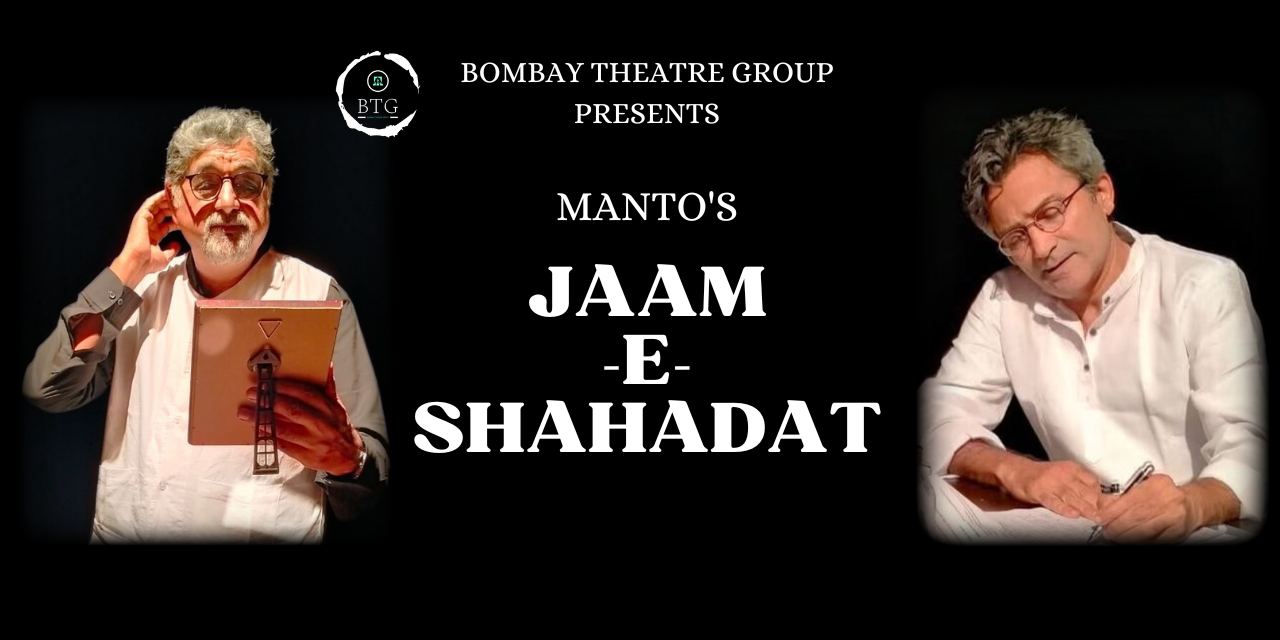 Sun Jan 7, 8:00 PM
Narendra Sachar
JAAM-E-SHAHADAT
"the glass of martyrdom"

Multiple shows performed successfully in Mumbai, Bangalore, Mysore and Dharwad.

A theatrical adaptation of Saadat Hasan Manto's story Shaheed – Saaz is a sharp satirical look at the post partition era when people were swayed with the idea of sacrifice and martyrdom even as they struggled to adapt to a new national identity. The immense loss of life and property resulted in poor migrants living at the mercy of charity. And yet few shrewd businessmen profited from this, painting their profiteering with the colors of supreme sacrifice and martyrdom. Set in 1948 the story is about the journey of one such Punjabi migrant from Kathiawad, Gujarat in India to Lahore in Pakistan. Belonging to the class of 'Baniyas' the man, who had a successful business of cocaine in Kathiawad, Gujarat, travels to Pakistan in search of setting up a new big business in his newly formed homeland. Working hard to build his empire and multiply his wealth, he is suddenly struck by a misplaced angst that he had neglected doing any charitable work since his arrival here. He starts searching for that one charitable act which will earn him his place in heaven. But nothing seems worthy of his benevolence as he travels through the length and breadth of the city and shares his experiences after interacting with people of all types and classes.

PERFORMERS – NARENDRA SACHAR
SANJEEV MEHTA

VOICE OVER - NAVED ASLAM

STORY BY – SAADAT HASAN MANTO

ADAPTATION – SANJEEV MEHTA & MAYA RAO

LIGHTS & SOUND - MAYA RAO

COSTUMES & PROPERTIES - SONIA MEHTA

PRODUCER – MAYA RAO

DIRECTOR NARENDRA SACHAR