Upcoming Events
«Prev
From Jun 25, '19 to Jul 25, '19
Next»
6138
Ennio Morricone Month - Movie 3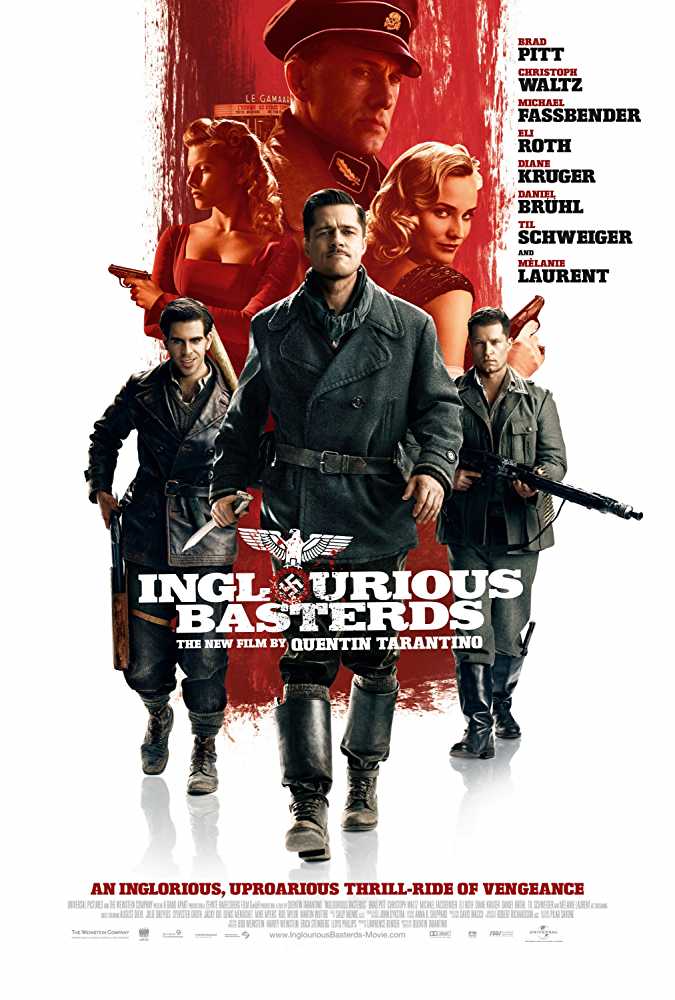 Wed Jun 26, 7:00 PM
Cinephiles Film Club
Inglorious Basterds

In Nazi-occupied France during World War II, a plan to assassinate Nazi leaders by a group of Jewish U.S. soldiers coincides with a theatre owner's vengeful plans for the same.
Director: Quentin Tarantino
Writer: Quentin Tarantino

Movie Screening - @7PM
Post Screening discussion - 15 mins
6167
Sadhana Interfaith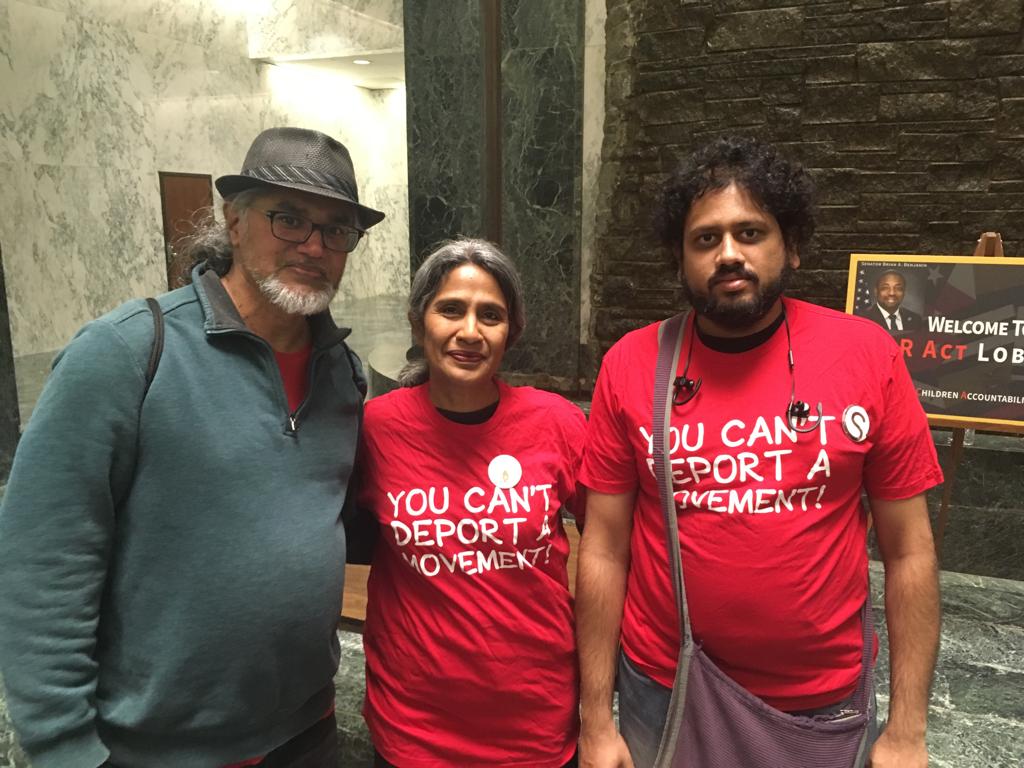 Thu Jun 27, 6:00 PM
Lamakaan
SADHANA CAFE

Sapthagiri "Giri" Iyengar will give a presentation about the work of Sadhana: Coalition of Progressive Hindus to mobilize Hindu Americans to connect their faith to social justice values, engage in community seva, and speak out against all injustice, bigotry and violence.
Giri will then facilitate a discussion and brainstorming about how to create a platform like Sadhana in India, and what it's priorities and activities might be.

Giri is from Mysore, and is a Masters in Social Work student at Hunter College, New York. Giri has been an active member of Sadhana, particularly in the "sanctuary" movement for immigrants' rights.

ALL ARE WELCOME!!!
6169
Fascism is still resistible !!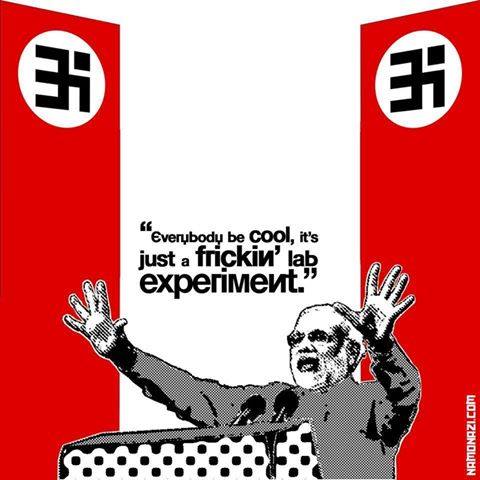 Thu Jun 27, 7:30 PM
IN DEFENSE OF REASON
The hopes of defeating fascism through electoral maneuvering have been dashed; the fascist juggernaut continues to roll on spilling ever more blood and rupturing the social fabric of the country. There is a sense of hopelessness and dismay among the Left and progressive circles in the wake of the return of Narendra Modi led NDA government at the helm. The setback has sent such a fiery shock wave that many have started blaming the masses while some are putting the entire blame on the EVM scam. Those who blame the masses for such a sorry state of affairs can only be asked to follow Brecht's advice to dissolve the electorates and choose a new one. As regards the EVM scam, while it could have been responsible for the increase in the margin of victory, it alone cannot explain this second coming of Modi government. The question arises: is fascism still resistible? On the face of it, the fascist rise in India looks invincible. But if we keep our faith in science and history intact even in this testing time, we would know that in order to cure a disease, it is very important to diagnose it properly. The strategy of defeating fascism through electoral means was based on the understanding that fascism comes into existence when a fascist party like BJP comes to power and gets defeated if it goes out of power. This understanding was fundamentally flawed in the first place because it failed to take account the reactionary social movement behind the rise of fascism and no wonder the strategy has backfired. If we really want to resist fascism at this dark hour in the history of our country, it is of utmost importance that we seek answer to the following questions: what lies at the root of fascism? What are the factors that are responsible for the rise of fascism in any society? What is the similarity and dissimilarity between the fascist rise of the decade of 1930s and the current fascist rise? What should be the correct strategy of resisting fascism and smashing it?

The speaker, Anand Singh, will try to answer these questions and will also provide the contours of the new round of struggle that needs to be waged to smash fascism from both long term and short term perspectives.
6125
Write Club Saturday General #207
Sat Jun 29, 3:00 PM
Write Club Hyderabad
Write Club Hyderabad helps you pen your thoughts, spill your mind and finally make an appointment with the writer in your head. We conduct free, weekly events that foster writing. Our Meetups aim at helping writers reach their goals in a supportive, collaborative, social setting. Writing doesn't have to be all by oneself. We welcome anyone who writes, regardless of genre, language or age. We have members writing novels, short stories, poetry, screenplays, essays, school reports and more. What we do, basically: One of the members of Write Club (anyone with a participation count over 2 consecutive meetups) hosts a session. They bring forth a theme and writing exercises. We all then write to the host's prompts and guidelines for about an hour. Once we're done writing, we read out our write-ups (optional). We also exchange feedback and constructively critique each other's works. Entry is free, anyone with an interest in writing can walk in. Bring your writing devices and we're all set! We promise to provide you with good coffee and a super-creative conversation. We have Write Club sessions every Saturday afternoon – 3 to 6 PM
6020
Bhallu the bear comes to Hydera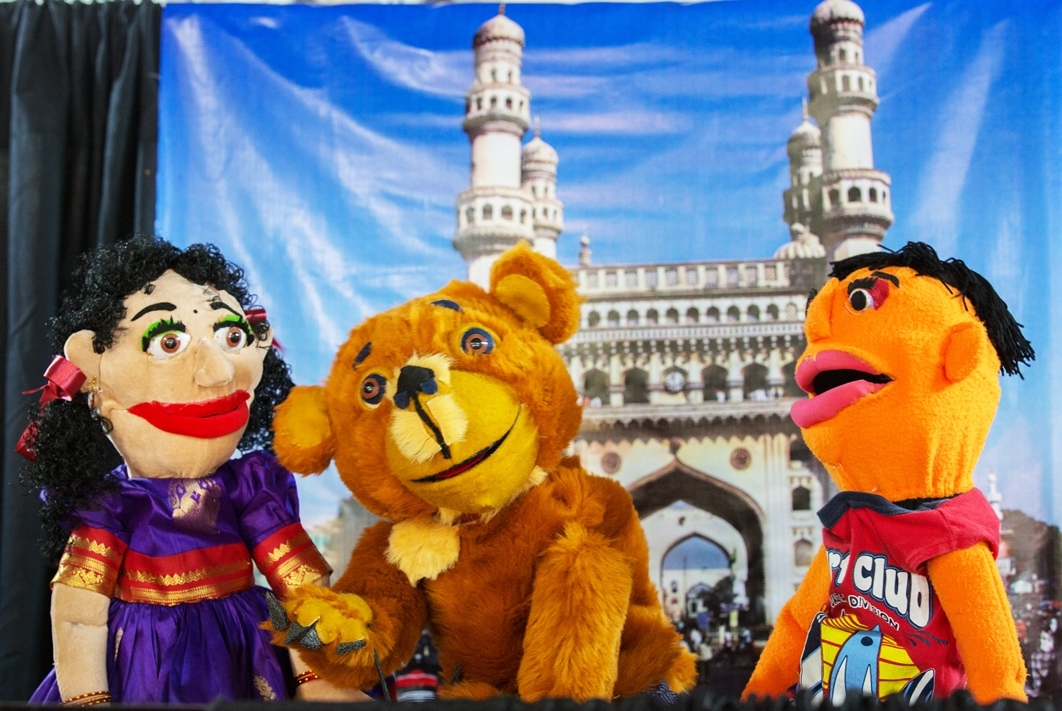 Sat Jun 29, 7:00 PM
Nori Art and Puppetry Centre
A contemporary puppet show by the Nori Art and Puppetry Centre.
Bhallu the Bear comes to Hyderabad
The story is about a bear, Bhallu who lives in Narsapur jungle. His bird friends, who have travelled far and wide tell him about the beautiful city of Hyderabad. Bhallu dreams about this city and makes up his mind to visit Hyderabad.
6128
Mini canvas painting workshop
Sun Jun 30, 3:00 PM
Pragya Mishra
As the name suggests, mini paintings are colorful handmade paintings very small in size.
Although it's not different from a normal canvas painting but it's more cute. You can keep it on your working desk to make your workplace more positive.
So, in this workshop you are gonna learn how to paint a mini canvas and you can take it with you.
Fee - Rs.500/- per person
For more information contact - 8437185825

6166
World Music Day Celebrations
Sun Jun 30, 7:00 PM
Lamakaan
As part of World Music Day being celebrated in Hyderabad, Lamakaan invites one and all to this year's WMD celebrations.

The Fête de la Musique, also known as Music Day, Make Music Day or World Music Day, is an annual music celebration that takes place on 21 June. On Music Day the citizens of a city or country are allowed and urged to play music outside in their neighborhoods or in public spaces and parks. Free concerts are also organized, where musicians play for fun and not for payment.

Agenda:
1. Classical evening with Mrs Aradhana Karhade Shastri, sri Rahul Deshpande and sri Vivek khayal
A Radha Kumari,

All India radio Graded Artiste in Classical Vocal, Devotional & Light Music Vocal Genres.
Done Masters in English Literature as well as Music.

Been performing on stage for the last 25 years
Teaching music for the last 25 years.

2.QAWWALI PERFORMANCE
By
Shaheen Women Resource & Welfare Association
 
Qawwaliis a musical tradition, belonging to the Sufi culture, wherein the soul of the singer and audience ecstatically becomes one with the Almighty. It was popularized during the Mughal era. It is mostly performed by men at dargahs or at places of sacred importance.
Shaheen Women's Resource and Welfare Association, an NGO located in the heart of Old City, Hyderabad, has been tirelessly working for the rights of young girls and women since the time of its establishment in 2002. Shaheen has successfully adopted Qawwali for its activities for twin reasons – firstly, to break the stereotype of Qawwals (singers) to be only men, and secondly, to create awareness in the community through Qawwalis on women's rights. The Qawwalis performed by the dedicated interventionists of the organization are unique in nature, with their focus on gender issues. They include topics like the protection and education of the girl child, domestic violence, 'Beti Basati Hi Ye Dunya Hamari Saari, discrimination against the girl child and child marriage, among a host of other women and child rights issues. The lyrics of the Qawwalis have been poignantly penned down by the Founder-Director of Shaheen, Ms. Jameela Nishat, who is an activist and poet herself. It is an exclusive effort on the part of Shaheen to promote cultural empowerment in society.
These Qawwalis portray the life story of girls suffering in the patriarchal society in such a way that one can visualize their agony. The performers often find the response from the audience to be overwhelming, and therefore feel this kind of a cultural activity to be an effective method of intervention to reach out to the masses.

ALL ARE WELCOME AND ENTRY IS FREE & OPEN TO ALL.
6143
Urdu zamaney ki icu mein
Fri Jul 5, 8:00 PM
Darpan theatre

Urdu zamaney key icu mein

One beautiful girl in a coma condition admitted in hospital who is a symbol of Urdu.
Various institution reach but rejects to own
This monologue share the historical account of National integration with the help of humor, mimicry and parody.

Written by Nayeem Javed
Designed and performed by Ali Ahmed

For details contact 9032018357
Entry fee 150

6016
SACH AUR SAHI
Sat Jul 6, 7:30 PM
DR.RAOOFUDDIN SHAKER AND GULZAR CULTURAL AND EDUCATIONAL SOCIETY
WRITTEN AND DIRECTED By Dr.RAOOFUDDIN SHAKER. A FOUR CHARACTER PLAY OF 40 MINUTES DURATION. A SEMI-SYMBOLIC PLAY WHERE MONEY COMES IN A DREAM OF A MIDDLE CLASS OFFICE EMPLOYEE AND SPEAKS ABOUT HIMSELF. HE TELLS IN LENGTH THAT, HOW HE RULES THE WHOLE WORLD.
6139
Unki Awaaz, Meri Zubaani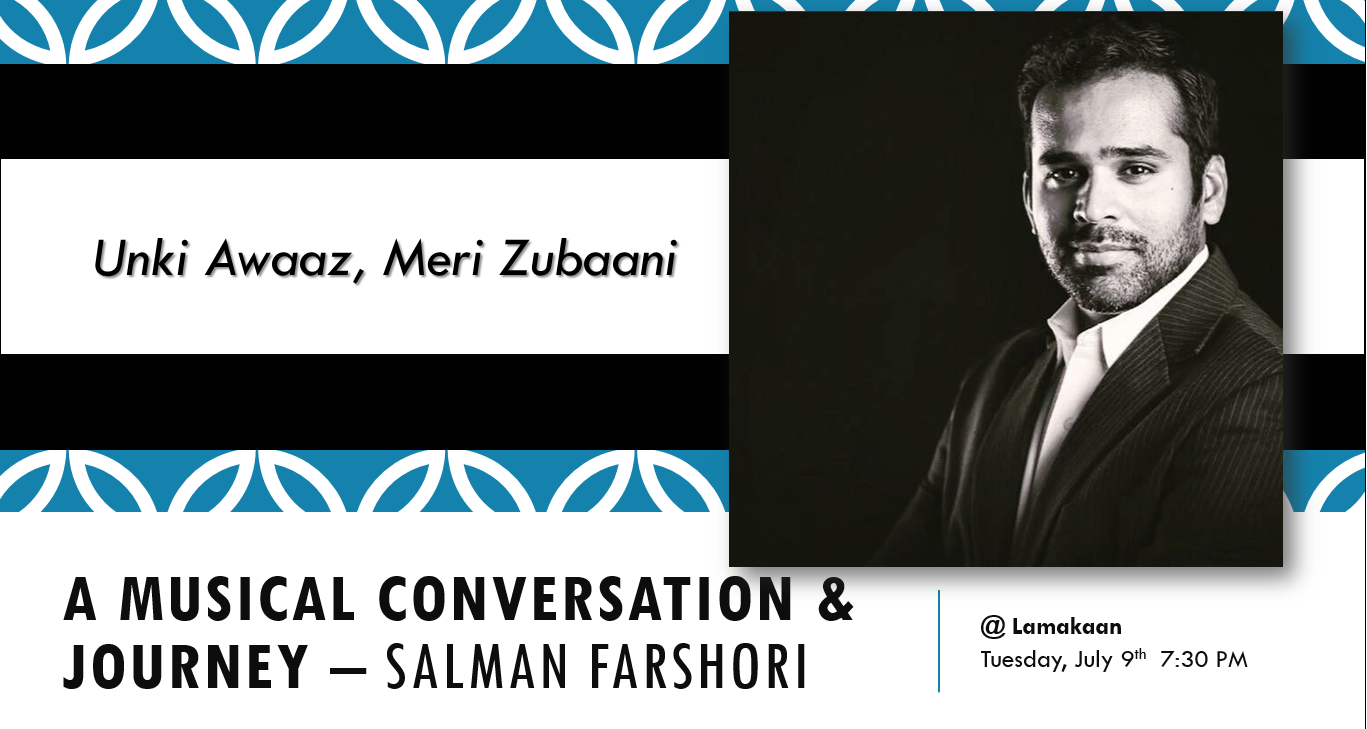 Tue Jul 9, 7:30 PM
Mohammed Salman Farshori
Unki Awaaz, Meri Zubaani - A musical conversation with Salman Farshori about Hindi Cinema's musical journey, all the way from From K L Saigal, 90's Hindi Pop to the new era singers.
6081
Environmental Leadership
Fri Jul 12, 10:30 AM
Environmentalist Foundation of India
A non-commercial, knowledge sharing program aimed at bringing students-teachers into the environment space. On this note, I request you and the Lamakaan Hyderabad management to consider being our venue partner for the same. we seek your support for venue on 12th and !3th of July 2019.
6126
Meet Author-Myth of Entrepreneur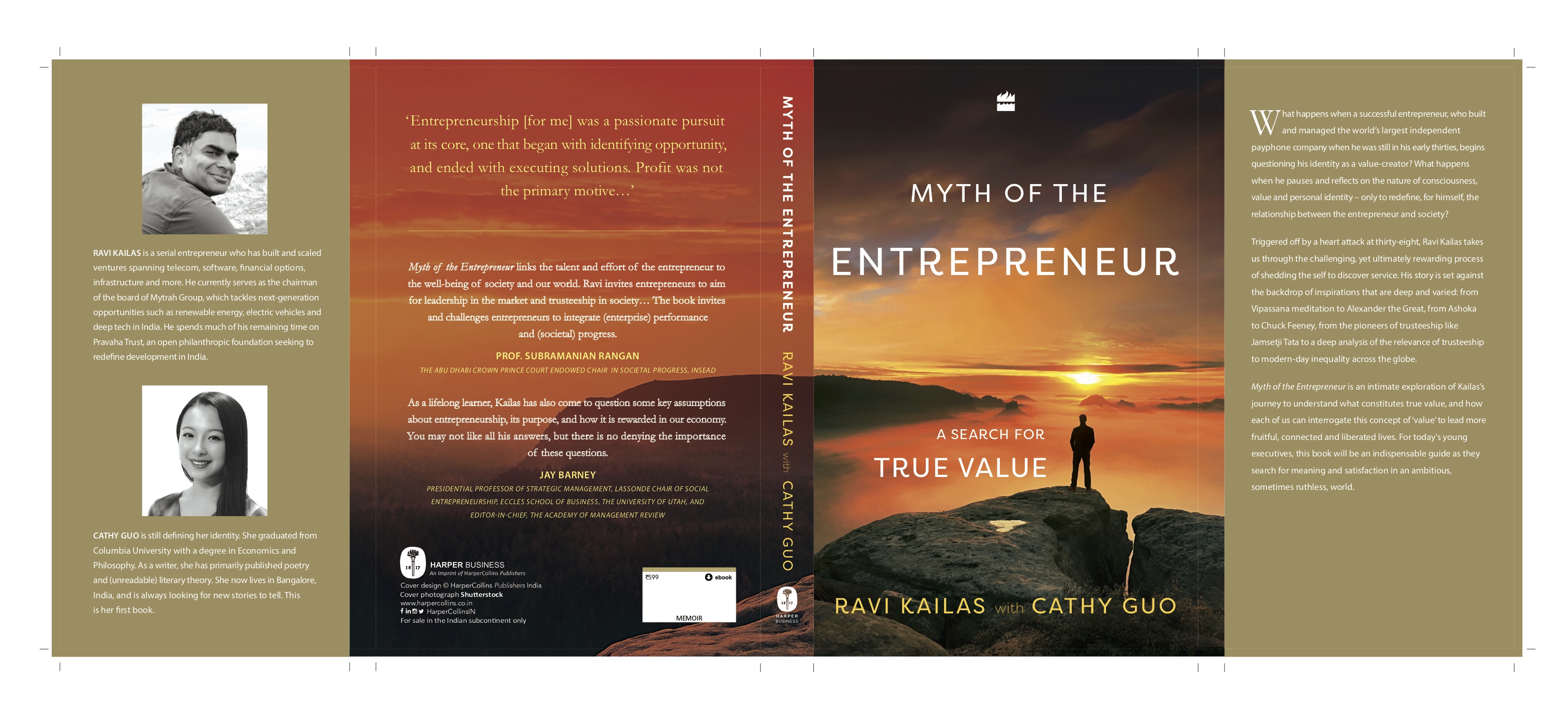 Sun Jul 14, 2:00 PM
Tale Tellers Troupe India
Book reading and discussion with Chinese-American author Cathy Guo (Columbia University) about her latest book, Myth of the Entrepreneur, which she has co-authored with Ravi Kailas (a Hyderabadi serial entrepreneur)

About the book "Myth of the Entrepreneur"

What happens when a successful entrepreneur, who built and managed the world's largest independent payphone company when he was still in his early thirties, begins questioning his identity as a value creator? What happens when he pauses and reflects on the nature of consciousness, value, and personal identity – only to redefine, for himself, the relationship between the entrepreneur and society?

Triggered off by a heart attack at thirty-eight, Ravi Kailas's search takes us through the challenging, yet ultimately rewarding, process of shedding the self to discover service. His story is set against the backdrop of inspirations that are deep and varied: from Vipassana meditation to Alexander the Great, from Ashoka to Chuck Feeney, from the pioneers of trusteeship like Jamsetji Tata to a deep analysis of its relevance to modern-day inequality across the globe.

Myth of the Entrepreneur is an intimate exploration of Kailas's journey to understand what constitutes tue value, and how each of us can interrogate this concept of 'value' to lead more fruitful, connected and liberated lives. For today's young executives, this book will be an indispensable guide as they search for meaning and satisfaction in an ambitious, sometimes ruthless, world.
6120
Sufism, Bhakti & Mind - A story
Sun Jul 21, 6:00 PM
Tranquil Minds
It is a brief narrative of understanding of the human mind from a psychiatrist perspective. It is an effort to understand the confluence of Sufi, Bhakti traditions in India with a special focus of psychological processes. Drawing predominantly from Khusrow and Nammalwar. This talk is delivered by a Psychiatrist.