«Prev
From Sep 27, '23 to Oct 27, '23
Next»
4802
Communal Harmony Film Festival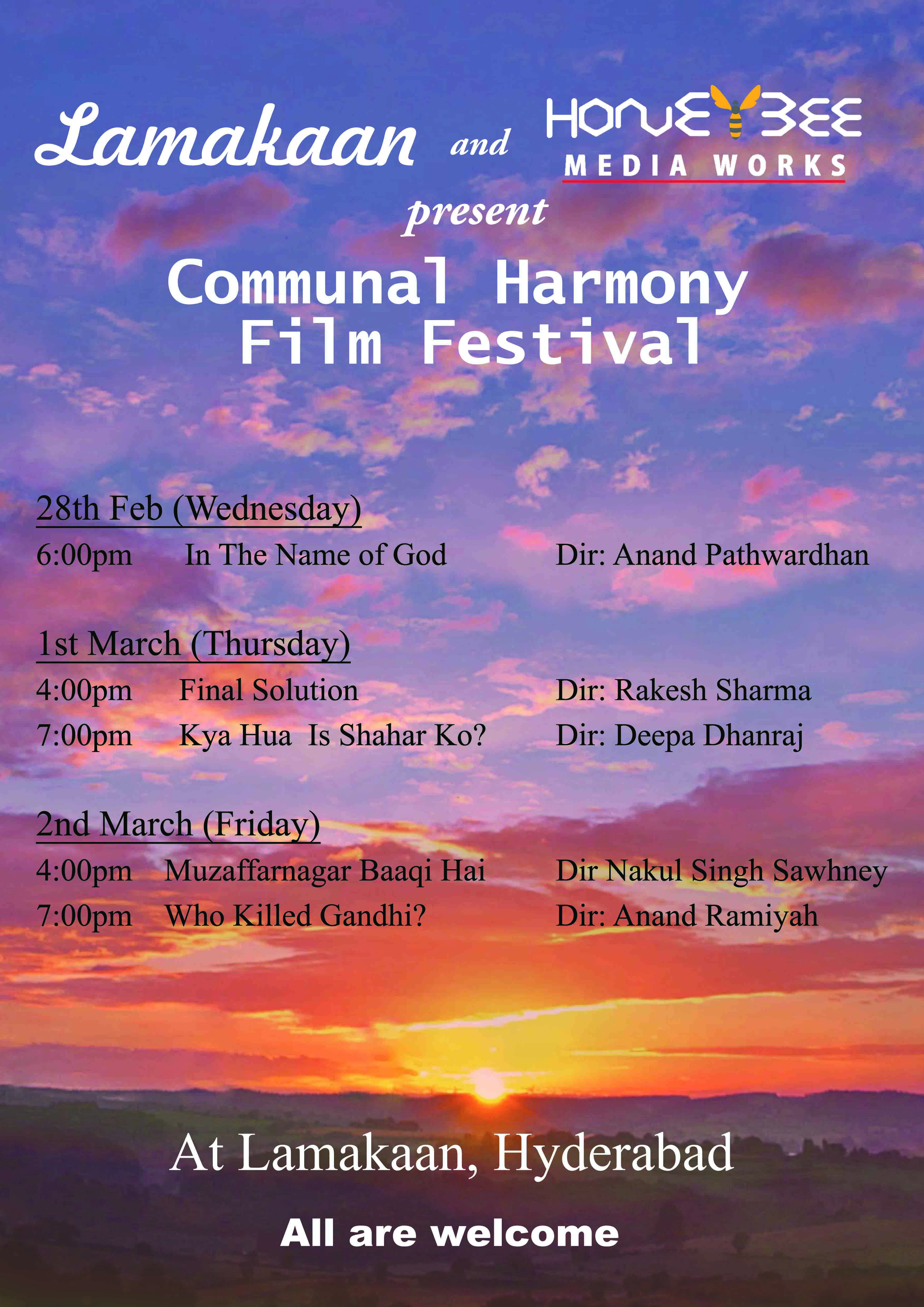 Wed Feb 28, 6:00 PM
Lamakaan & HoneyBee Media Works
Communal Harmony Film Festival - 28th February to 2nd March 2018
16 years ago on the morning of 27th February 2002 Godhra train burning accident occurred in which 59 people were killed. This event triggered massive violence and pogrom against Muslims in Gujarat, killing 2000 people. Many believe, 'Godhara train tragedy' was a conspiracy to attack minorities and consolidate the Hindu vote bank in the state. There were several commissions constituted to investigate Godhra and post Godhra carnage. The reports submitted by the commissions identified several criminals but nothing has been done to book them and bring justice to the victims of the communal riots. Post Godhara many sporadic to regular communal riots have taken place from Muzaffarnagar to Kasgunj etc and they keep happening in the name of cow slaughter, anti nationalism, religion, love jihad etc.
This film festival tries to find the reasons why people of the same country are ready to slit the throats of each other in the name of religion, caste. India is a land of multi cultural diversity and plurality where communities have been living and managed to survive the test of time. Why is it that we are not being able to co-exist with harmony and peace in the recent times? Have we become pawns in the hands of political parties who can trigger riots anytime to gain undue advantage? What is the way out to deal these day to day increasing riots in the country? Can we understand the game of these vested interested and do not fall prey their cheap discourses which only promote hate and vengeance against communities? The aim of the festival is to protect the secular fabric of India and to sensitize masses on the issues of peace and harmony and to wither away the communal agenda of some political parties.
ENTRY TO THE FESTIVAL IS FREE AND OPEN TO ALL!!!
Post screening of the films discussion will follow!
28th Febraury (Wednesday) - 6pm
Film: Ram Ke Naam (In the name of God) (1992) Directed by Anand Patwardhan. Duration: 75 min. Language: Hindi (English subtitles)
Synopsis: The film explores the campaign waged by the Hindu-nationalist Vishva Hindu Parishad to build a Ram temple at the site of the Babri Masjid in Ayodhya, as well as the communal violence that it triggered. A couple of months after Ram ke Naam was released, VHP activists demolished the Babri Masjid in 1992, provoking further violence. The film earned Patwardhan a wide recognition, and received several national and international awards.
1st March (Thursday) - 4pm
Film: Final Solution (2004) Directed by Rakesh Sharma. Duration: 210 min. Language: Gujrati, Hindi (English subtitles)
Synopsis: Final Solution is a 2004 documentary film directed by Rakesh Sharma concerning the 2002 Gujarat pogrom in which both Hindu and Muslims are targeted in the state of Gujarat by political extremists. In order to rationalize their violence, Hindu extremists had made the claim that their actions were in fact a "spontaneous response" to the Godhra Train Burning incident on 27 February 2002. But as the film proceeds with victims continuing to come forward and share their experiences, a more unsettling possibility seems to emerge- that far from being a spontaneous expression of outrage, the anti-Muslim violence had been carefully coordinated and planned.
An official estimate states that 254 Hindus and 790 Muslims were killed during the riots, with 223 more missing.
The documentary consists mostly of interviews, with both Muslims and Hindus, of multiple generations, and both sexes, with different views regarding the causes, justifications and the actual events of the violence that occurred, as well as their prospects for the future.
1st March (Thursday) – 7.00pm
Film: Kya Hua Iss Shehar Ko? (What Happened to This City?) (1986) Directed by Deepa Dhanraj. Duration: 95 min. Language: Dakhani, Telugu (English subtitles)
Synopsis: A pioneering political work of contemporary relevance: Communal violence between Hindus and Muslims in 1984 forms the starting point for this film, whose complexity lends it immense political force. The film's historical perspective is provided by a thorough commentary, which gives the camera's particular presence the necessary depth and complexity. The mechanisms of political power struggles, the dynamics among those that hold power and the instrumentalisation of economic relations and urban poverty make for a striking analysis, uniquely anticipating the subsequent development of communalist conflicts and the politics of marginalization.

2nd March (Friday) – 4pm
Film: Muzzafarnagar Baaqi Hai (2015) Directed by Nakul Singh Sawhney. Duration: 136 min. Language: Hindi (English subtitles)
Synopsis: In September 2013, Muzaffarnagar and Shamli districts of Western Uttar Pradesh, India, witnessed one of India's worst ever pogrom since Indian Independence. More than 100 people were killed and close to 80,000 people were displaced. In the past, the two districts have seen relative harmony between Muslims and Hindus. What happened this time? 'Muzaffarnagar Baaqi Hai...' (Muzaffarnagar eventually...) straddles between various socio-political-economic dynamics in the areas that have been affected by the violence. This documentary speaks to a cross-section of people. While looking at the immediate violence and it's repercussions, it takes a journey around the many facets of the massacre- the question of a woman's 'honour', which becomes the biggest rallying point to instigate people, the way communal polarisation was orchestrated, the merging of caste identity politics within the larger political fold and the breakdown of the once powerful farmers' union - Bhartiya Kissan Union
2nd March (Friday) – 7.00pm
Film: Who Killed Gandhi (2015) Directed by Anand Ramayya. Duration: 50 min. Language: English
Synopsis: Who Killed Gandhi? is an investigation into assassin Nathuram Vinayak Godse, his mentor Vinakay Damodar Savarkar, and the murder of a man considered by many to be a saint and the father of modern India, Mahatma Gandhi. The story of the characters involved and muliple attempts on Gandhi's life reveal the complexities behind it, which have been cloaked in mystery and are only now coming to light. Gandhi's radical vision of a non-violent, multicultural society was in direct opposition to that of his opponents, inevitably leading to his violent death. What emerges is an epic battle of clashing ideologies set in a formative era that would define the world we live in today.