«Prev
From Dec 10, '23 to Jan 9, '24
Next»
5153
Celebrating Madeeha Gauhar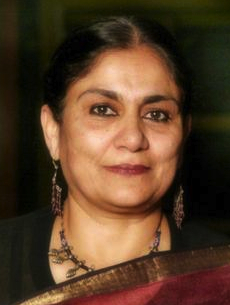 Sat Apr 28, 5:00 PM
COVA
Celebrating Madeeha Gauhar

Madeeha was the Founder of Ajoka theatre group of Pakistan and a legendary activist for peace in South Asia.

She passed away on 25th April 2018 in Lahore, Pakistan.
Let's come together to pay our homage and celebrate her life and contribution.
COVA, KOSHISH, LAMAKAAN & SUTRADHAR

Knowing Madeeha

Madeeha Gauhar (21 September 1956 – 25 April 2018) was a Pakistani actress, playwright and director of social theatres, and women's rights activist. In 1983, she founded Ajoka Theatre where social themes are staged in theatres, on the street and in public spaces. With Ajoka she performed in Asia and Europe.



Gauhar was born in 1956 in Karachi, Pakistan. After obtaining a Master of Arts degree in English literature, she moved to England where she obtained another master's degree, studying theatre sciences at the University of London. In 1983, with her studies completed, she returned to her native country, settling in Lahore. There, Gauhar and her husband Shahid Nadeem founded Ajoka Theatre, a notable theatre group of significance in the city. Ajoka (English:Currunt) elaborates on the oral tradition of Bhand and Nautanki and found a flourishing base in the area that overlaps the province of Punjab. With Ajoka, Gauhar performed in Pakistan, and subsequently internationally in India, Bangladesh, Nepal and Sri Lanka, as well as in several countries in Europe.



In directing performances in the theatre, Gauhar utilised aesthetics and theatrical techniques to reflect the moral, social and political reality of contemporary Pakistan. A recurrent theme for her, as a feminist, was the subject of women's rights in a society that is greatly dominated by men. In 2007 Ajoka performed a play that was written and directed by Gauhar, the Burqavaganza (Burqa-vaganza), which led to great controversy. Actors dressed in burkas acted out themes of sexual discrimination, intolerance and fanaticism. In her own country, Members of Parliament called for a ban of the performance but in spite of the ban, non-governmental organizations and women's rights activists had the play translated into English and staged performances internationally as a sign of support to Ajoka.



Awards and nominations

Gauhar was the recipient of numerous awards for her theatrical efforts, including:

At the first iteration of the 1st Indus Drama Awards in 2005, she was nominated for Best Actress Drama Serial in a Supporting Role.
Gauhar was nominated for the Nobel Peace Prize in 2005.
In 2006, Gauhar was awarded Prince Claus Award in the Netherlands.
She received the Pride of Performance, by the President of Pakistan for her efforts in improving Pakistani theatre.