«Prev
From Jul 11, '20 to Aug 10, '20
Next»
6237
The History of Irrum Manzil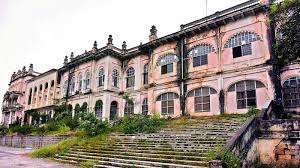 Thu Jul 18, 7:30 PM
Lamakaan
"The History of Irram Manzil, its preservation and ways for its rehabilitation for public use" A Talk By Dr Fatima Shahnaz

Ever since the state government decided to build the new secretariat at the complex of Irrum Manzil, one of the icons of Hyderabad Collective Heritage, there's this huge buzz amongst the activists to safeguard from monument from being razed to the ground. As part of several talks and discussions happened earlier at Lamakaan and at various other places, this talk by Prof Shahnaaz will give the detailed account of the Irrum Manzil, its history and the way out of preserving it from the clutches of the governmental agencies.

Dr Fatima Shahnaz is an international advocate of human rights, a Professor (Emeritus) of Political Science; an author and journalist. She obtained her B.A., M.A. and PhD from the Sorbonne University, Paris, France. Her school-leaving General Certificates of Education was from the Oxford/Cambridge Boards. She was the first Indian/Asian Head Girl at her English boarding school.

She has written one novel, GOLCONDA, on Hyderabad and the end of the Asaf Jahi NIzam's rule and the integration of Hyderabad into the Indian Union in 1948; this book gives an insider's insights into the Hyderabad of that period and its palace life. The book was published in New York by News India (Times). Other books include several poetical collections: Sarasvati; Shards; KHAKI –Poems on Pulwama; The New York Poems, In the Arms of Words – Poems whose funds went for the Relief of victims of the Asian Tsunami and Hurrican Katrina in New Orleans (by Sherman Asher publishers, USA) and others. She has given speeches and lectures in the New York area and in India, Delhi and Hyderabad, after returning to her homeland. She has worked on many human rights causes, and women's rights, in India as well as overseas.