«Prev
From Aug 5, '20 to Sep 4, '20
Next»
6994
How do we keep our children safe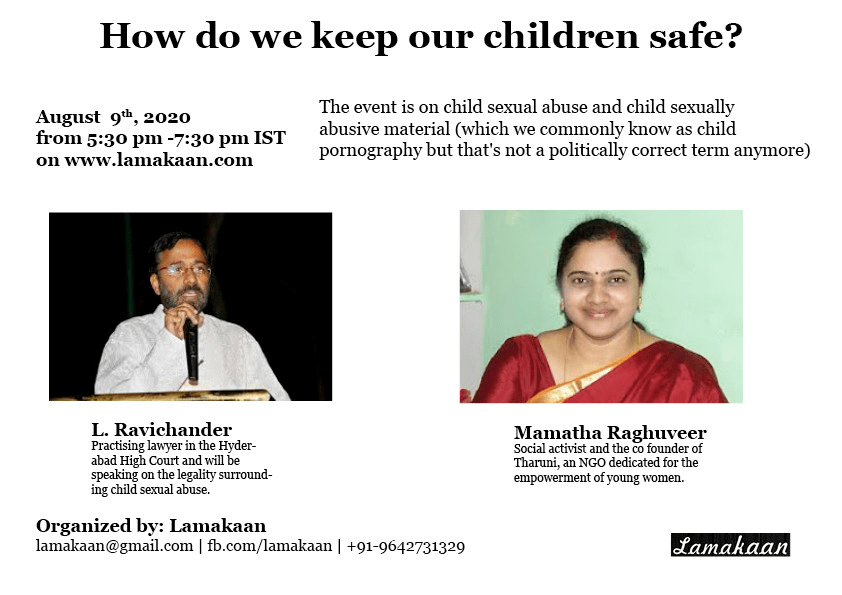 Sun Aug 9, 5:30 PM
Lamakaan
How do we keep our children safe? A Discussion
This is an ONLINE event on www.lamakaan.com

About the Discussion:
The only issue which every civilized human being—irrespective of political inclinations—seems to agree on is that children need to be protected and nurtured. While at the outset, we get a sense of what issues threaten the safety of our children, there hasn't been an in-depth exploration of the gravity of the issues at hand. We have a lay understanding of how the education system works against children, how child labor is terrible etc. But that's where our expertise ends. One such pressing issue we must learn more about is child sexual abuse which we recognize as evil but remain unclear what to do about.

Considering the devastating spike in the consumption of child sexually abusive content (earlier known as 'child pornography' but now the term is deemed pejorative) since the lockdown commenced, it seems imperative to discuss child sexual abuse. It also is essential to understand what laws we have in place to protect children, whether they suffice or not, and what role we as citizens can play in this process. The hope is that with this event we will understand the psychology of a child who has survived abuse, their fears as well as the legal aspects which work against them and also gain a sense of how child rights have been hampered during the lockdown.

About the Speakers:

1. Mamatha Raghuveer:
Mamatha Raghuveer is a social activist and is the founder and executive director of Tharuni, an NGO dedicated to empowering young women. She has participated in rescuing children and adjudicated on issues such as child sexual abuse, child marriages etc. Dr. Raghuveer has also served as the chairperson of the Child Welfare Committee in the district of Warangal. Dr. Raghuveer will be speaking on the psychological and sociological aspects of child safety.

2. L. Ravichander:
Mr. Ravichander is a lawyer of nearly thirty years standing, having practiced in the AP High Court and Supreme Court. He has been a legal correspondent with all major newspapers, including The Indian Express, The Times of India, Deccan Chronicle; and a columnist, avid movie review, writer, and orator. Mr. Ravichander will be discussing the laws surrounding child sexual abuse as well as the laws dealing with child sexually abusive content.

ALL ARE WELCOME!