«Prev
From Aug 16, '22 to Sep 15, '22
Next»
7290
Neeli Raag (True Blue) Film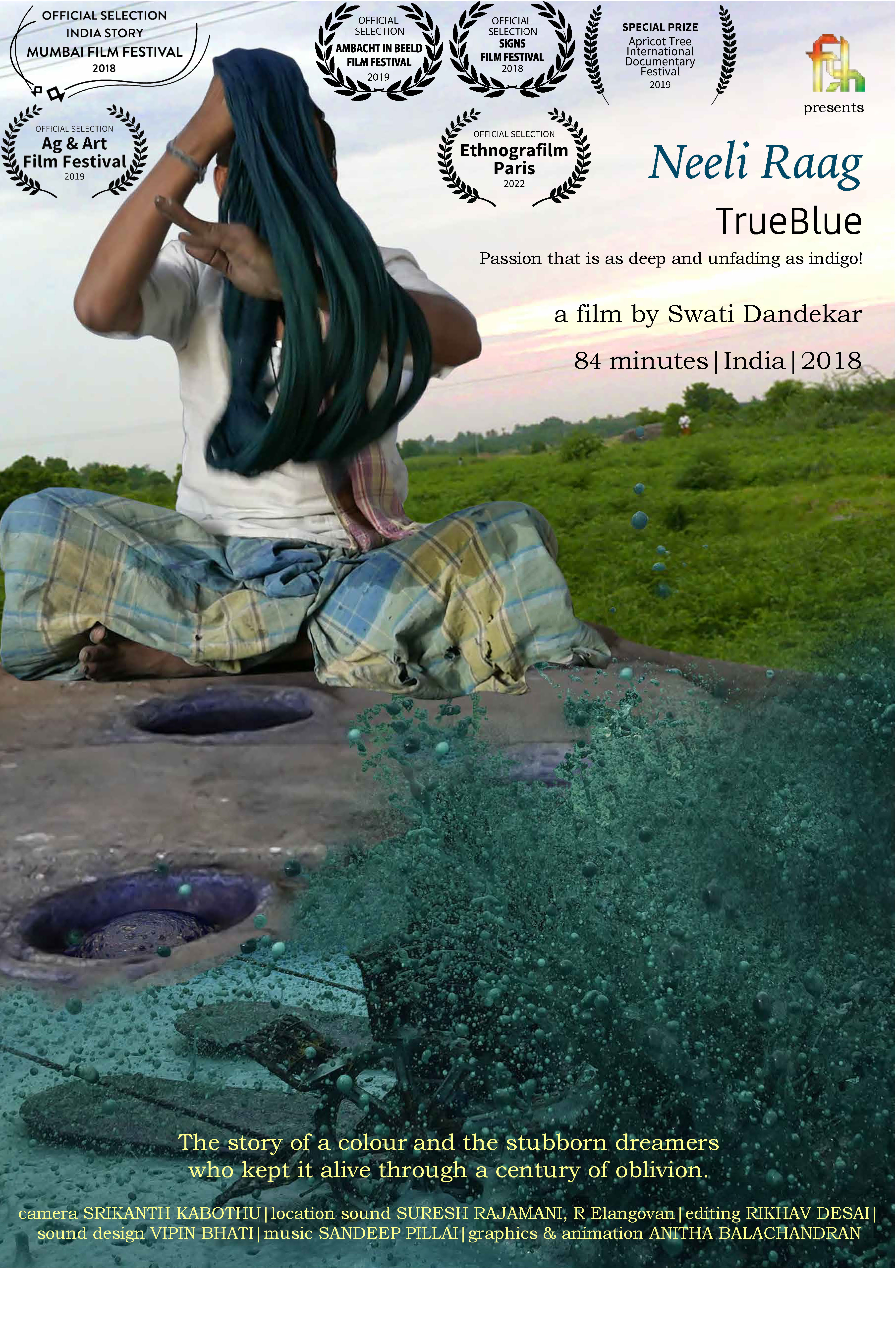 Sun Jun 26, 7:00 PM
Lamakaan
Film Title: Neeli Raag (True Blue)
84 minutes | India | 2018
Telugu, Tamil, Kannada, Hindi, Gujarati, English; Subtitled in English


Synopsis:
Indigo is not just a colour, it never was... it was wealth, it was mystique, it was colonialism, tyranny and protest. It made history, but itself fell prey to the events and processes of time, until one day it seemed to disappear.
As the world begins to demand natural dyes once again, it is back in the spotlight. The stubborn dreamers who refused to forget their craft feel vindicated, but the world that once nurtured this difficult and capricious colour is no more.
Traversing the verdant monsoon of Tamil Nadu, the earthy expanses of springtime Telangana, and the wintry desert of Kachchh, Neeli Raag is an attempt to tell the story of indigo as it is practised in India today.

Interwoven with the narratives of the indigo craftsmen is the colour itself in its many moods, textures and forms. How does a green leaf yield blue colour? How do the different shades emerge? What is the chemistry that makes this possible? The processes of indigo are almost magical to behold, as murky solutions transform into a vibrant blue, bit by bit. This is a blue that deepens, mesmerises, stains, and seeps into the skin and nails, indeed the lives of those who craft it.


Awards:
Special Prize
Apricot Tree International Film Festival, Armenia, September 2019

Festivals:
Premiered at MAMI Film Festival, Mumbai, October 2018
Signs Film Festival, Kerala, November 2018
Craft-in Focus Film Festival, Amsterdam, April 2019
Ag & Art Film festival, California, September 2019
CMS Vatavaran, Delhi, November 2019
Madurai Film Festival, Madurai December 2020
Ethnografilm, Paris, April 2022


Director's Bio:
Swati Dandekar is a documentary filmmaker and a film educator based in Bangalore, India, with a special interest in creating visual narratives of the living history around her; of people, places, ideas, traditions, practices, and the continuous process of change. Her past work is a series of essay films that explore the relationship between place, people, resources and the institutions that govern these. Her film "Water and a City" was widely screened in India and abroad, and is part of the curriculum for courses in water management and development studies. In addition, she has been closely involved with designing media for education. As a founder trustee of Vikalp Bengaluru, she has been actively screening documentary films and curating festivals in Bangalore city for over fifteen years.
Swati heads the Film program at the Srishti Manipal Institute of Art, Design, and Technology, Bangalore.

Trailer:
Neeli Raag trailer - https://vimeo.com/257841442/8f3b637760

Press:
Review in the Hindu - https://www.thehindu.com/todays-paper/tp-features/tp-sundaymagazine/blue-is-the-warmest-colour/article25416117.ece

Review Firstpost - https://www.firstpost.com/living/neeli-raag-swati-dandekar-chronicles-indias-4500-year-old-tradition-of-indigo-dyeing-6485001.html


SCREENING FOLLOWED BY DISCUSSION WITH THE FILMMAKER

ALL ARE WELCOME!!!