«Prev
From Dec 10, '23 to Jan 9, '24
Next»
7606
The End of Inclusive Democracy?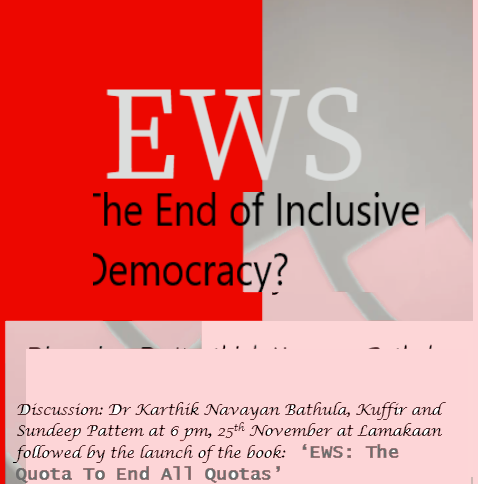 Fri Nov 25, 6:00 PM
Kuffir & Lamakaan
EWS: The End of Inclusive Democracy?
Reservations for the excluded majority in India began with SC/STs, followed by OBCs. They enabled
increasing numbers of Bahujans to enter public institutions, despite strident abusive opposition. Now
EWS, the counter-revolution, is here. Will it end all other quotas? This book is a powerful collection of
views and analyses of Bahujan political leaders, lawyers, researchers, writers, and activists like: Dr. Suresh
Mane, Dr. Thol. Thirumavalavan, Prof N Sukumar, Dr. Sthabir Khora, Dr. Ayaz Ahmad, Dr. Yogesh Pratap
Singh, James Michael, Bobby Kunhu, Nidhin Donald, Rajanikanta Gochhayat, Omprakash Mahato,
Jitendra Suna, Sundeep Pattern, Naaz Khair, Pradeep Dhobley, Abhishek Juneja, Naren Bedside (Kuffir):
the book has its articulations in the form of articles, papers, interviews, art, etc.
'EWS: The Quota To End All Quotas' by the Ambedkar Age Collective
This book was released at Lamakaan (and other places, cities) over a year before the recent SC judgment
on EWS. This discussion shall engage with the new debates around the SC Judgment. Speakers: Dr
Karthik Navayan Bathula (human rights lawyer), Kuffir (Editor, Round Table India), and Sundeep Pattern
(Editor, Round Table India).

All are welcome!