«Prev
From Nov 30, '23 to Dec 30, '23
Next»
7723
Homage to K Vishwanath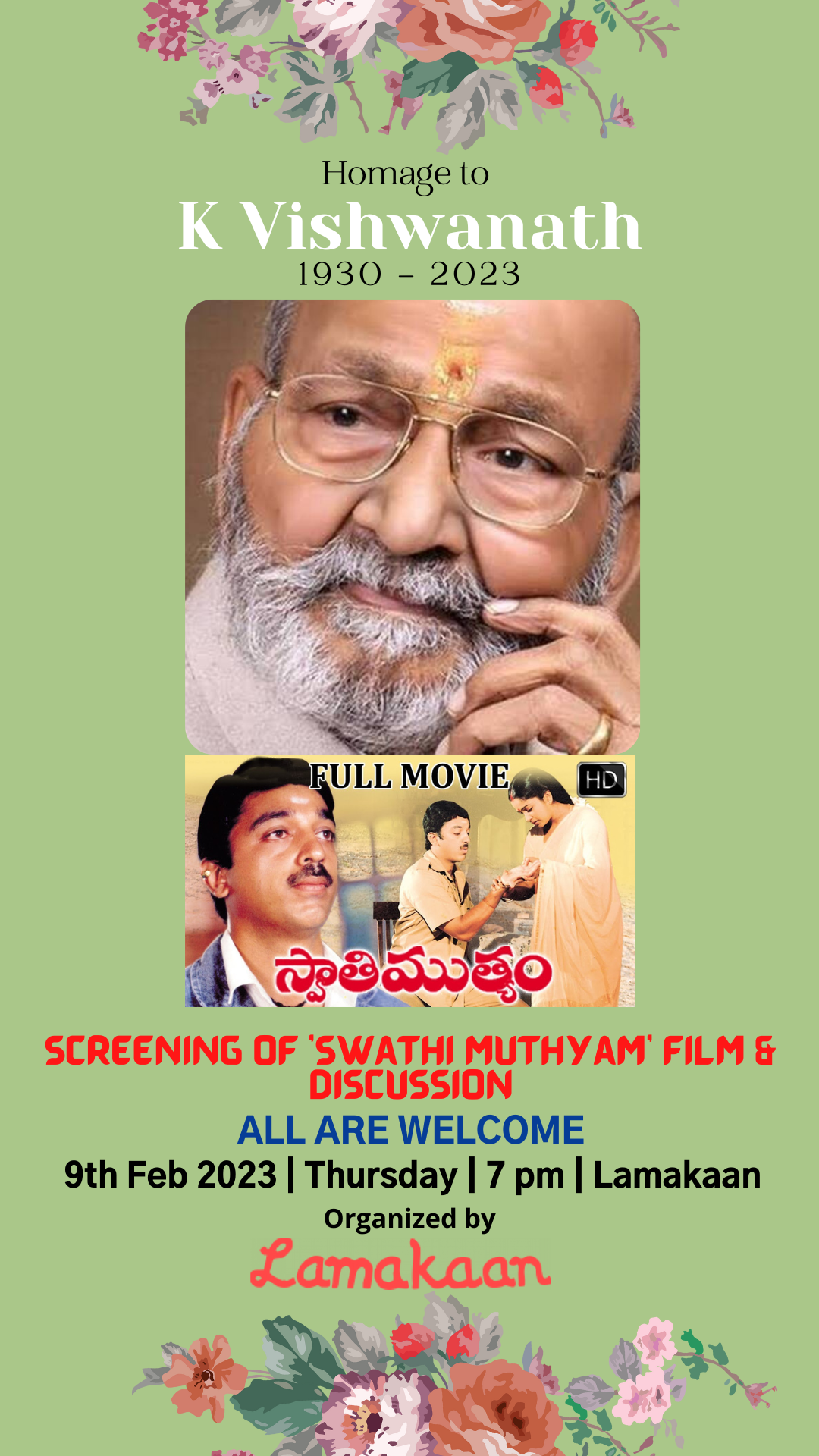 Thu Feb 9, 7:00 PM
Lamakaan
Legendary director K Vishwanath breathed his last at his residence in Hyderabad on 2nd February 2023.

Lamakaan pays rich homage to the doyen of Telugu cinema by recollecting his great works and screening one of his critically acclaimed movies.


Kasinadhuni Viswanath (19 February 1930 – 2 February 2023) was an Indian film director, screenwriter, and actor, One of the most prolific filmmakers of Telugu cinema, he received international recognition for his works and is known for blending parallel cinema with mainstream commercial cinema. He was honored with the "Prize of the Public" at the "Besançon Film Festival of France" in 1981.

After serving as an assistant director for several years, Viswanath debuted as a director in 1965 with "Aatma Gowravam." A glittering career in the Telugu-language film industry followed with highlights including "Kalam Marindi" (1972), "Sarada" (1973), "O Seeta Katha" (1974), "Jeevana Jyoti" (1975), "Siri Siri Muvva" (1976), "Sankarabharanam" (1980), "Saptapadi" (1981), "Sagara Sangamam" (1983), "Swathi Muthyam" (1986), "Sirivennela" (1986), "Swayam Krushi" (1987) and "Aapadbandhavudu" (1992).

Viswanath also enjoyed a career in the Hindi-language film industry with several hit films including "Sargam" (1979), "Kaamchor" (1982), "Shubh Kaamna" (1983), "Jaag Utha Insan" (1984), "Sur Sangam" (1985), "Sanjog" (1985), "Eeshwar" (1989), "Sangeet" (1992) and "Dhanwan" (1993).

During the course of his filmmaking career the themes Viswanath tackled included the Indian caste system, disability, gender discrimination, misogyny, alcoholism and the challenges faced by Indian classical performing art forms.


K Viswanath won five National Film Awards. He also has several Nandi Awards and Filmfare Awards to his credit. Viswanath was honoured with the Padma Shri in 1992 and the Dadasaheb Phalke Award in 2017.

Film: Swathi Muthyam | 1986 | 161 Minutes | Telugu Language |

About the film: Swathi Muthyam (transl. White pearl) is a 1986 Indian Telugu-language drama film written and directed by K. Viswanath and produced by Edida Nageswara Rao. The film stars Kamal Haasan and Raadhika, while Gollapudi Maruti Rao, J. V. Somayajulu, Nirmalamma, Sarath Babu, and Y. Vijaya play supporting roles. The soundtrack and background score were composed by Ilaiyaraaja. Swathi Muthyam depicts the plight of a young widow who is rescued by an autistic man.