«Prev
From Dec 10, '23 to Jan 9, '24
Next»
7946
ajiib dāstān hai ye!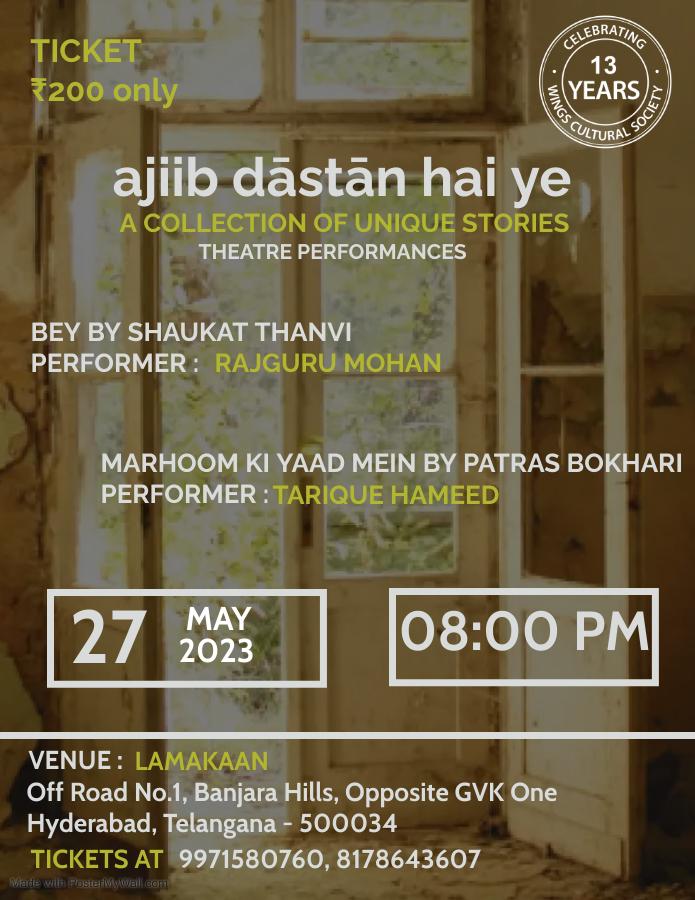 Sat May 27, 8:00 PM
Wings Cultural Society
"ajiib dāstān hai ye!" is a performance consisting of more than one dastan (story) told by artists as a solo performance. The collection of dastans which are eccentric will be showcased. This theatrical storytelling performance is developed in a way that is more intimate with the audience and there would be no props used other than just costumes. Stories can be in several languages told by various artists. Inaugural performances featured "Bey" written by Shaukat Thanvi and "Marhoom Ki Yaad Mein" by Patras Bukhari, performed by Rajguru Mohan and Tarique Hameed respectively at WIC Dehradun on 27th August 2022.

Story one:
"Bey" is a short story written by Shaukat Thanvi. It is said by the astrologer to the protagonist that the reason for your death would be a word starting from the second letter of Urdu alphabets 'Bey', that is 'B' in English and 'ब' in Hindi. The protagonist must be cautious of all things which start from the letter "Bey" to stay alive. This story is performed by Rajguru Mohan.

Story Two:
"Marhoom Ki Yaad Mein" is Patras Bokhari's most famous essay from his sole masterpiece Patras ke Mazameen. It is a story of a cycle that Patras buys from his friend Mirza. It is arguably the funniest story ever written in Urdu. This story is performed by Tarique Hameed.