«Prev
From Sep 27, '23 to Oct 27, '23
Next»
8109
Osmania Hospital Demolition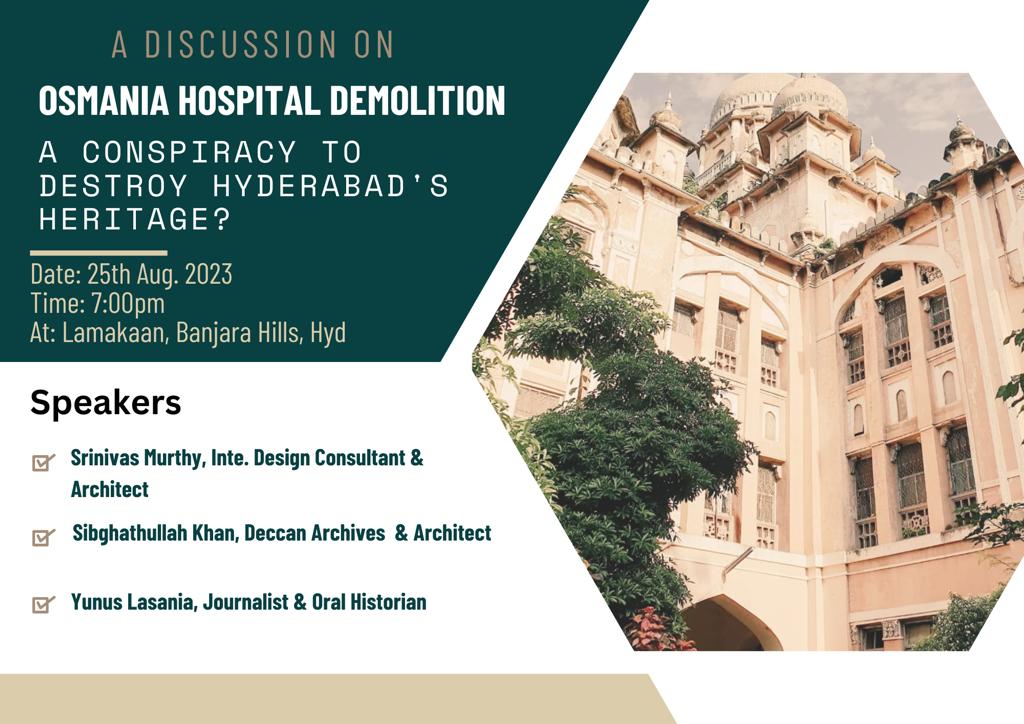 Fri Aug 25, 7:00 PM
Lamakaan & Yunus Lasania
Title: Osmania Hospital Demolition: A conspiracy to destroy Hyderabad's heritage? A Discussion

Osmania General Hospital is once again in the news. The heritage structure faces a severe existential crisis for the first time as the state government has made its intention clear. It wants to demolish the old building to construct a new hospital.

While there is a requirement for a new hospital and other advanced medical facilities, questions have been raised about whether demolishing the OGH building is suitable. Given that OGH is situated on a 26-acre site and occupies only three acres of space, there is a requirement to understand not just OGH's history but also the politics surrounding heritage buildings.

Hyderabad's heritage has taken a massive beating in recent years, and the demolition of OGH might pave the way for future destruction on whimsical grounds. Hence, a detailed discussion, considering all aspects, is required. For this talk, journalist and oral historian Yunus Lasania (who runs The Hyderabad History Project), senior architect Srinivas Murthy, and founder of Deccan Archive (architect) Sibghatullah Khan will hold a talk and discuss the issue at length.

Senior historian and activist Sajjad Shahid, currently abroad, will join us with a video message.

ALL ARE WELCOME!