«Prev
From Sep 27, '23 to Oct 27, '23
Next»
8148
Discussion: Fall of Nizam's Rule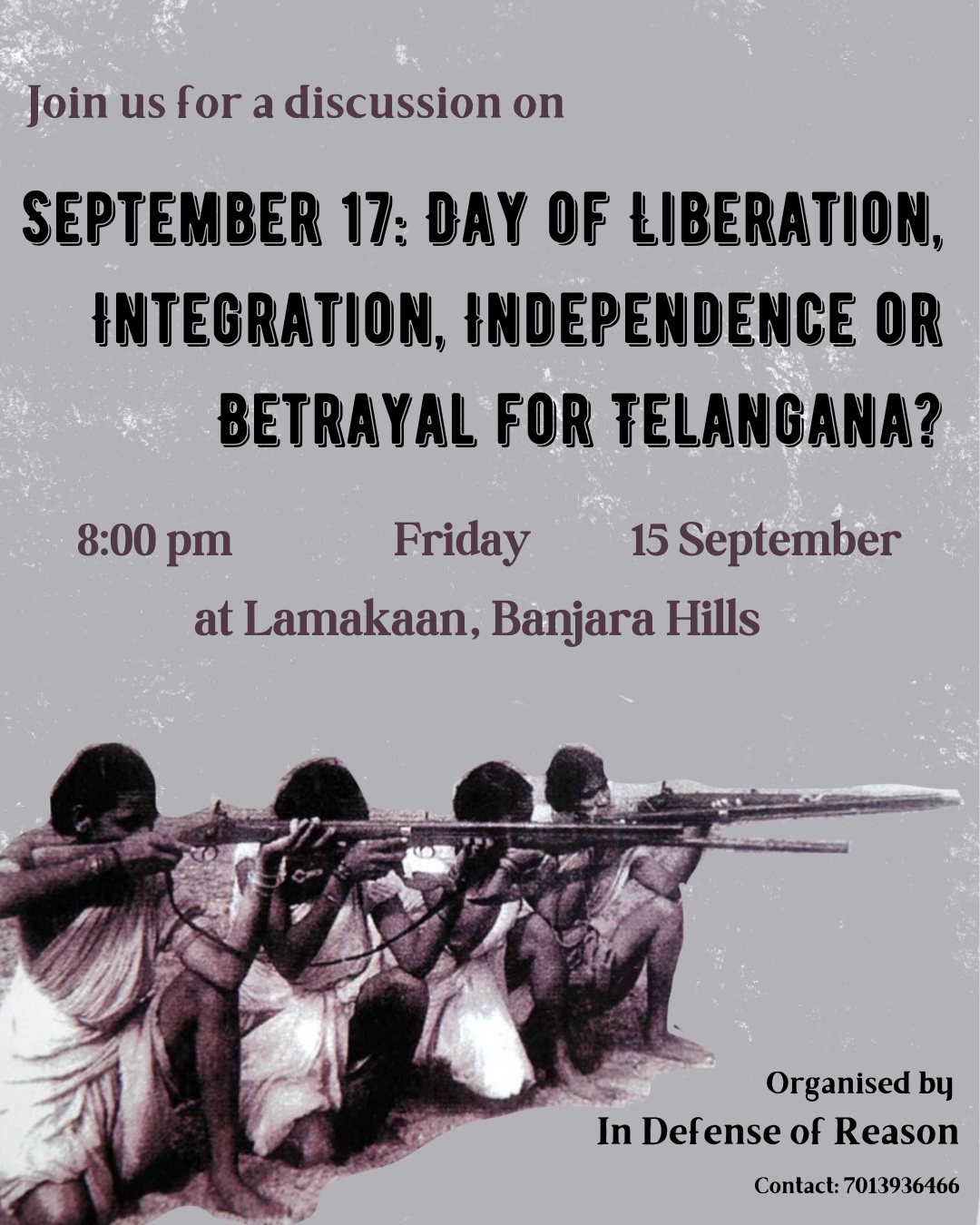 Fri Sep 15, 8:00 PM
In Defense of Reason
The BJP has been demanding for the last few years that 17th September must be celebrated as a day of liberation (Vimochana Dinotsavam) as it was on this day in 1948 that the Nizam of Hyderabad had surrendered before the Indian army which led to the end of the Nizam's rule. The saffron brigade shamefully conceals the fact that the 𝗥𝗦𝗦 𝗮𝗻𝗱 𝗛𝗶𝗻𝗱𝘂 𝗠𝗮𝗵𝗮𝘀𝗮𝗯𝗵𝗮 𝗱𝗶𝗱 𝗻𝗼𝘁 𝗽𝗹𝗮𝘆 𝗮𝗻𝘆 𝗿𝗼𝗹𝗲 𝗶𝗻 𝘁𝗵𝗲 𝗽𝗲𝗼𝗽𝗹𝗲'𝘀 𝘀𝘁𝗿𝘂𝗴𝗴𝗹𝗲 𝗮𝗴𝗮𝗶𝗻𝘀𝘁 𝘁𝗵𝗲 𝗳𝗲𝘂𝗱𝗮𝗹 𝗿𝘂𝗹𝗲 𝗼𝗳 𝗡𝗶𝘇𝗮𝗺. In order to give the entire issue a communal colour, they also deviously hide the fact that the ruling feudal class of Nizam era consisted of not just the Muslim elites but also numerous Hindu feudal lords. Also, those who fought against Nizam rule included several progressive muslims including Shayar-e-Inquilab 𝗠𝗮𝗸𝗵𝗱𝗼𝗼𝗺 𝗠𝗼𝗵𝗶𝘂𝗱𝗱𝗱𝗶𝗻, 𝗔𝗹𝗮𝗺 𝗞𝗵𝘂𝗻𝗱𝗺𝗶𝗿𝗶, 𝗝𝗮𝘄𝗮𝗱 𝗥𝗶𝘇𝘃𝗶 etc.
Also, those who glorify the role of Indian army in defeating the feudal autocratic rule of Nizam often distort the historical facts. Those who are aware about the history of Telangana are aware that main credit for the collapse of Nizam must go the rebellious peasants of Telangana who were mobilised by the communists. 𝐓𝐡𝐞 𝐓𝐞𝐥𝐚𝐧𝐠𝐚𝐧𝐚 𝐩𝐞𝐚𝐬𝐚𝐧𝐭 𝐚𝐫𝐦𝐞𝐝 𝐬𝐭𝐫𝐮𝐠𝐠𝐥𝐞 𝐡𝐚𝐝 𝐚𝐥𝐫𝐞𝐚𝐝𝐲 𝐬𝐡𝐚𝐭𝐭𝐞𝐫𝐞𝐝 𝐭𝐡𝐞 𝐟𝐨𝐮𝐧𝐝𝐚𝐭𝐢𝐨𝐧 𝐨𝐟 𝐭𝐡𝐞 𝐍𝐢𝐳𝐚𝐦'𝐬 𝐫𝐮𝐥𝐞 𝐛𝐲 𝐝𝐞𝐟𝐞𝐚𝐭𝐢𝐧𝐠 𝐭𝐡𝐞 𝐍𝐢𝐳𝐚𝐦'𝐬 𝐟𝐨𝐫𝐜𝐞𝐬 𝐚𝐧𝐝 𝐑𝐚𝐳𝐚𝐤𝐚𝐫 𝐦𝐢𝐥𝐢𝐭𝐢𝐚 𝐦𝐮𝐜𝐡 𝐛𝐞𝐟𝐨𝐫𝐞 𝐭𝐡𝐞 𝐈𝐧𝐝𝐢𝐚𝐧 𝐚𝐫𝐦𝐲'𝐬 𝐚𝐜𝐭𝐢𝐨𝐧 𝐨𝐧 𝟏𝟑 𝐒𝐞𝐩𝐭𝐞𝐦𝐛𝐞𝐫 𝟏𝟗𝟒𝟖. Besides, the real motive behind the Indian army's action in Hyderabad (which was euphemistically termed as police action) was to brutally crush the Telangana peasant struggle that had spread to large parts of the princely state of Hyderabad and which has the potential of turning into a people's revolution. It is a fact of history that 𝗮𝗳𝘁𝗲𝗿 𝘁𝗵𝗲 𝘀𝘂𝗿𝗿𝗲𝗻𝗱𝗲𝗿 𝗼𝗳 𝗡𝗶𝘇𝗮𝗺 𝗼𝗻 𝟭𝟳 𝗦𝗲𝗽𝘁𝗲𝗺𝗯𝗲𝗿, 𝘁𝗵𝗲 𝟱𝟬,𝟬𝟬𝟬 𝗼𝗱𝗱 𝗳𝗼𝗿𝗰𝗲𝘀 𝗼𝗳 𝘁𝗵𝗲 𝗜𝗻𝗱𝗶𝗮𝗻 𝗮𝗿𝗺𝘆 𝗺𝗮𝗿𝗰𝗵𝗲𝗱 𝘁𝗼𝘄𝗮𝗿𝗱𝘀 𝘁𝗵𝗲 𝘃𝗶𝗹𝗹𝗮𝗴𝗲𝘀 𝘄𝗵𝗶𝗰𝗵 𝘁𝗵𝗲 𝗽𝗲𝗮𝘀𝗮𝗻𝘁𝘀 𝗵𝗮𝗱 𝗹𝗶𝗯𝗲𝗿𝗮𝘁𝗲𝗱 𝗳𝗿𝗼𝗺 𝘁𝗵𝗲 𝗳𝗲𝘂𝗱𝗮𝗹 𝗹𝗼𝗿𝗱𝘀. As the Indian army marched towards the villages, the feudal lords also started moving back to their palatial buildings in the villages.
In the ongoing competitive exhibitionism between the political parties such as BJP, Congress and the BRS as to whether September 17 is to be celebrated as 'Liberation Day', 'Integration Day' or 'Independence Day', some very important facts of history are being conveniently overlooked. The perspective of the peasantry and the working class of Telangana is being deliberately suppressed in these celebrations.
We invite one and all in this important discussion. The rulers are planning their own celebration. The question is: what should be people's perspective on this extremely important question for Telangana?