Keha
 Kehat Kabira : Songs of Kabir
 Kabira : Songs of Kabir.
November 22, 2018 7:30 pm Thursday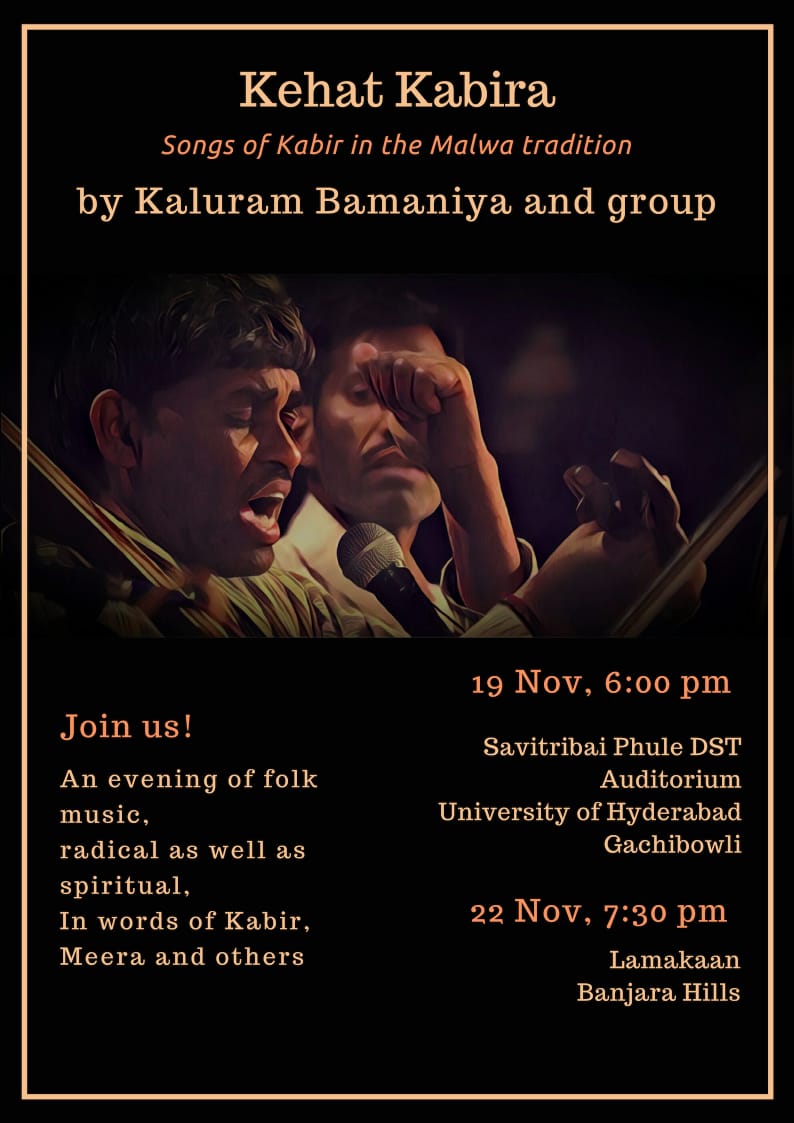 Kahat Kabira: Songs of Kabir in Malwa tradition
Lamakaan invites one and all to an evening of Kabir Songs with Kaluram Bamaniya.
Kaluram Bamaniya belongs to a vibrant tradition of singing bhakti poets such as Kabir, Gorakhnath, Bananath and Meera in the Malwa region of Madhya Pradesh. He comes from a family of farmers, but has taken to singing as a full time occupation himself. From the early age of 9, Kaluram started accompanying his father, grandfather and uncle on the manjiras. When he was 13 years old he ran away from home and went to Rajasthan, where he absorbed a wide repertoire of songs from an itinerant Mirasi singer Ram Niwas Rao for 1-2 years. For Kaluram, singing Kabir is not merely a profession, it's a way of life. "You get a lot of power, you get fearless by singing Kabir," he says. His impish wit adds colour to the direct simplicity and soulfulness of his songs.
While continuing to be part of the satsang tradition in Malwa, Kaluram and his troupe give many public performances all over India. He sings and plays the 5-stringed tambura and khadtaal and will be accompanied by: Ram Prasad Parmar on Harmonium, Devidas Bairagi – Dholak, Sajjan Singh Parmar – Nagnagaadi Uttam Singh Bamaniya – Manjira
ALL ARE WELCOME. OPEN TO DONATION.