«Prev
From Aug 8, '20 to Sep 7, '20
Next»
6378
Songs of Our Soil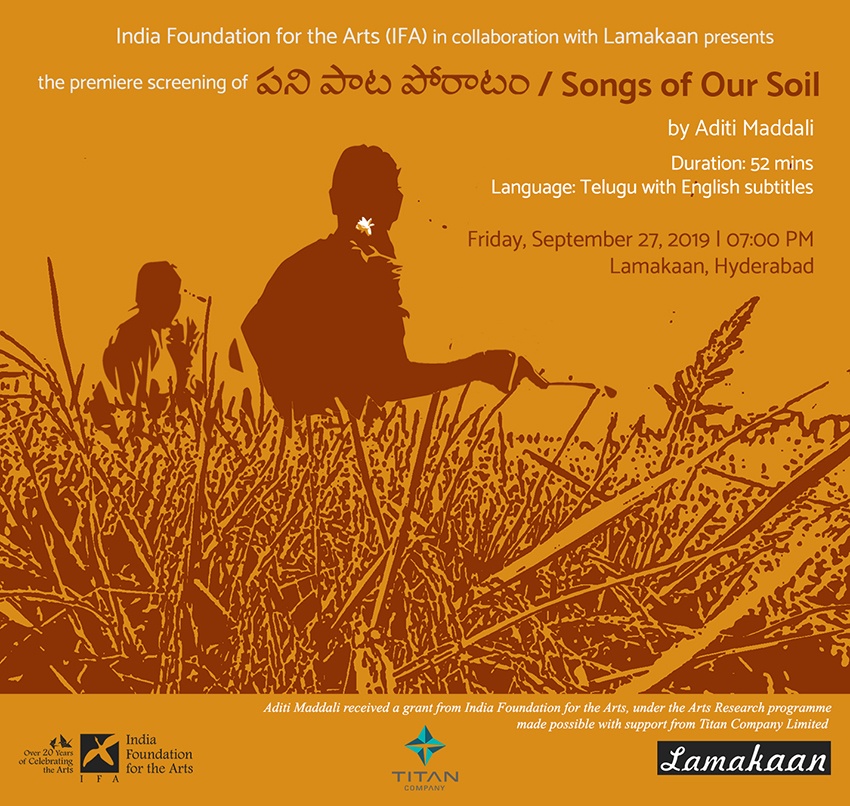 Fri Sep 27, 7:00 PM
India Foundation for the Arts (IFA) & Lamakaan
India Foundation for the Arts (IFA) in collaboration with Lamakaan presents
the premiere screening of

Songs of Our Soil
by Aditi Maddali
Duration: 52 mins | Language: Telugu with English subtitles

Friday, September 27, 2019 | 07:00 PM | Lamakaan, Hyderabad
Off Road 1, Near GVK Mall, Banjara Hills, Hyderabad - 500 034

Join us for the premiere screening of Songs of Our Soil followed by a discussion with the filmmaker Aditi Maddali and writer - scholar Dr Gogu Shyamala.

Through Uyyala songs, an agricultural tradition rooted in the political expression of women in Telangana, Songs of Our Soil traces the histories of their resistance and memories of disillusionment. By looking at women's participation in major political movements, from the Telangana People's Movement to the demands of justice from the contemporary Mallana Sagar Irrigation project, this film attempts to complicate the relationship between memory, history and cultural production.

Aditi Maddali is a Mumbai-based researcher and multimedia producer. She is currently pursuing an MPhil in Women's Studies.

Aditi Maddali received a grant from India Foundation for the Arts, under the Arts Research programme made possible with support from Titan Company Limited.

ALL ARE WELCOME!!!