Alternative Futures: India Unshackled.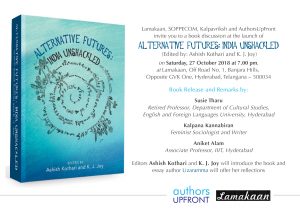 October 27, 2018 7:00 pm Saturday
Book Release-cum-Discussion
'Alternative Futures: India Unshackled' Editors – Ashish Kothari and K. J. Joy Publisher – AuthorsUpFront
A remarkable, first-ever collection of 35 essays on India's future, by a diverse set of authors – activists, researchers, media practitioners, those who have influenced policies and those working at the grassroots. This book brings together scenarios of an India that is politically and socially egalitarian, radically democratic, economically sustainable and equitable, and socio-culturally diverse and harmonious.
Alternative Futures: India Unshackled covers a wide range of issues, organized under four sections. It explores ecological futures including environmental governance, biodiversity conservation, water and energy. Next, it envisions political futures including those of democracy and power, law, ideology, and India's role in the globe. A number of essays then look at economic futures, including agriculture, pastoralism, industry, crafts, villages and cities, localization, markets, transportation and technology. Finally, it explores socio-cultural futures, encompassing languages, learning and education, knowledge, health, sexuality and gender, and marginalized sections like dalits, adivasis, and religious minorities.
Introductory and concluding essays tie these diverse visions together. Most essays include both futuristic scenarios and present initiatives that demonstrate the possibility of such futures. t a time when India faces increasing polarization along parochial, physical and mental boundaries, these essays provide a breath of fresh air and hope in the grounded possibilities for an alternative, decentralized, eco-culturally centred future. The essays range from the dreamy-eyed to the hard-headed, from the provocative to the gently persuasive.
EDITORS: ASHISH KOTHARI coordinates the Alternatives programme of Kalpavriksh, has taught at Indian Institute of Public Administration, and chairs the Board of Greenpeace India.
K. J. JOY is Senior Fellow with Society for Promoting Participative Ecosystem Management (SOPPECOM), Pune and has been an activist-researcher for more than 30 years.