Dr. Strangelove
Movies
3.0 hrs
March 27, 2019 7:00 pm Wednesday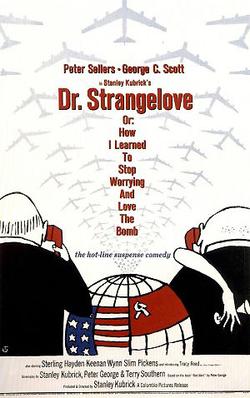 Dr. Strangelove or: How I Learned to Stop Worrying and Love the Bomb (1964)
An insane general triggers a path to nuclear holocaust that a War Room full of politicians and generals frantically tries to stop.
Director: Stanley Kubrick Writers: Stanley Kubrick (screenplay), Terry Southern (screenplay) Stars: Peter Sellers, George C. Scott, Sterling Hayden
Movies Intro : 7:00 PM Movies Starts at 7:10 PM Post-Screening Discussion – 15 mins
Organizer
Cinephiles Film Club
Film club where in we invite like minded film aficionados to screenings showcasing best of world cinema. Our aim is to raise Indian cinema to global standards by exposing Indian talent to Global cinema!