Unemployment: The Missing Data
Talk
2.0 hrs
April 07, 2019 7:30 pm Sunday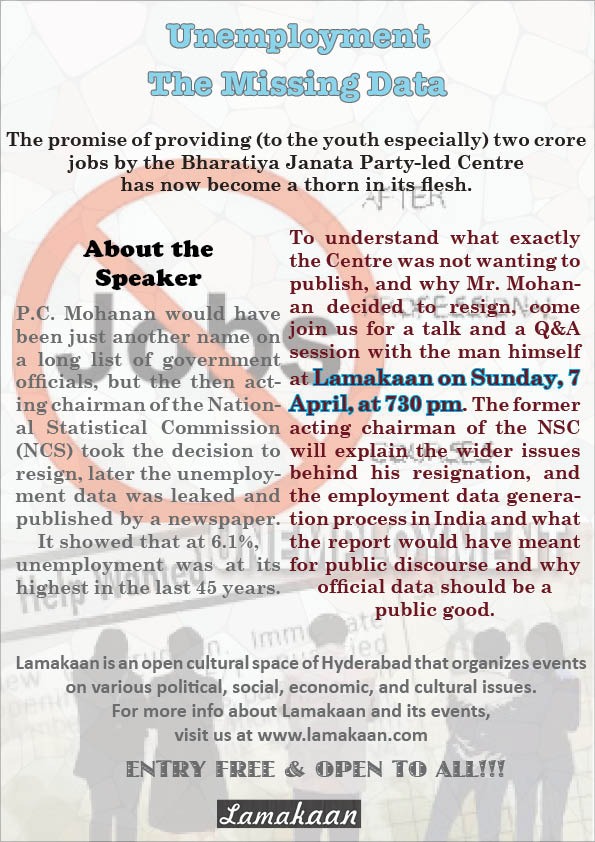 The promise of providing (to the youth especially) two crore jobs by the Bharatiya Janata Party-led Centre has now become a thorn in its flesh. And data pertaining to the unemployment rate was never published. While the Centre and BJP functionaries have made various claims of providing jobs, one man's resignation in protest over the alleged withholding of the real statistics caused a furor earlier in January.
P.C. Mohanan would have been just another name on a long list of government officials, but the then acting chairman of the National Statistical Commission (NCS) took the decision to resign, later the unemployment data was leaked and published by a newspaper. It showed that at 6.1%, unemployment was at its highest in the last 45 years. To understand what exactly the Centre was not wanting to publish, and why Mr. Mohanan decided to resign, come join us for a talk and a Q&A session with the man himself at Lamakaan on Sunday, 7 April, at 730 pm. The former acting chairman of the NSC will explain the wider issues behind his resignation, and the employment data generation process in India and what the report would have meant for public discourse and why official data should be a public good.
ENTRY FREE & OPEN TO ALL!!!