«Prev
From Jul 23, '22 to Aug 22, '22
Next»
7356
Lamakaan Organic Bazaar
Sun Jul 24, 10:30 AM
Lamakaan
Come & explore a wide range of Organic Fruits, veggies & groceries Homemade Bread, and other baked goods; Organic Lunch, Handicrafts, Handlooms, Handmade Jewelry, Terrace Gardening Corner, Creative Design Spaces, and many more things...

Every Sunday 10:30am - 1.30pm

Entry Free. All are welcome.

For details: 9642731329
7338
1947 to AK47, Hindi one act play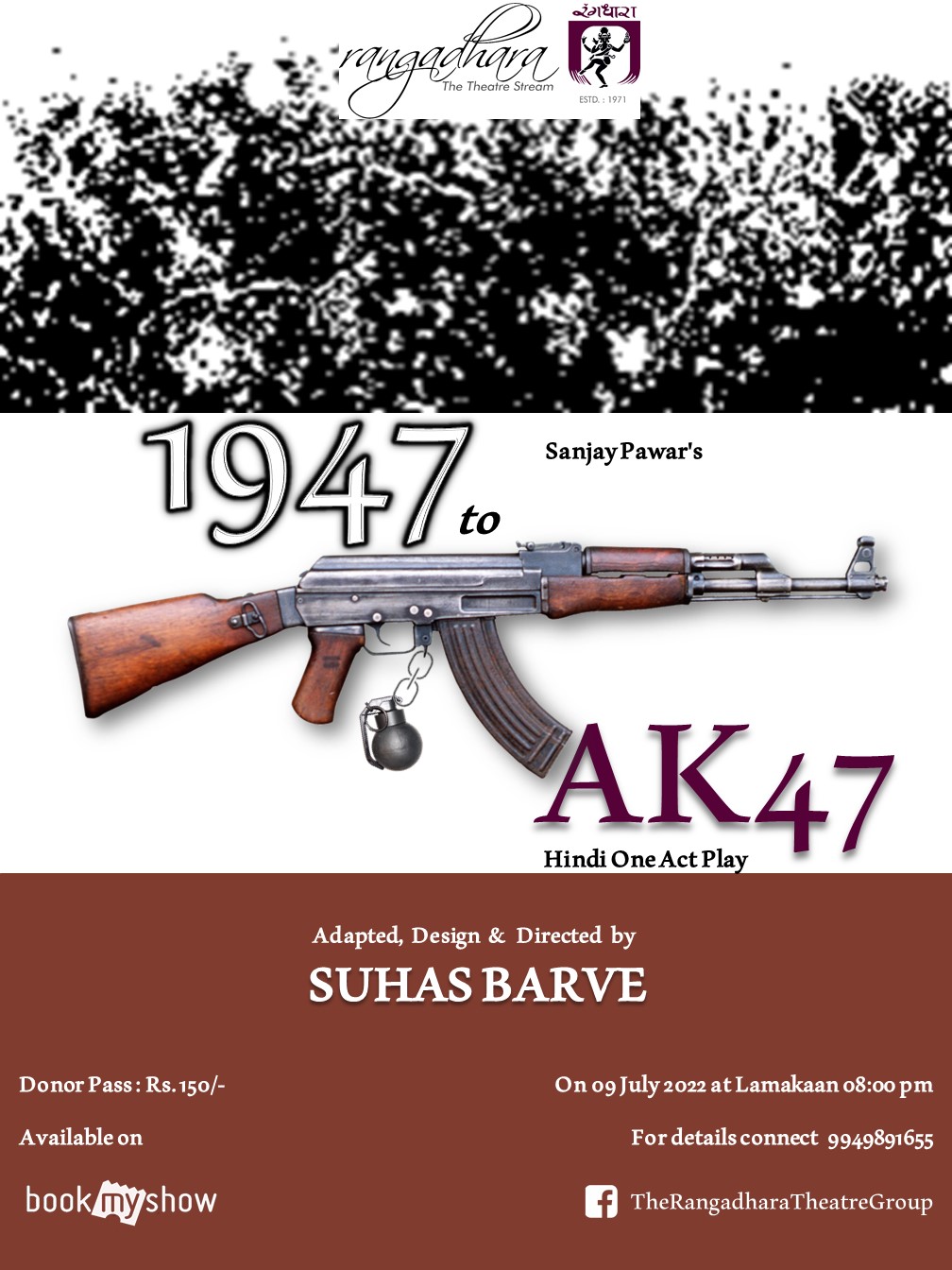 Sun Jul 24, 8:00 PM
Rangadhara The Theatre Stream
A story revolving around a Young Man who's disheartened, depressed distressed n tired of an unfair society that rewards corruption, so he is on a Mission to destroy / eliminate a sect of people as he believes that they are responsible for unfair practice of politics in the country. Does the transformation of his rebel mindset through an overnight conversation happens when he encounters with social worker? Does his anguish, frustrations turns into tranquility? Here's another gripping tale that speaks about the societal challenges being faced and needs to be spoken about with an open mind in a broad manner without giving any political colour / influence / air to it. Does he succeeds in his Mission of destruction or does the Social worker succeeds in her mission of reformation.
7248
Celebrating Jafar Panahi Films
Wed Jul 27, 7:00 PM
Lamakaan
Jafar Panâhi (Persian: جعفر پناهی, born 11 July 1960) is an Iranian film director, from east Azerbaijan province, screenwriter, and film editor, commonly associated with the Iranian New Wave film movement. After several years of making short films and working as an assistant director for fellow Iranian filmmaker Abbas Kiarostami, Panahi achieved international recognition with his feature film debut, The White Balloon (1995). The film won the Caméra d'Or at the 1995 Cannes Film Festival, the first major award an Iranian film won at Cannes.

Panahi was quickly recognized as one of Iran's most influential filmmakers. His films were often banned in Iran, but he continued to receive international acclaim from film theorists and critics and won numerous awards, including the Golden Leopard at the Locarno International Film Festival for The Mirror (1997), the Golden Lion at the Venice Film Festival for The Circle (2000), and the Silver Bear at the Berlin Film Festival for Offside (2006). His films are known for their humanistic perspective on life in Iran, often focusing on the hardships of children, the impoverished, and women. Hamid Dabashi has written, "Panahi does not do as he is told—in fact he has made a successful career in not doing as he is told."

After several years of conflict with the Iranian government over the content of his films (including several short-term arrests), Panahi was arrested in March 2010 along with his wife, daughter, and 15 friends, and later charged with propaganda against the Iranian government. Despite support from filmmakers, film organizations, and human rights organizations around the world, in December 2010 Panahi was sentenced to six years in prison and a 20-year ban on directing any movies, writing screenplays, giving interviews with Iranian or foreign media, or leaving the country except for medical treatment or making the Hajj pilgrimage.[4] While awaiting the result of an appeal he made This Is Not a Film (2011), a documentary feature in the form of a video diary. It was smuggled out of Iran on a flash drive hidden inside a cake and shown at the 2011 Cannes Film Festival. In February 2013 the 63rd Berlin International Film Festival showed Closed Curtain (Pardé) by Panahi and Kambuzia Partovi in competition; Panahi won the Silver Bear for Best Script. Panahi's subsequent film Taxi also premiered in competition at the 65th Berlin International Film Festival in February 2015 and won the Golden Bear, the prize awarded for the best film in the festival. In 2018 he won the Cannes Film Festival Award for Best Screenplay (tied) for 3 Faces; he was unable to leave Iran to attend the festival, so his daughter, Solmaz Panahi, read his statement and received the award on his behalf.

Film Title: Taxi | 2015 | 82 Minutes | Persian Subtitled in English

Taxi (full title Jafar Panahi's Taxi; Persian: تاکسی), also known as Taxi Tehran, is a 2015 Iranian docufiction starring and directed by Jafar Panahi. The film premiered in competition at the 65th Berlin International Film Festival where it won the Golden Bear and the FIPRESCI Prize. In 2010, Panahi was banned from making films and traveling for 20 years, so his niece Hana Saeidi, who also appears in the film, collected the award on his behalf.


SCREENING FOLLOWED BY DISCUSSION!

ALL ARE WELCOME!!! ENTRY IS FREE & OPEN TO ALL!
7357
Lamakaan Organic Bazaar
Sun Jul 31, 7:00 PM
Lamakaan
Come & explore a wide range of Organic Fruits, veggies & groceries Homemade Bread, and other baked goods; Organic Lunch, Handicrafts, Handlooms, Handmade Jewelry, Terrace Gardening Corner, Creative Design Spaces, and many more things...

Every Sunday 10:30am - 1.30pm

Entry Free. All are welcome.

For details: 9642731329