«Prev
From Oct 23, '22 to Nov 22, '22
Next»
7499
Musicology's 6th Annual Recital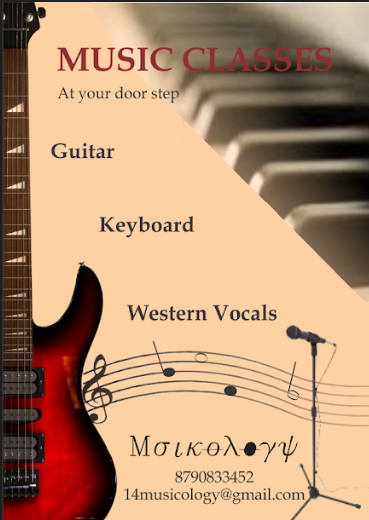 Sun Oct 23, 4:00 PM
Preetam Venglet
This is Musicology's 6th Annual Student's recital. Students past and present will perform what they learnt - guitar, keyboard, singing or a combination of the same.
7412
A Tribute to Jean-Luc Godard
Wed Oct 26, 6:30 PM
Lamakaan
Lamakaan remembers Jean-Luc Godard and pays tribute to the iconoclastic master director of French New Wave cinema, by screening some of his critically acclaimed films and discussing about his intensely free art.

About Jean-Luc Godard: Jean-Luc Godard - 3 December 1930 – 13 September 2022) was a French-Swiss film director, screenwriter, and film critic. He rose to prominence as a pioneer of the French New Wave film movement of the 1960s, alongside such filmmakers as François Truffaut, Agnès Varda, Éric Rohmer, and Jacques Demy. He was arguably the most influential French filmmaker of the post-war era. According to AllMovie, his work "revolutionized the motion picture form" through its experimentation with narrative, continuity, sound, and camerawork.[2] His most acclaimed films include Breathless (1960), Vivre sa vie (1962), Contempt (1963), Band of Outsiders (1964), Alphaville (1965), Pierrot le Fou (1965), Masculin Féminin (1966), Weekend (1967), and Goodbye to Language (2014).

During his early career as a film critic for the influential magazine Cahiers du Cinéma, Godard criticised mainstream French cinema's "Tradition of Quality", which de-emphasised innovation and experimentation.

Film Title: Goodbye to Language | 2014 | 69 minutes | French subtitled in English

About the film: Goodbye to Language (French: Adieu au Langage) is a 2014 French-Swiss 3D experimental narrative essay film written and directed by Jean-Luc Godard. It stars Héloïse Godet, Kamel Abdeli, Richard Chevallier, Zoé Bruneau, Jessica Erickson and Christian Grégori and was shot by cinematographer Fabrice Aragno. It is Godard's 42nd feature film and 121st film or video project. In the French-speaking parts of Switzerland where it was shot, the word "adieu" can mean both goodbye and hello. The film depicts a couple having an affair. The woman's husband discovers the affair and the lover is killed. Two pairs of actors portray the couple and their actions repeat and mirror one another. Godard's own dog Roxy Miéville has a prominent role in the film and won a prize at the Cannes Film Festival. Like many of Godard's films, it includes numerous quotes and references to previous artistic, philosophical and scientific works, most prominently those of Jacques Ellul, Aleksandr Solzhenitsyn and Mary Shelley.

Film Title: The Image Book | 2018 | 85 minutes | French/Swiss subtitled in English

About the film: The Image Book (French: Le Livre d'image) is a 2018 Swiss avant-garde essay film directed by Jean-Luc Godard. Initially titled Tentative de bleu and Image et parole, in December 2016 Wild Bunch co-chief Vincent Maraval stated that Godard had been shooting the film for almost two years "in various Arab countries, including Tunisia" and that it is an examination of the modern Arabic world. Godard told Séance magazine that he was shooting without actors but the film would have a storyteller. It was selected to compete for the Palme d'Or at the 2018 Cannes Film Festival. Last film of Jean-Luc Goddard. The film was positively received by film critics. It was the final film directed by Godard before his death in 2022.

SCREENING FOLLOWED BY DISCUSSION!

ALL ARE WELCOME!!! ENTRY IS FREE & OPEN TO ALL!!!




7378
Ms.Srini Nelluri
Sat Oct 29, 4:30 PM
Srini Nelluri
A Dance Movement therapy workshop to help participants understand the role on body and teach grounding techniques. This generation has been experiencing immense level of anxiety while only a few recognise. Using this form of therapy will be a holistic yet beautiful to form the mind and body connection.
7482
MYSTICISM AND HUMANITY OF KABIR,
Sat Oct 29, 7:30 PM
KALABITAN
KALABITAN PRESENTS A MUSICAL EXPERIENCE TITLED "MYSTICISM AND HUMANITY OF KABIR, TAGORE AND GANDHI".
7453
EBAR DHORMORAJYO
Sun Nov 20, 8:00 PM
SHUDRKA HYDERABAD
Shudrka Hyderabad presents Bengali play "EBAR DHORMORAJYO" (Comes Now Kingdom of Justice!) in which Gandhari and Kunti of Mahabharata meet on the last day of Kurukshetra war. If there is one issue that occurs again and again in this play, it is "Dharma". It is perhaps the most debated and yet perhaps the most compromised. The play unhinges classical interpretation of the epic, while at the same time using the incidents in the epic to enunciate moral and ethical concerns and elaborate on the meanings of "Dharma" in the current context.