Panel Discussion – #RedraftTraffickingBill, #StopTransBill2018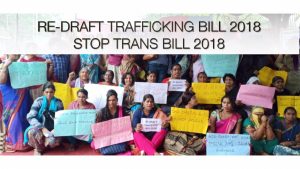 Sunday 23rd Dec 2.30pm to 5:00pm, Organized by coalition of human rights groups. Presented by Lamakaan.
Ahead of the Rajya Sabha deliberation on the Anti-Trafficking Bill 2018 and the Transgender Bill 2018 on Dec 27th, we the coalition of human rights groups – viz. child rights groups for trafficked/orphaned and run away children, women's groups working with survivors of sexual violence, trafficking survivors and survivors of "rescue and rehabilitation" model of trafficking into bonded labour, networks of CBOs and collectives of people who exert their agency to do consensual sex work as a livelihood, organizations working with families of farmers who committed suicide, Domestic Workers Unions that organize domestic workers and those migrating to Gulf, activists working with brick kiln migrant labour, transgender, cisgender allies, queer, gender non-binary, gender non-conforming transgender and LGBTIAHQ people and women, lawyers, social scientists, students etc through the panel discussion want to understand the firm opposition to both the bills and put forth our comprehensive detailed demands to all our parliamentarians, to the Prime Minister of India, to Minister of Women and Child Development, Government of India and most importantly to the people of India!!