Kerala Fight : Corona pandemic
Discussion
2.0 hrs
May 02, 2020 8:30 pm Saturday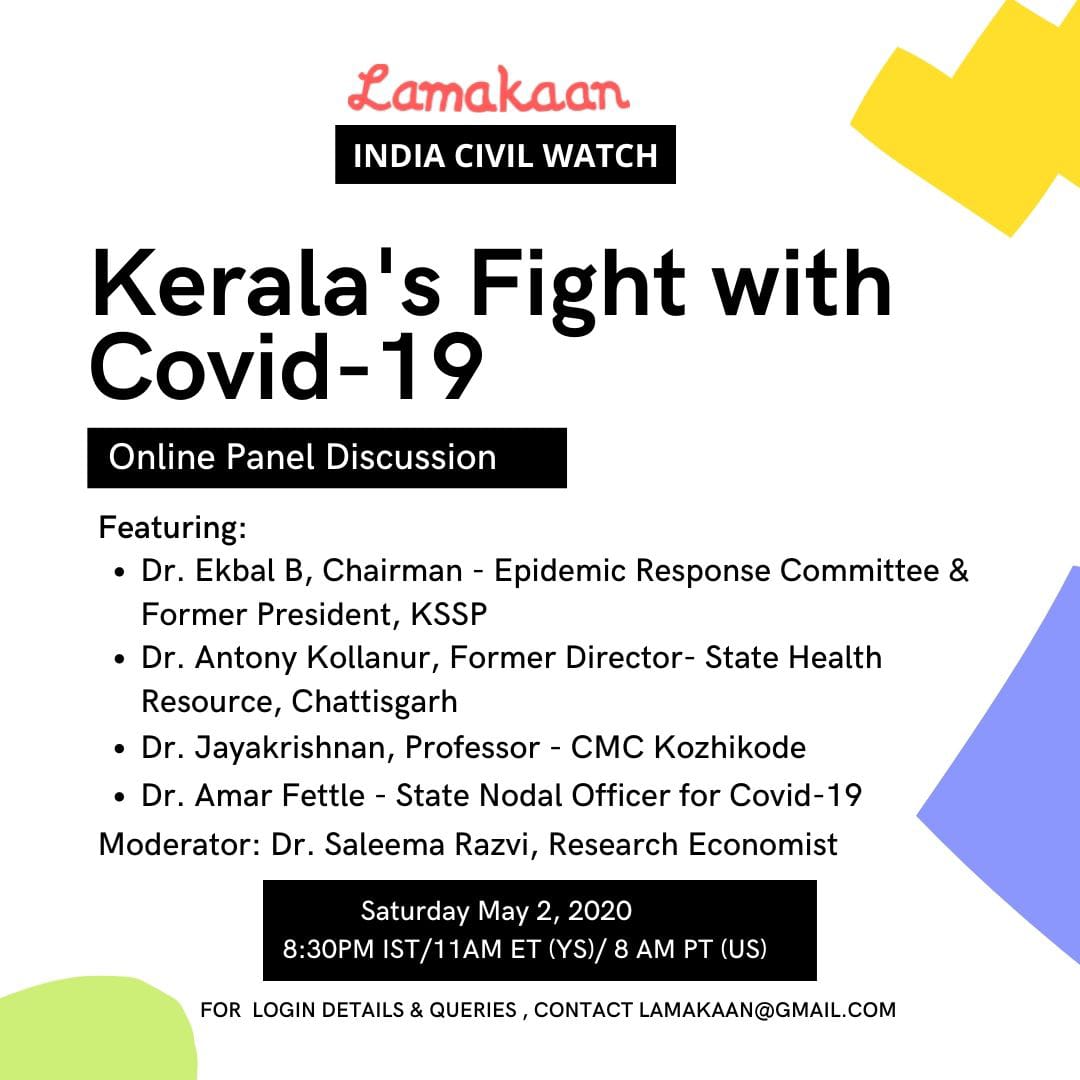 Lamakaan-an open cultural space has been organising variety of events for its audiences. Post lockdown, Lamakaan has decided to do some online events as well.
In coming days, we have planned a series of panel discussions pertaining to the Covid19 pandemic. The first of the series of panel discussion that we are planning to organise online will be held on 2nd of May at 8:30 PM. The topic of this panel discussion will be " Kerala : Fight with Corona pandemic "
Kerala was one of the early hubs of India's Covid19 crisis. As far back in Feb, Kerala Minister for Health ordered screening at all four of the States airports and a few days later the Chief Minister announced a lockdown — one that was seemingly more effective than the national lockdown – in some part because it was more humane. How did Kerala fund the capacity to respond to an emergent pandemic even before the WHO had declared it as one. What marks the states health infrastructure that allowed for such agility? What about the interface between government, medical teams and citizens which allowed for such a response.
These and other important questions will be taken up by three doctors / scientists speaking in this panel. This online panel discussion will be co hosted by Lamakaan, Hyderabad and ICW, USA.
This panel discussion will be relayed through Google conference link. This event is for Hyderabad, National and International audience.
I would request you to join us on this panel discussion. After the discussion, speakers will take a few questions as well.
The four esteemed speakers for this event on 2nd May 2020 at 8:30PM are as follows :
Ekbal B, He chairs the epidemic response committee, and past president of the KSSP
Dr. Antony Kollannur  Former Director, State Health Resource Centre, Chhattisgarh
Dr.Jayakrishnan, Prof of Community Medicine in Kozhikode Medical Collage.
Dr. Amar Fettle, State Nodal Officer for Covid-19.
The discussion will be moderated by: Dr Saleema Razvi works with the Copenhagen Consensus Centre on economic evaluation of health interventions. She did her PhD from IIFT.
Joining info: Lamakaan FB live, Lamakaan YouTube live.
https://meet.google.com/cgd-btcb-peu
From : Lamakaan-An open cultural space, Hyderabad's