Condolence meeting for Mujtaba Hussain
Meeting
Fri, May 29, 2020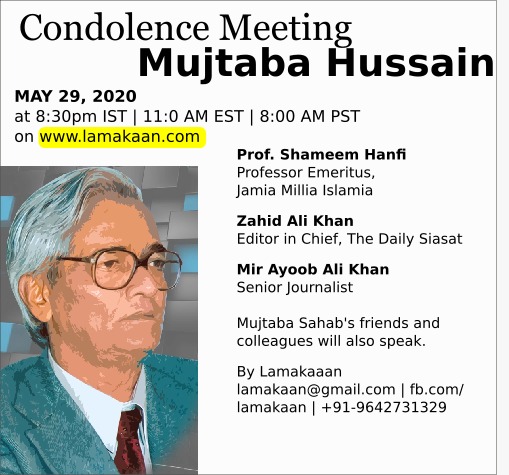 Mujtaba Hussain, the noted Urdu Humourist, passed away on May 27, 2020. A towering figure of Urdu Humour, he wrote scathingly on Indian politics and society. In this online eulogy to him, his friends, colleagues, writers, will gather to talk and celebrate his work.
Among the speakers will be Dr. Shameem Hanfi (Jamia Millia Islamia), Zahid Ali Khan(Editor in Chief of the Daily Siasat), Mir Ayoob Ali Khan (Senior Journalist).
You can listen to Mutaba Hussain reading his own work at https://www.youtube.com/watch?v=4RdZ3X8q2qM&t=6m30
All are welcome!!!
Organizer
Lamakaan
Lamakaan, An Open Cultural & inclusive Space in Hyderabad that promotes and presents the best of arts, literature, theatre, debates, discussions, and dialogue with a commitment to being open and accessible.