Night School on Planetary Web of Life
1.5 hrs
July 09 – 11, 2020 7:00 pm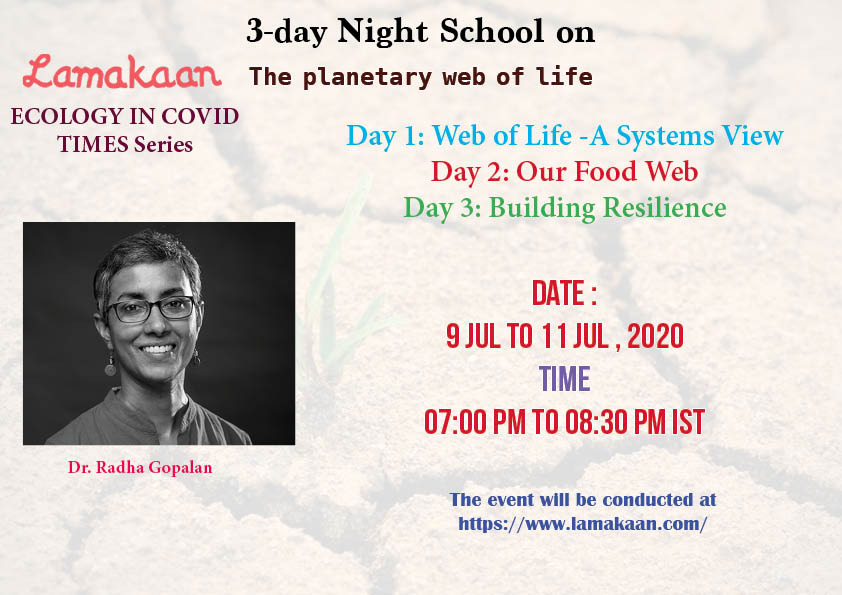 This is an ONLINE EVENT.
The event will be conducted at  www.lamakaan.com
If you are feeling bored and exhausted after binge-watching scores of videos and films on YouTube and other OTT platforms, then here's is an interesting event to indulge in. Lamakaan invites you to its much talked about Night School.
Night School is a concept developed by Lamakaan right from its inception to offer the audience an in-depth understanding of the issues. It has organized several Night schools on Caste in India, Marxist Ideology, Urdu Poetry, Feminism, etc.
Now it brings a 3-day Night School on The Planetary Web of Life facilitated by Dr. Radha Gopalan as part of the Lamakaan's ECOLOGY IN COVID TIMES Series.
About the Planetary Web of Life Night School:
The Planetary Web of Life Dr. Radha Gopalan
The modern human appears to be on a constant treadmill of seeking 'solutions' to 'problems': air pollution, ozone layer depletion, climate change, new and emerging diseases, malnutrition, obesity, food scarcity and so on. Armed with innovation, creativity and technology there is a sense of invincibility as we react, fire-fight and 'conquer' one problem only to be confronted with another. Doesn't it seem like there should be a smarter and more balanced way to live rather than constantly 'battle' or 'fight' in response to any challenge? Are there discrete 'solutions' to these 'problems'; are these 'problems' distinct from one another? For instance, can climate change be categorized as an ecological or a social or an economic problem? What about COVID-19: is it a public health issue, does it have any relationship to the way we produce food? What if we were to think in terms of responses to changing situations rather than 'solutions' to 'problems'? One way to do this might be to view planetary life as a network of interwoven and interlinked relationships, rather like a socio-ecological web. In this 3 – part night school we will collectively explore some of these questions.
Part 1: Web of Life – A Systems View
Part 2: Our Food Web
Part 3: Building Resilience
The three lectures will begin with suggesting a systems framework and move us through a concrete discussion of Food Systems to finally learning from experiences of various communities and societies to see if we can find ways of building resilience in the face of uncertainty.
ALL ARE WELCOME!!!
Hi. The Resource Person, Dr. Radha Gopalan has asked the participants to go through the links and read well before in time so that we can have a healthy discussion and overall learning.
https://www.resilience.org/…/capitalism-is-destroying-safe…/
This paper by Nafeez Ahmed is accessible by anyone and it is a very recent paper. It is an analysis of a recent scientific paper in Nature on affluent consumption and how it is responsible for the planetary challenges we face.
https://www.nature.com/articles/s41467-020-16941-y
Original Publication from Nature reviewed by Nafeez Ahmed. This is an academic publication requiring a focussed reading and re-reading,
Organizer
Lamakaan
Lamakaan, An Open Cultural & inclusive Space in Hyderabad that promotes and presents the best of arts, literature, theatre, debates, discussions, and dialogue with a commitment to being open and accessible.