Upcoming Events
«Prev
From Mar 14, '19 to Apr 13, '19
Next»
5851
Screening of Ek Ruka Hua Faisla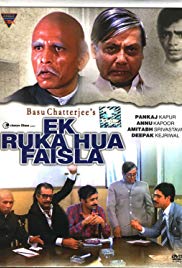 Tue Mar 26, 6:30 PM
Hyderabad Cinephiles
Adaptation of 12 Angry Men, Ek Ruka Hua Faisla is a courtroom drama by Basu Chatterjee where the fate of a poor teenage boy charged with murder rests with a jury. The film quite successfully portrays the class and caste prejudices of all the jurists but one who argues in myriad ways against their prejudiced stances.
5822
White Rabbit Red Rabbit
Fri Mar 29, 8:00 PM
Ankit Bakshi
White Rabbit Red Rabbit performed by Vinay Varma

No rehearsals! No director! A different actor each performance, who receives the script on stage!

White Rabbit Red Rabbit is an internationally acclaimed, award-winning play by Iranian writer Nassim Soleimanpour. It is an audacious theatrical experiment and a potent reminder of the transgressive and transformative power of theatre.