«Prev
From Feb 24, '23 to Mar 26, '23
Next»
7648
Curious Case of a Liberandu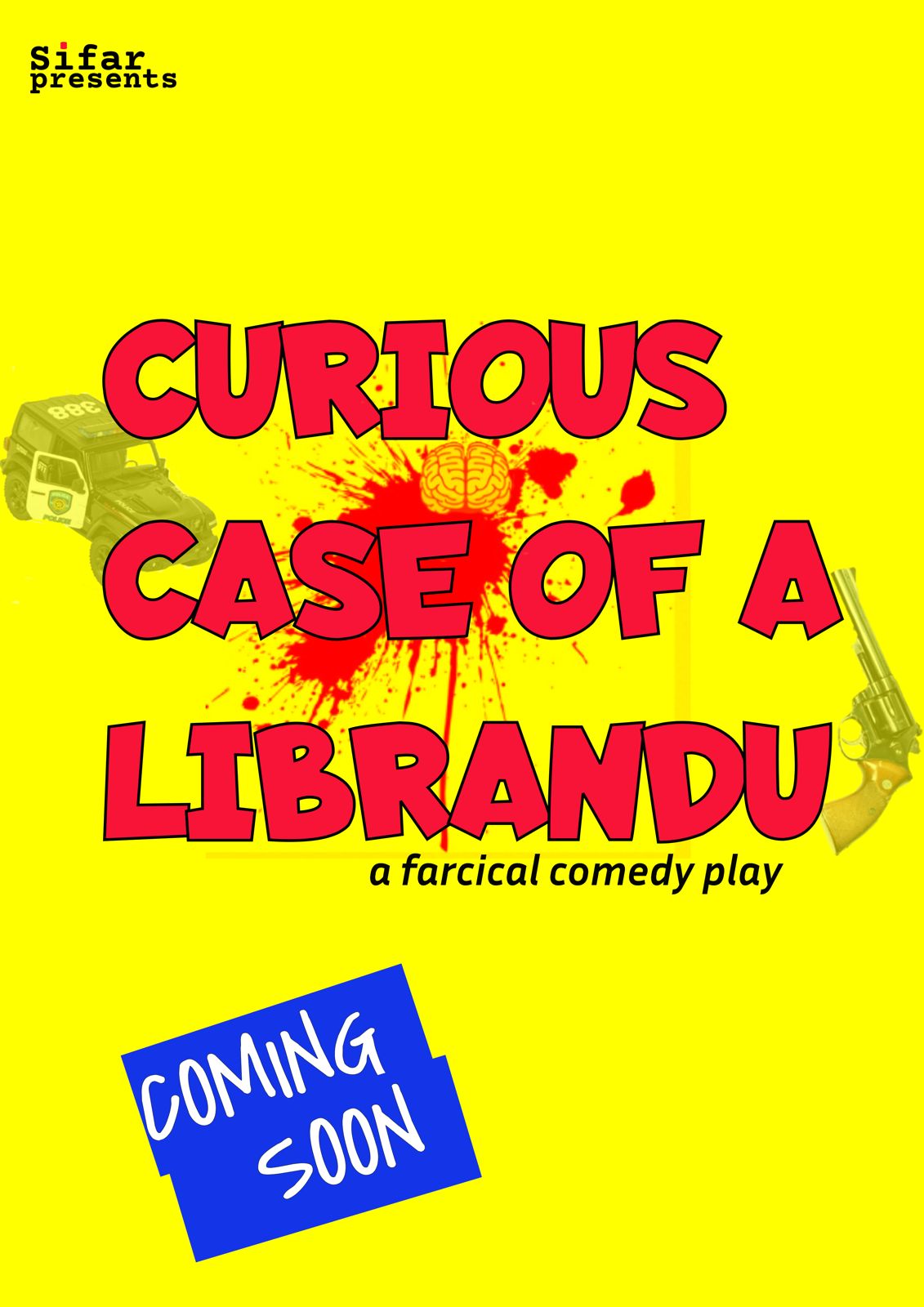 Sun Feb 26, 8:00 PM
Sifar Theatre Group
The play is based loosely on real-life events involving a student activist labelled as 'Anarchist/Terrorist', who dies under mysterious circumstances while in police custody. The events that led to his death have not been revealed as of now. The truth is slowly revealed through the actions of a scheming con man known only as the Maniac as he puts on a show while he's detained in a police station. As the maniac recreates events, cover-ups and corrupt officers are exposed. The play explores themes of political corruption, repression, the nature of truth versus illusion, class struggle, and the conflict between reformers and revolutionaries.


7641
Adhikaar - Two Solo Acts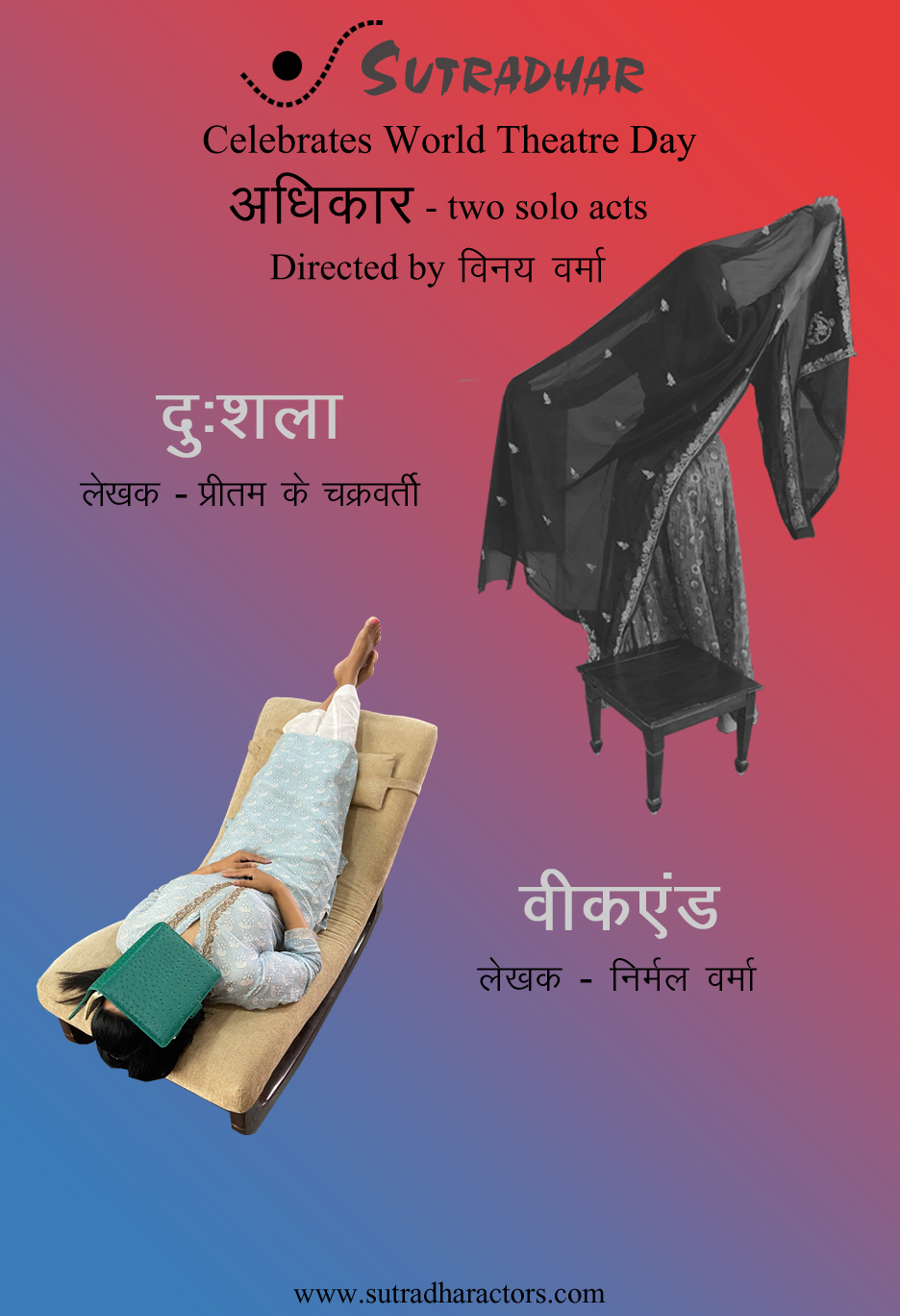 Sat Mar 4, 8:00 PM
Sutradhar
Sutradhar celebrates International Womens Day with 'Adhikaar' – Two women belonging to different yugas take on a path to self-discovery to seek their identity and redefine their individuality.

Dushala:
The epic Mahabharat written since time immemorial has been told and retold. Even today verses from it are quoted for spiritual and other references. But while many of its primarily male characters are worshipped and celebrated, one woman was buried long ago in the epic mythology's pages.
While her mother Gandhari chose to blind herself from the world, her only daughter Dushala's identity, aspirations and concerns were forcefully muted for she was born after a 100 Kaurav brothers and lived merely as a shadow.
Even after many yugas, Dushala, the disregarded daughter is born and reborn, looking restlessly for her identity, her individuality. Was there more to her than being the only daughter born in the 'Kuruvansh' of Hastinapur, the only sister of Kauravas and Pandavas, the wife of King Jayadrath and mother of Prince Surath?

Weekend:
A part of Nirmal Verma's famous trilogy 'Teen Ekaant', Weekend is the story of a woman bound by love and memories who finds herself caught between societal brackets of relationships and her quest for solitude. Her innermost thoughts linger on her mind as she finds herself in an unlabelled relationship with a divorced man who is also the father of a young girl. While she loves and wants to be loved, her ache for self-love and solitude seems above all.

7668
Little Ballerinas Winter Recital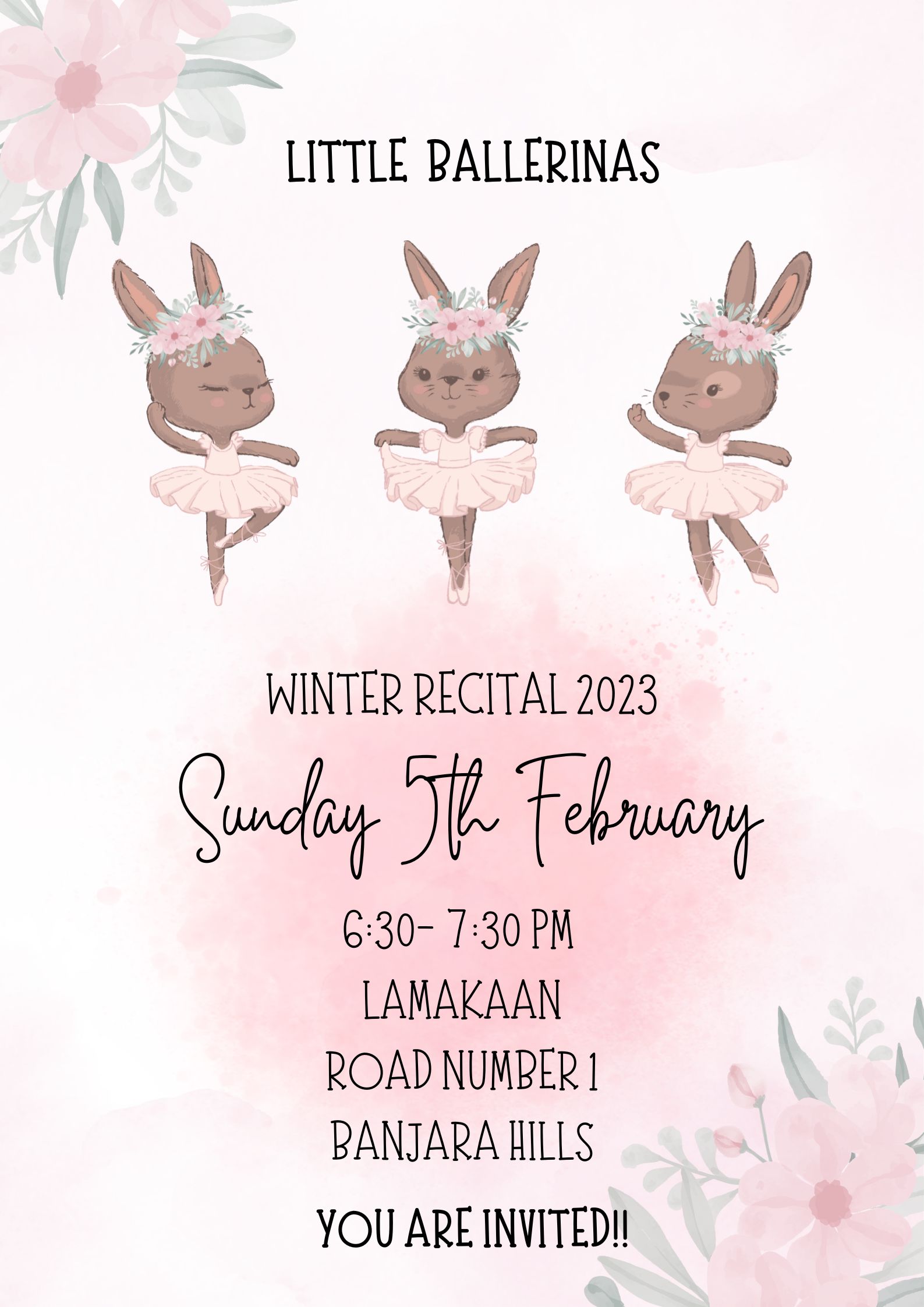 Sun Mar 5, 6:00 PM
Little Ballerinas
Little Ballerinas was established in 2016 with the vision to bring International Dance technique to Hyderabad. We specialise in training dancers from the ages of 2 onwards. Our annual recitals showcase our dancer's ability and training.
This year, our theme for the recital is 'Ballerinas in a courtyard' - we hope to make it an evening of beauty and inspiration!
7687
Dibbadesam Daataka
Sat Mar 18, 8:00 PM
bhoomika theatre group
*Bhoomika Theater Group Presents*
*"Dibbadesam Daataka"*
*A Telugu play adaptation based on Badal Sircar's famous Bengali play 'Hattamalar Oparey'*
*Directed by : Uday Bhanu G, Founder, Bhoomika*
Two thieves Seenayya and Veerayya, while trying to loot a zamindar's house are chased by the villagers and jump into a river to escape. They are washed ashore on a strange land where there is no concept of money. As they walk around and interact with the villagers, they realize that many things they had accepted as facts of their own life, no longer hold true. Is such a life possible? What are the things that really matter to us?
Using folk and music elements, watch Bhoomika's artistes unravel the life of another possible world!